2013•01•04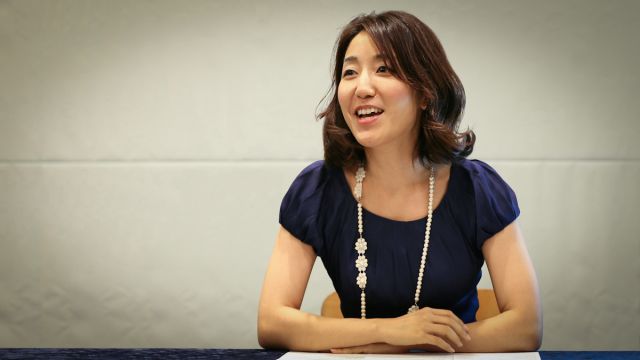 Photo © Emilia Heo
Seunghoon Emilia Heo, a Republic of Korea national, spent most of her early years in Europe. Her multicultural background motivated her to specialize first in European politics in France, then in international relations in Switzerland as well as in the United States.
As a JSPS–UNU Postdoctoral Fellow with UNU-ISP (since Sept. 2010), her research explores the interplay between political  elites and media professionals in promoting a culture of reconciliation. In this interview, she shares with us some thoughts about her first book, Reconciling Enemy States in Europe and Asia (Palgrave Macmillan, 2012), and the concept of reconciliation.
♦ ♦ ♦
What motivated you to write on reconciliation?
While working on Korean–Japanese relations at the Foreign Services, I always wondered how come, after half a century since the end of the Second World War, a diffused public anger or hatred still exists among those who did not even experience Japanese colonialism. The sometimes "irreconcilable" dialogue between two countries frustrated me, but it also motivated me to go back to academia and start conducting research on why certain cases, such as Franco–German or Polish–German ones, are successful while others, such as Turkish–Armenian or Chinese–Japanese ones, are not.
After seven years of research, what do you see as the core element in "interstate reconciliation"?
I think in politics; everything is about relations. Just like interpersonal relations, nation-states constantly create, break or renew their relations by exchanging conflicting, cooperative or competitive behaviours. Unlike some other cooperative behaviours — such as alliance, appeasement, normalization détente, coexistence or rapprochement — reconciliation includes moral aspects, which make it more difficult to pursue among nation-states.
Rapprochement, normalization, coexistence… can you explain more about these terms? How do they differ from reconciliation?
It is true that for those who consider the absence of war as a sufficient condition for peace, "reconciliation" has nothing original to contribute to interstate relations. However, this word will strongly resonate with those who believe that halting a war or signing a peace treaty, normalization in political terms, is not enough.
"Coexistence" is also a type of peace. But this "cold" state of peace does not guarantee mutually respectful interactions, since there is always a risk of a return to enmity. Without "reconciliation", it is difficult to build a trust-based interstate relationship.
The same goes for "alliance", which is one of the most frequent types of cooperative behaviour that nation-states have pursued since the Peloponnesian War. In common sense terms, an ally is simply considered as a friend state, but it can be easily manipulated to draw a line between "us" and the "other". A former US President George W. Bush often claimed: "If you are not with us, then you are against us."
Therefore, once the objective of an alliance is achieved, the allied tie is likely to fall apart. In this sense, alliance results from a rational calculation for national interest and focuses more on a short-term rather than a long-term, stable peace relationship — which is the main objective of reconciliation.
What do you see as the main difference between Europe and Asia? All successful cases of reconciliation seem to take place in Europe, not in Asia.
Some argue that the Christian heritage has had some impact, whereas others take "European identity" as the core element for their success. Despite some relevant points, these claims overlook the fact that  nationalist movements in European history were no less violent than elsewhere. There have been conscious efforts towards constructing "something" together from both governmental and citizen levels.
I would thus argue that Europe was "lucky" to some extent, since not only do they belong to a common European civilization, but also they received external support to launch a reconciliatory dialogue right after the end of the Second World War. Nonetheless, as the idiom says, chance favours those who are well prepared.
You went to Johns Hopkins University this summer to work as an AICGS Reconciliation Fellow. Did you discover something "new"?
It was a "perfect" timing to work on the reconciliation issue with eminent scholars as South Korea, China and Japan went through a very turbulent summer, which dragged the whole region into the so-called New Cold War era in Northeast Asia. Whether their actions resulted from political demagogy for their own ambition, or a rational calculation for national interest, Lee Myung-bak, the South Korean president, and Yoshihiko Noda, the Japanese prime minister, chose a way that deviated their relations far from reconciliation.
South Korean media coverage repetitively cited German chancellor Willy Brandt's "heroic" apologetic gesture in the 1970s to accuse Japan for not having done the same thing. Brandt certainly had a personal quality that made him unique. Unlike Nicolas Sarkozy, the French president, who argued during his visit to Algeria in 2007 that there is no need to apologize for colonial misdeeds that were conducted by a generation that is not his own, Brandt had a strong willingness to connect political actions with moral values.
But the visionary leadership based on morality was strongly encouraged by other stakeholders. One element we tend to overlook regarding Germany's successful reconciliation with Poland is the contribution Polish and German non-state actors — media elites and religious actors, in particular — had incessantly made to pave the way for societal reconciliation even before the active engagement of state leadership. Brand himself acknowledged in his biography that "exchanges between the churches and their members preceded any dialogue between politicians".
Are there any lessons Asian countries can take from the Polish–German reconciliation?
I think it is of particular importance that the reconciliatory initiative come first from the victim country and not from the aggressor. My current research focuses on the role of civil society in Japanese–South Korean reconciliation. If religious value played a positive role in the Polish–German case to bring media, religion and politics together, it played a negative role in the South Korean–Japanese case.
For this reason, I am especially interested in exploring the limit and potential of interfaith dialogue in promoting reconciliation. If religious actors in Japan and South Korea — such as Rissho Kosei-kai, a Buddist lay movement, and Focolare, a Catholic lay movement, both very active in interreligious dialogue — can find their unique way to a successful reconciliation, I am convinced that it can reversibly serve as a lesson for European countries, as they are today faced with the challenge of religious diversity — especially when in comes to the Turkey′s eventual membership in the European Union.
What impact do you hope to achieve with your book?
If writing is a duty for an academic, communication is another channel that a scholar should seriously take into consideration to disseminate the outcome of one's own research. Through media exposure, conferences and lectures, the author's ideas can penetrate into a larger public, which otherwise would be limited to the so-called ivory tower.
Soon after the release of my book, UN Secretary-General Ban Ki Moon expressed his personal interest in the topic and invited me to a private meeting in Tokyo in May, during which he gave me full support and encouraged me to continue working on the theme by actively interacting with civil society. Since then, I have expressed my thoughts to major Korean newspapers, organized book launch events around the world and given lectures at various institutes.
Among others, the Seoul event in July was a special experience for me. Some two-hundred persons attended the event, including not only professors, diplomats and journalists but also housewives, high school students, business persons, and Japanese colleagues who flew all the way from Tokyo just to attend my presentation (though none of them has knowledge of the Korean language).
The most touching feedback came from a young jazz musician who was invited to play for the event: "I am not interested in politics at all, and I do not pay attention to the event while I am playing. But today, her talk made me think twice about how I should behave vis-à-vis the society to which I belong."
I personally hope that my book offers an opportunity for a larger public to think about the concept of "reconciliation" and the quality of the peaceful relationship we would like to have with our neighbouring states.