2012•06•27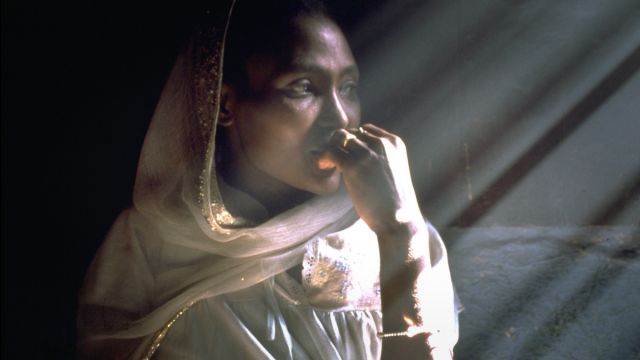 UN Photo/Louise Gubb
Based on his chapter in a recently published book, UNU-ISP's Obijiofor Aginam discusses the indiscriminate deployment of rape by combatants and the breakdown of public health infrastructure in war/conflict zones, and calls for effective reparation for HIV-infected victims of rape in post-conflict societies.
♦ ♦ ♦
While the history of wars and conflicts is replete with systematic incidents of sexual violence against vulnerable women, modern-day wars have witnessed large-scale indiscriminate deployment of rape as a "weapon" of war by combatants. In recent armed conflicts — such as in the former Yugoslavia, Liberia, the Democratic Republic of the Congo, Sudan, the Central African Republic, Sierra Leone and Rwanda — the widespread use of rape as a tool of warfare has become a conspicuous phenomenon.
One striking difference between the use of rape as a weapon of war in pre-1990 conflicts and in latter-day wars is the emergence and "willful" transmission of HIV to the victims. Serious questions have been raised in the social science literature about the actual time of transmission and infection, and whether the "intent" of the perpetrators could conclusively be to infect the victim with HIV. Nonetheless, there is evidence from the victims' accounts confirming the deliberate nature of these acts.
In her 2004 book, The Right to Survive: Sexual Violence, Women and HIV/AIDS, Françoise Nduwimana reported the testimony of one of the many rape victims during the genocide:
"For 60 days, my body was used as a thoroughfare for all the hoodlums, militia men and soldiers in the district.… Those men completely destroyed me; they caused me so much pain. They raped me in front of my six children.… Three years ago, I discovered I had HIV/AIDS. There is no doubt in my mind that I was infected during these rapes."
This is an example of the persuasive proof that rape was widespread during the Rwandan conflict, and that there was clear intent by the perpetrators to infect their victims with HIV.
Women who were victims of rape during conflicts have an inalienable right to reparation, psychological and physical rehabilitation, access to social measures, and health security. In efforts to reconstruct post-conflict societies, the disarmament, demobilization and reintegration (DDR) processes should include sustainable policies and programmes aimed at holistic reparation for victims of rape during wars and conflicts.
Conflict, war and disease in history
The emergence of HIV/AIDS in the past two decades, and the complex interaction between the virus and conflicts, has reinforced both the human and state security dimensions of disease. Whilst the state security dimension focuses on the collapse of the apparatus of governance, the human security dimension focuses on threats to the vulnerable groups, especially women and girls, during conflicts.
Although the history of wars and conflicts is replete with massive and systematic sexual violence against vulnerable women, modern-day wars in African nations and elsewhere are increasingly characterized by the use of rape as a weapon of war, the intentional or willful transmission of the HIV to innocent victims, and the neglect of these victims in post-conflict reconstruction programmes.
The "securitization" of HIV/AIDS has led to intense academic and policy debates since the popularization of the notion of human security by the United Nations Development Programme (UNDP) in 1994. Human security recognizes the emergence of new threats to the security of peoples: safety from chronic threats such as hunger, environmental degradation and natural disasters, disease and repression.
The International Crisis Group, in its 2001 report entitled "HIV/AIDS As a Security Issue" categorized HIV/AIDS as a personal security issue, economic security issue, communal security issue, national security issue and international security issue. The Commission on Human Security noted that human security embraces far more than the absence of violent conflict, and one of the body's core policy conclusions focuses on the health challenges for human security in three key areas: global infectious disease, poverty-related threats, and violence and crisis. HIV/AIDS neatly fits into these three categories because it is a global pandemic; it is poverty-related, at least in most poor countries, and the pandemic is exacerbated in complex ways.
Although one school of thought — led by some prominent African and Africanist scholars, especially Allan Whiteside, Alex de Wall and Tsadkan Gebre-Tensae — has strongly contested the common assertion that wartime rape is a significant factor in the spread of HIV either by design or as a by-product of systematic sexual violence, they nonetheless concede that there is strong evidence to support and prove this assertion at least in the case of the Rwandan genocide. The case of Rwanda, they argue, was a "concerted and systematic attempt to completely eradicate a population and is an exceptional case by any standards".
The structural problem with the scholarship and school of thought of Whiteside, de Wall and Gebre-Tensae is the fact that, as de Brouwer and Chu stated, "the magnitude of sexual violence in conflict situations will never be fully known, since the stigma associated with being a victim discourages women and girls from reporting the crime".
This is particularly true of most African conflict situations where cultural and traditional practices, beliefs and norms shape societal values and ethics. While rape has been systematically deployed in past, recent and ongoing conflicts, we may not be able to empirically determine the linkages between these acts and transmission of HIV.
Relying on unofficial statistics and data, Stefan Elbe observed that human rights workers in Sierra Leone reported that "during the country's eight-year civil war, armed rebels and insurgent forces raped thousands of women". It is estimated that between 200,000 and 500,000 women were raped during the genocide in Rwanda that lasted 100 days.
[quote quote="In the one hundred days of genocide that ravaged the small Central African nation of Rwanda… an estimated 250,000 to 500,000 women and girls were raped… Sexual violence occurred everywhere, and no one was spared." author="Anne-Marie de Brouwer and Sandra Ka Hon Chu" source="The Men Who Killed Me: Rwandan Survivors of Sexual Violence" sourceurl="http://www.menwhokilledme.com/" sourceyear="2009″ ]
In the eastern region of the Democratic Republic of Congo, various civil society groups and United Nations agencies have reported widespread, systematic rape involving thousands of women and young girls. These rapes and other acts of sexual violence are being performed with impunity and brutality, and in flagrant violation of age-old laws, customs and norms of war by virtually all sides to the conflict — civilians, militiamen, armed groups and members of the Congolese Armed Forces.
During the Liberian civil war, between 1999 and 2003, about 49 percent of women between ages fifteen and seventy experienced at least one act of sexual violence from a soldier or armed militia member. In Sierra Leone, about 64,000 internally displaced women experienced war-related sexual violence between 1991 and 2001.
When compared with the atrocities and gross violations of the dignity and basic rights of vulnerable women in the conflicts in the Balkans, which often involved mass rape and cleansing of ethnic minorities, it is fair to state that this is not, therefore, an African phenomenon. Going as far back as World War I (1914–1918), Brouwer and Chu stated that rape, forced prostitution and other forms of sexual violence were prevalent in Europe during World War I (largely by the German army and the armies of other Axis powers); in Asia during World War II (involving the Japanese Imperial Army); in Europe during World War II (involving the German army); and in Bosnia-Herzegovina and Kosovo during the Balkan conflicts in the 1990s.
It is obvious that armed militias and combatants may have started using HIV as a weapon of war going by the evidence from the Rwandan genocide, and the ongoing conflict in the Democratic Republic of Congo. As already stated, one striking phenomenon of modern-day wars is the "willful" transmission of HIV. Notwithstanding the seriousness of the questions that have been raised concerning whether the actual intent of the perpetrators of rape could have been to infect the victim with the virus, Elbe cites the account of one rape victim in Rwanda who the rapists taunted by saying: "We are not killing you. We are giving you something worse. You will die a slow death". There is also another account that captured women in Rwanda were taken to HIV-positive soldiers specifically to be raped. (Margaret Owen in "Widows Expose HIV War Threat", Worldwoman News.)
These types of incidents, driven by the "weaponization" of HIV, raise serious human security issues in post-conflict societies. The complementary nature of human and state security therefore makes HIV less obscure in security discourses because the virus strikes soldiers and civilians in war situations because of the breakdown of infrastructure and the indiscriminate deployment of rape as a weapon of war by combatants.
In International Humanitarian Law — the set norms that generally criminalize genocide, war crimes and crimes against humanity — precedents now abound on the criminal conviction of individuals who systematically deployed rape as a weapon of war in Rwanda and former Yugoslavia. In the trial of Jean-Paul Akayesu for genocide before the International Criminal Tribunal for Rwanda, the Tribunal found the accused guilty of aiding and abetting acts of sexual violence involving the systematic rape of Tutsi women. These acts of systematic rape of Tutsi women, carried out in areas under the authority of Akayesu, were accompanied with the intent to kill these women on the grounds of their ethnicity.
Despite the legal precedents of cases like Akayesu, do international legal mechanisms offer a holistic paradigm for the reconstruction of post-war societies? Has the link between HIV, victims of rape, and psychological and other reparation been taken into account in post-conflict reconstruction and peace-building processes?
DDR and victims of rape in post-conflict societies
Disarmament, Demobilization and Reintegration (DDR) programmes have now been recognized by the UN and other important actors as an integral component of post-conflict peacebuilding and reconstruction processes. Nonetheless, DDR programmes remain complex because of their multidimensional nature that involves military, humanitarian and other socio-economic components. DDR processes raise a lot of challenges for its non-military components.
In the context of victims of rape during conflicts, Nduwimana, in her study of the victims of rape during the Rwandan genocide for The Right to Survive: Sexual Violence, Women and HIV/AIDS, interviewed 30 women who were among the thousands of rape victims infected with HIV. Writing in 2004, more than a decade after the Rwandan genocide, Nduwimana questioned whether we can accurately refer to these women as survivors of the genocide, when every day, "these women, linked by the miserable three-pronged destiny of genocide, rape and HIV/AIDS, witness their friends, acquaintances, neighbors, and family members dying in anonymity, with the world utterly indifferent to their fate".
Rwanda is not an isolated event. Similar calls and proposals have been canvassed for victims of rape during the civil wars in Liberia and Sierra Leone. DDR processes, in the case of Rwanda and other post-conflict societies — though mostly in Africa — have overly emphasized disarmament and demobilization (the two "Ds") to the detriment of reintegration (the "R").
Even where reintegration receives attention and resources, it often neglects the victims of rape by focusing more on reintegration of child soldiers and ex-combatants into their communities. Victims of rape intended as a weapon of war, I argue, have an inalienable right to financial reparation, psychological and physical rehabilitation, access to social measures, and health security. If, as in most DDR programmes, cash payments are often made to ex-combatants for de-mobilization, there is no reason why equal payments should not be made to rape victims infected with HIV.
The "right to survive", as Nduwimana, calls it, should take the centre stage in contemporary AIDS diplomacy. DDR processes in most post-conflict African societies must strive to integrate this very important social problem — the psycho-medical rehabilitation of HIV-infected victims of rape during conflicts.
♦ ♦ ♦
This article is based on a chapter in recently published edited volume, HIV/AIDS and the Security Sector in Africa, edited by Obijiofor Aginam & Martin R. Rupiya (UNU Press, 2012).