2014•06•17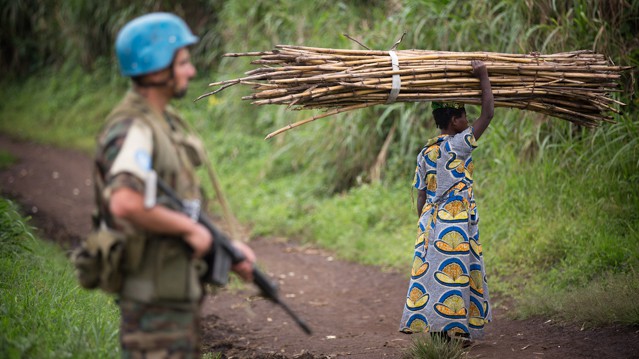 UN Photo/Sylvain Liechti
The need to spare civilians in armed conflict has been acknowledged for millennia, and the origins of this norm can be found in early religious texts. However, only in the second-half of the 20th century was the protection of civilians (POC) firmly universalized and codified following the landmark 1949 Fourth Geneva Convention Relative to the Protection of Civilian Persons in Time of War.
The POC has since developed in law, but not much in practice, and the massacres in Rwanda and Bosnia in the presence of UN peacekeeping troops signaled the need for change. The need for POC is now widely acknowledged. The scope of situations to which it applies and the operational capacity and preparedness to accomplish it have expanded, and many UN peacekeeping operations have been given POC mandates.
But how do UN peacekeepers protect civilians? A recent report from the UN Office of Internal Oversight Services (OIOS) provides an answer by evaluating eight out of the ten current UN peacekeeping operations with POC mandates. (It excludes MINUSCA (the UN Multidimensional Integrated Stabilization Mission in the Central African Republic) and MINUSMA (the UN Multidimensional Integrated Stabilization Mission in Mali) — two missions too young to be evaluated.)
It is an important report because POC has become a very visible indicator of how well the entire UN organization is working, or failing to work. For the report, the United Nations University provided OIOS with academic background on how to approach and review the ways POC mandates are reported by peacekeeping operations, and offered methodological advice on how to draft the questionnaire and analyze the results.
The setbacks and challenges of protecting civilians through peacekeeping operations were addressed with a comprehensive report commissioned by the UN Department for Peacekeeping Operations (DPKO) and the UN Office for the Coordination of Humanitarian Affairs in 2009. The report examines a "chain" of actions from Security Council mandates to UN mission planning, and deployment to the activities of peacekeeping operations in the field. It found dramatic gaps that undermine the ability of peacekeeping missions to protect civilians, reporting that the chain of events to support POC was broken.
In the five years since, much has improved. Policy guides have been issued, structures have been clarified, and cluster partnerships between protection actors have been created. Some activities appear to be achieving results, preventing and mitigating attacks on civilians in locations within the reach of the peacekeepers.
However, despite these improvements, lack of capacity and willingness to actively intervene exposed many civilians to deadly risks. The civilian toll in many conflicts continues to be high, even when peacekeeping forces are in proximity. In a report last year, OIOS listed the following reasons for this:
Troop-contributing countries and Security Council members have different views on the use of force;
A double line of command exists — troop-contributing countries and mission leadership issue differing instructions to contingents of peacekeepers;
There is a lack of clarity on a mission's obligation to act when a host government is unable or unwilling to exercise its responsibility to protect civilians;
Peacekeepers have insufficient resources to respond to force with force; and
Contingent members themselves are concerned about possible penalties if their use of force is judged inappropriate.
The gap between POC as policy and POC as practice has widened, and it may compromise UN peacekeeping. To narrow the gap, the OIOS in the new report recommended:
Enhancement of operational control of the UN over military contingents — failures to follow POC instructions issued by a peacekeeping mission should be communicated to UN Headquarters for review with the troop-contributing country concerned;
Clarification of peacekeeping tasks at a tactical level to facilitate and speed up decision-making on the ground;
Improvement of working relationships and coordination with humanitarian entities.
DPKO and the Department of Field Support (DFS) (which provides dedicated support to peacekeeping field missions and political field missions) accepted these recommendations, only expressing a reservation with the first one, stating that challenges to command and control are rare, and pointing to existing processes that address failures to follow instructions.
This recent OIOS report is innovative in identifying factors that have a direct bearing on POC effectiveness. For example, the role of the troop-contributing countries has never really been put in clear black-and-white terms in any UN document so far. If some of the solutions to the problems lie with the UN Secretariat and other UN entities, others lie with the Member States.
POC won't happen if troop-contributing countries do not instruct their contingents to use all necessary means when civilians face deadly risks. Such instructions remain within the command of the Member States, not the Secretary-General or anyone else.
Exactly because the use of force is a highly contentious issue, an urgent and comprehensive debate on it — within the broader debate on POC — is essential to build consensus. Fortunately, the five permanent members of the UN Security Council have signaled willingness to engage in such a debate.