2011•05•17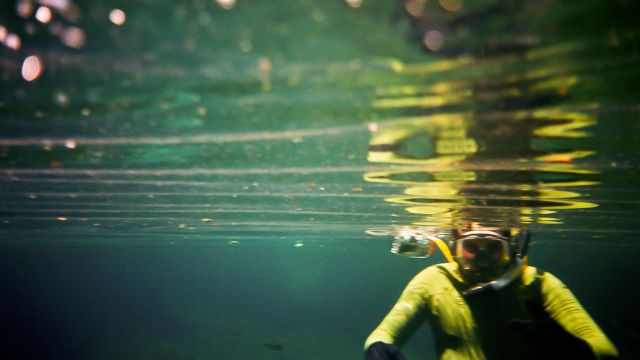 Photo: Kate McCarthy
The Yucatan Peninsula, Mexico, is a very popular tourist destination that has been subjected to intensive coastal development. This region is highly susceptible to contamination of its groundwater, aquifer, and coastal waters because of its unique karst geology that is composed of highly permeable limestone deposits. It is also characterized by an extensive flooded underground cave system where freshwater within the aquifers forms a distinct layer above salt water intruding from the sea. The two water layers meet and mix in these flooded caves, which extend 8 to 12 km inland. On the land's surface, sinkholes or "cenotes" as they are known in the Mayan language, provide passageways that link water originating from inland areas to discharge areas along the coast, thereby providing a route for pollution to reach the Caribbean Sea.
Since the 1990s, it is believed that land based sources of pollution such as discharge of (untreated) sewage and wastewater, along with overfishing, coral disease, and climate change, may have contributed to the loss of up to 50% of corals on the reefs along the region's coast, according to Harvell et al. (2007). With a 10-fold increase in population expected by 2030, the problems are likely to worsen.
Landmark study
The Caribbean Coastal Pollution Project (CCPP), involving the participation of eight Caribbean countries, was launched in 2007 to help build capacity for improved assessment, monitoring and management of Persistent Organic Pollutants (POPs) and Persistent Toxic Substances (PTS) in Caribbean coastal ecosystems. Under the CCPP, a study was performed in an attempt to identify and measure contaminants in selected groundwater discharge zones along the Yucatan coast, and identify potential sources. Two types of passive sampler technologies, Semi-Permeable Membrane Devices (SPMDs) and Polar Organic Chemical Integrative Samplers (POCIS) were deployed for a one-month period in 5 underwater cave systems from December 2008 to January 2009. SPMDs accumulate compounds with low water solubility, such as Polychlorinated Biphenyls (PCBs) and organochlorine pesticides, while POCIS accumulate more water-soluble compounds, such as current use pesticides and pharmaceuticals. This particular technique was chosen given that in the past it has proven useful for monitoring a wide range of contaminants in aquatic environments (Metcalfe et al., 2000, 2008; O'Toole et al., 2006, 2006).
Prof. Chris D. Metcalfe of Trent University and Senior Research Fellow of the United Nations University Institute for Water, Environment and Health (UNU-INWEH), Canada, led the study with Dr. Patricia A. Beddows of Northwestern University, USA; Gerardo Gold Bouchot of CINVESTAV Unidad Merida, Mexico; Tracy L. Metcalfe and Hongxia Li of Trent University; and Hanneke Van Lavieren of UNU-INWEH. The study was also conducted in cooperation with a local non-governmental organization called "Amigos de Sian Ka'an", Mexican researchers, laboratories, and university students.
Contamination concerns
Currently, only one-third of Mexico's Yucatan Peninsula uses municipal wastewater treatment systems and although reverse osmosis (which removes a wide array of contaminants including inorganic chemicals such as salts, metals and minerals, as well as most microorganisms and most inorganic contaminants) is widely used to treat drinking water, it does not remove all chemicals. The results of this study provide evidence that contamination is a concern and originates from a number of likely sources: illicit drugs (e.g., cocaine), pharmaceuticals (e.g., painkillers acetaminophen and ibuprofen) and personal care products (e.g., triclosan and synthetic musks) from domestic sewage; Polycyclic Aromatic Hydrocarbons (PAHs) from highway runoff and other impermeable surfaces; and chlorophenoxy herbicides from pesticides used on golf courses.
While levels found are not considered a health threat at this time, the data raises some concerns about human exposure to bacterial, viral and parasitic pathogens and other contaminants from the consumption of drinking water. The researchers warn that a combination of sea-level rise and over-extraction of freshwater contributes to saltwater intrusion into the aquifers, thereby posing an immediate threat to the region's freshwater quality and availability. The planned growth of urban and tourism development in this region of Mexico will benefit from the adoption of mitigation strategies and Beneficial Management Practices (BMPs) to ensure that pollution does not pose a serious threat to the coastal ecosystems and human health, and thereby affect the economy.
Better monitoring required
These findings clearly underline the need for monitoring systems to pinpoint where these pollutants are coming from. Prevention and mitigation measures are needed to ensure that expanding development does not damage the marine environment and human health and, in turn, the region's tourism-based economy. Recommendations resulting from the study include the use of impermeable liners beneath golf courses, improved wastewater treatment infrastructure, prohibition of injections of treated sewage into saltwater below freshwater aquifers, and protection of remaining mangrove habitat, which buffer coastal areas from pollution.
Land and water management in the region is fragmented, and is often ineffective in the face of pressure to develop the tourism and recreational industry. The results of the study were shared with local partners and stakeholders from both coastal and freshwater arenas, including the private sector, government and local communities. This led to discussions between local hotel owners, government officials (from both environment and public health ministries) and coastal management agencies on best management practices for reducing the likelihood of contamination. The study may be considered a step forward in this region since there is a general lack of expertise and equipment for monitoring or tracking sources of pollution and few administrative links between those responsible for water and coastal management and the labs that generate the (monitoring) data.
Whether or not these aforementioned measures will actually be taken up by local or regional authorities is yet to be seen. It is important to note however that following the media release on this study at the start of 2011, the National Water Commission (CONAGUA) of the Ministry of the Environment and Natural Resources (SEMARNAT) responded with an official statement and plans of action to tackle this problem. This is a good sign.
The researchers conclude that without integrated approaches to protecting and managing the aquifer, that are built upon participation by all stakeholders,"the tourism-based economy of the Maya Riviera region will not be sustainable over the medium to long term".
• ◊ • ◊ •
To find out more about this study, please refer to: Metcalfe, C.D., P.A. Beddows, G. Gold Bouchot, T.L. Metcalfe, H. Li, and H. Van Lavieren. 2011. Contaminants in the coastal karst aquifer system along the Caribbean coast of the Yucatan Peninsula, Mexico. Environmental Pollution 159:991-997.
Phase 1 of the CCPP was funded by the World Bank through Canada's Persistent Organic Pollutants Fund of the Canadian International Development Agency (CIDA); phase 1 completed in mid-2010.