2015•07•15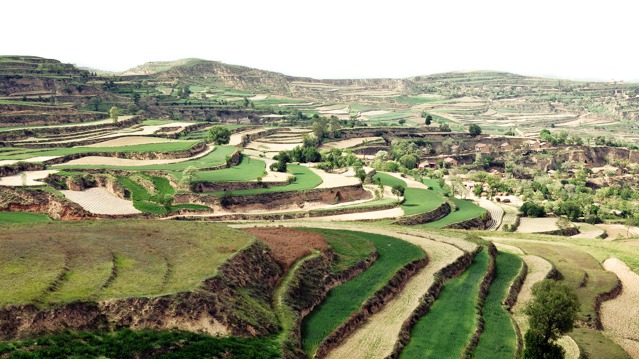 Lulu Zhang/UNU-FLORES
North-west China accounts for 32% of the Chinese territory. In this region, two vital environmental resources are being acutely deteriorated. Because people here have practised intensive farming for many centuries and vegetation cover is low due to deforestation and dramatic climate shifts, the soil has been seriously eroded and degraded, which is now strongly affecting agricultural output. Then there is the lack of precipitation that has long made water scarcity the status quo. On top of that, rapid population growth and booming economic development are intensifying the potential for conflict between different water users.
While efforts to mitigate each of these problems are underway, the solutions to one challenge can end up worsening the other, shows a project conducted by the Soil and Land-use Management Unit of the United Nations University Institute for the Integrated Management of Material Fluxes and of Resources (UNU-FLORES). To reduce these unexpected consequences, the project is examining the benefits achieved by employing a nexus approach to the management of water and soil in the region. The nexus perspective emphasizes the interdependencies of environmental resources and their transitions and fluxes across spatial scales and between compartments. The goal is to overcome one-sided sectoral thinking and sector-biased planning, management and implementation.
Soil erosion and land degradation in north-west (NW) China are the result of low vegetation coverage and long-term intense agricultural activities, particularly in the Loess Plateau region. To improve environmental quality and health and increase vegetation coverage, the Chinese government initiated two restoration programmes in NW China in the late 1990s — the Natural Forest Protection Programme (NFPP) and the Grain for Green Programme (GGP). Some of the largest ecological restoration and rural development projects in the world, the programmes have focused on two main measures to stabilise soil and enhance land cover — reforestation on wasteland and converting unproductive steep slope lands into woodlands.
In addition to these vegetational changes, governments are applying structural and engineering measures to increase crop yields. Sloping farmland is being levelled to terraces, as these can effectively intercept surface water and store it in soil to be used by growing crops. Building sediment-trapping dams is another favoured measure. Considered a "win–win" solution, the dams trap upland sediment and reduce the amount of sediment entering a river while simultaneously creating fertile, arable land for agriculture when a dam is filled.
A recent study on the impact of land-use changes on soil hydraulic properties in NW China's Loess Plateau showed that vegetation restoration has significantly improved the hydraulic properties of soil that are responsible for water's movement through it. The study also illustrated that, compared to generally accepted afforestation, grassland is more capable of enabling water infiltration and mobility. Tree growth can change the properties of soil in a way that inhibits water from moving through it, while grassland can provide a stable soil macropore system that enhances water mobility.
On top of reducing soil erosion, vegetation restoration offers a multitude of other benefits for humankind, including alleviating flash floods, preventing sand and dust storms, enlarging carbon sequestration capacity and diversifying rural incomes. However, implementing environmental restoration measures to control soil erosion and improve agricultural production on-site must also consider the off-site impact on water resources downstream.
Water shortage and droughts are the main constraints for regional development in NW China. The river discharge in the middle reaches of the Yellow River has continuously declined over the last five decades, and this is thought to be mainly due to land use and climate change. Enlarging forest coverage (afforestation) will lead to much higher water consumption from tree growth; in turn, this will decrease water availability for groundwater recharge and water flow into the river system. This is why such measures may have considerable adverse effects on the river discharge and the water supply security of a vast part of the region downstream.
In light of these developments, forest development policy in water-limited areas has been intensely debated and increasingly questioned in China. Recently, a study that examined different land management measures and climate change impacts on the runoff on the Loess Plateau demonstrated that expanding an area of forest plantation and terrace without controlling for the effect on water resources can result in a significant decline of river discharge. This would further aggravate the water crisis in this region. However, the paper also provides evidence that, at a local scale, regulation/control of river discharge can be achieved by directly modifying land management strategies and vegetation cover.
One example of how to increase vegetation without significantly decreasing water supply is to create more grassland instead of woodland. Well-managed grassland can, like woodland, effectively prevent soil erosion; however, it consumes much less water.
Achieving balance
The environmental restoration programmes implemented in NW China have had great success in reducing soil erosion and improving the degraded environment. However, these programmes did not consider the nexus between water and soil.  Policymakers should be aware that it is crucial and urgent that water resource management and land-use management are harmonized when developing policies for environmental restoration in NW China. Overprotection of one resource (e.g., soil) may result in a substantial decline of another resource (e.g., water) and may considerably damage regional economic development. To avoid such undesirable outcomes, the inter-dependencies and interactions between soil and water resources management (the soil-water nexus) should be considered in policy development.
Achieving balance and cooperation in the management of a multi-beneficial ecosystem is challenging. In order to improve ongoing adaptive land management policy in NW China, further research is necessary. And this crucial research needs to consider the entire nexus, taking a cross-sectoral, trans-boundary perspective to natural resources management at different spatial scales under changing environments.
Without improved knowledge we may miss the chance for enhancing synergies and instead increase the risks of unnecessary trade-offs. Additionally, environmental management programmes, such as GGP, can significantly shift farmers' activities from on-farm production to off-farm production. This will result in substantial socio-economic consequences that need to be considered and included when managing the multi-beneficial ecosystem.
The studies and conclusions presented in this article are the results of a research project conducted by UNU-FLORES. The project is executed in collaboration with the Chinese Academy of Forestry in Beijing and Technische Universiät Dresden, and funded by the German Research Foundation (DFG Grant No. SCHW 1448-3/1).

North-west China Water Supply Impacted by Vegetation Restoration by Lulu Zhang is licensed under a Creative Commons Attribution-NonCommercial-ShareAlike 4.0 International License.