2012•01•05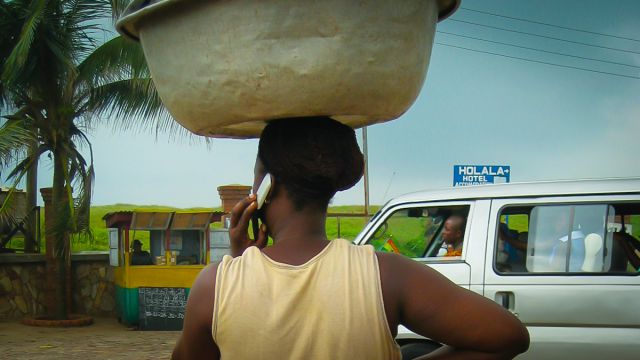 Photo: Abby flat-coat
A promising strategy to promote good governance is the harnessing of opportunities provided by the use of mobile phones, which are widely accessible to most segments of society. A study recently presented at the International Conference on Theory and Practice of Electronic Governance, of which two authors are from the UNU-IIST Centre for Electronic Governance, investigated the strategic use of mobile technologies by governments to achieve the desired development and social inclusion outcomes. The study focused on the case of migrant head porters – local micro-logistics service providers – from Ghana. Its implications include supporting policy efforts for achieving the Millennium Development Goals on poverty alleviation and gender (specifically, women's empowerment).
• – •
Adopted by the United Nations General Assembly in 2000, the Millennium Development Goals (MDGs) commit both developed and developing countries to do all they can "to eradicate poverty, promote human dignity and equality and achieve peace, democracy and environmental sustainability". Mid-way to the 2015 target deadline, there is a growing consensus that achieving the MDGs rests upon good governance and the realization of pro-poor policies by public administrations and civil society organizations, based upon accountability, transparency, rule of law and human rights.
Governments worldwide therefore are attempting to harness the potential of information and communication technologies (ICT) to implement the principles of good governance and to create new dimensions of economic and social progress. Indeed, various studies have shown a positive correlation between Internet penetration and countries' Gross Domestic Product.
Electronic governance (EGOV) — ICT-enabled transformation of the working of government and its relationships with citizens, businesses and other arms of government — is increasingly adopted by governments in developing and developed countries alike. Receiving public services online, however, requires access to the Internet and good network connectivity, and the infrastructure construction costs are beyond the financial capacity of many countries. Mobile governance (MGOV) represents the use of mobile technologies as part of the EGOV transformation. Given the accessibility of mobile phones to the poor — according to the 2011 ITU report Measuring the Information Society, about 80 percent of the world's population will be mobile phone subscribers by the end of 2011 — opportunities for pro-poor MGOV are compelling.
However, as many developing countries are market economies, it is plausible that social inequality could persist or even exacerbate in the presence of MGOV, if not carefully conceived and implemented.  To meet development and social inclusion outcomes such as the MDGs, MGOV for development (MGOV4D) should not only provision mobile technology-based information and services to vulnerable groups (like typical Mobile ICT for Development (MICT4D) initiatives) but also support pro-poor policy implementation, decentralization, accountability, transparency, public administration and civil service reform, and other governance mechanisms.
A strategy framework
In order to propose an MGOV4D strategy framework to support MICT4D initiatives in meeting their development objectives, the first step was to determine which among the governance mechanisms considered critical for achieving MDG are important for implementing MICT4D initiatives. This step proceeded by examining, based on the set of MICT4D good practice cases, the governance mechanisms proposed by the 7th Global Forum on "Reinventing Government — Building Trust in Government" organized by UNDESA in 2007.
The second step involved transforming MICT4D initiatives and their corresponding governance requirements into MGOV4D initiatives aimed at satisfying citizen needs or acquiring livelihood assets towards the attainment of development outcomes. The table below shows three related parts of the framework: seven mechanisms critical for addressing MDG (UNDESA, 2007), ten categories of assets required by citizens (Klein, D., 2009), and eight MDGs treated as development and social inclusion outcomes.
Finally, the third step involved applying the framework to analyse MGOV4D strategies for a vulnerable group of young rural women involved in head porterage in Ghana.
Governance Mechanisms

Citizen Assets

MDG

Pro-poor policies
Public administration and civil service
Decentralization and service delivery
Accountability and transparency
Rule of law
Human right
Civil society

Educational
Psychological
Information
Financial
Cultural
Social
Natural
Material
Geographic
Health

Poverty
Education
Gender balance
Reducing child mortality
Maternal health
Reducing HIV/AIDS
Environmental sustainability
Partnership
Case study: Migrant head porters in Ghana
Ghana is a peaceful and stable democracy, making good progress toward its goal of becoming a middle-income country by 2020. According to the Canadian International Development Agency, the Ghanaian government working with the donor community has since 1990 nearly halved the number of citizens living in extreme poverty. The country currently ranks 135 out of 187 countries on the United Nations Development Programme's Human Development Index. Initiated in 2003, Ghana's "ICT for Accelerated Development (ICT4AD)" was intended as "a policy statement for the realization of the vision to transform Ghana into an information-rich knowledge-based society and economy through the development, deployment and exploitation of ICT within the economy and society". The policy aims at addressing various developmental challenges facing the country.
Head porterage is a major form of transport of goods in Ghana. All over the country, people carry their wares from farms to their houses on their heads. While both men and women carry goods in this way, men increasingly use bicycles, carts and other technological aids. The business of head porterage, almost entirely practiced by young women and teenagers (called "Kayayei") migrating from the northern to the southern part of Ghana, however, rarely relies on such technological aids.
Our study focused on the development needs of this vulnerable group, and how the effort to fulfill such needs can be supported through the design and implementation of appropriate MGOV4D strategies, obtained through rigorous MGOV research.
In order to determine such strategies, the following research questions were addressed:
What are the most critical information and service needs of the study group?
What governance mechanisms are critical in addressing those needs?
What roles can mobile technologies play in supporting the governance mechanisms?
What MGOV4D strategies could be used by government to support the governance mechanisms?
Based on our detailed discussions with one member of the study group and a number of interviews with other members, we identified the following information and service requirements amenable to MICT4D interventions:
Micro-banking and money transfer service — A major goal for women head porters is saving money for their future plans: setting up their own businesses, enrolling in apprenticeships, etc. Thus, services aimed at assisting these women in saving and transferring such money from the southern part of Ghana to their relatives in the villages in the north are important to this goal. In particular, MICT4D initiatives to support the saving and transfer of funds are essential. To this end, the government would be expected to enable micro-banking as part of its pro-poor policy, while the telecom operators and banks would be expected to support the development of mobile phone-based micro-finance services.
Health awareness — Given the literacy level and general vulnerability of the women head porters, provision of health-related information is critical. For instance, information on the locations of the vaccination centres and reminders of vaccination schedules for babies or information on basic hygiene and sanitary practices particularly during diseases outbreaks, epidemics and disasters. The possibility of delivering such information over mobile phones would have significant impact on reducing child mortality among this vulnerable group.
Information on weather conditions and forecast — Given that a good number of head porters have no real shelter, the possibility of receiving advance warnings to avoid being trapped under rain could reduce the incidence of abuse and harassment of these women, which usually happen on rainy nights. Providing weather-related information through mobile phones would require cooperation between government and telecom operators.
Incident reporting — As women head porters are susceptible to abuse and harassment, a mobile phone- and location-based incident reporting service would be highly desirable to assist the law enforcement officers in protecting the women and apprehending the offenders. As a custodian of law and order, the government should lead such initiatives, for instance by enabling civil society organizations to provide such services to the vulnerable groups.
Voting and participation — With low literacy levels among women head porters and basic economic and social problems they face in their daily lives, voting and participation are not priority issues for these women. Therefore, building awareness among this group about the rights and benefits of having a voice in government decisions and policies that directly affect their lives is critical. This awareness-building could take place through civil society participation and various human rights instruments. Even when government does not provide the means to empower such women, it could enable civil society organizations to provide various channels, including mobile phones, for participation.
The goal of our study was to show how mobile technology initiatives can produce and sustain the expected development impact: MICT4D. Our argument is that such initiatives are unlikely to produce such impact unless governance mechanisms are also included (MGOV4D); we conceptualize the MGOV4D initiatives by integrating the MICT4D initiatives with the necessary governance mechanisms.
Guided by this conceptualization, by the review of existing MICT4D initiatives, and by the analysis of the case study, we arrive at the following answers to the research questions:
The following information and services are critical for head porters: micro-banking and money transfer, health awareness information, weather related information, incidence reporting and participation.
The top three governance mechanisms required to support MICT4D initiatives are: participation of civil society, public administration and civil service reform, and decentralization and service delivery. The participation of civil society is critical for MICT4D initiatives.
The governance mechanisms can be supported by mobile technologies through the use of mobile devices for: information and service delivery, information capture, and evidence-gathering.
The MGOV4D strategy framework integrates the implementation of MICT4D initiatives with the implementation of the relevant governance mechanisms. Concrete MGOV4D strategies include:
Promoting low-cost mobile phones accessible to the poor,
Developing government capabilities for delivering information and services,
Involving civil society organizations in MICT4D and MGOV4D initiatives by government,
Integrating support for vulnerable groups into existing public reform and decentralization programs,
Accessing government information and submitting information to government using mobile phones,
Supporting the delivery of legal evidences and information through mobile phones, and
Enabling participation of the vulnerable groups in elections and decision-making processes.
Conclusions
An important head porter need not highlighted in the paper is the need to prepare for future jobs, as most women consider the head porter job as a temporary one, done essentially to raise capital for future investments. In line with this, it has been suggested that the government supports the provision of adult literacy programs to build marketable skills.
On validity of the information obtained from the case study, we found a good degree of convergence between our data and the facts presented in an earlier study on women head porters in southern Ghana published in the Journal of the Social Development in Africa (Opare, 2003), particularly in the area of livelihood concerns.
We plan to continue this work by further validating the model, cataloging the feasibility and challenges of implementing the suggested strategies, and developing a tool to assist development practitioners in applying the model.