2012•09•25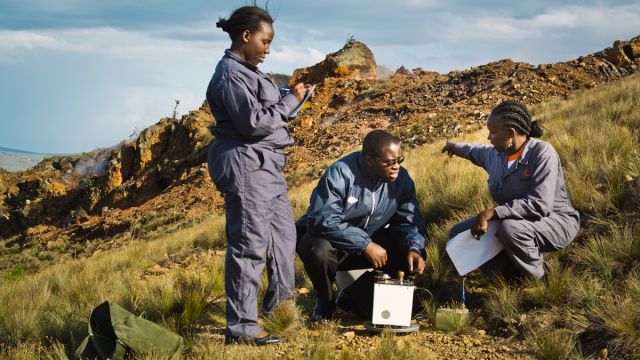 Photo: Ryo Murakami/UNU
In this second article in a two-part series, Kenyan environmental scientist Pacifica Ogola, a UNU Geothermal Training Programme PhD fellow, discusses the role of geothermal energy in her home country.
• • •
In this International Year of Sustainable Energy for All, it is important to recognize that energy is a prime driver of economic development, and access to energy has direct positive impacts on the attainment of the Millennium Development Goals (MDGs). Inadequate access reduces societies' opportunities for meeting the basic needs provided by energy services and opportunities for gainful employment.
In my country, Kenya, 75 percent of the population does not have regular access to electricity. In response, Kenya has set a vision to industrialize by 2030. This will require the extensive use of energy from different sources, and geothermal energy has the potential to "lead the pack". The country has adopted a geothermal-based capacity expansion strategy to supplement hydropower, which — despite contributing up to over fifty percent of the total electricity generated — is highly vulnerable to the impacts of recurrent drought.
About 10,000 megawatts (MW) of untapped geothermal energy potential is thought to be buried beneath the 900 kilometre-long Kenyan Rift Valley in more than fourteen prospective sites. The prospects are divided into south, central and north rift geothermal fields, mainly for administrative purposes.
Lessons from the north
To tap into this potential, Kenya has been working with local and international experts like those at the United Nations University Geothermal Training Programme (UNU-GTP) in Iceland on capacity-building, technology transfer and financing. These efforts have seen the country become a leader of geothermal development in Africa.
UNU-GTP and Iceland Geo Survey have become the main reference points for many developing and industrialized countries by providing a model for best practice in geothermal utilization.
A total of 62 Kenyan professionals have graduated from UNU-GTP after six months of specialized training since the programme's inception in 1979, forming a large part of the 145 graduates from across Africa.
Kenya's "geothermal team" has become a strong force on the ground and is now charged with the responsibility of driving geothermal development to greater heights, in Kenya and the African Rift Geothermal Energy Development Facility (ARGeo) region as a whole.
Kenya already hosts the largest geothermal power plant in Africa (Olkaria II) and has just commissioned the construction of two geothermal power plants of 140 MW each — i.e., Olkaria IV and the new Olkaria I Units IV and V projects. The estimated completion dates of the two power plants are March and June 2014 respectively. The developed Olkaria geothermal fields (I, II and III) are located inside Hell's Gate National Park.
Map showing geothermal prospects in Kenya
| | |
| --- | --- |
| A. Olkaria East (Olkaria I) | B. Olkaria North East (Olkaria II) |
| C. Olkaria West (Olkaria III) | D. Olkaria Domes (Olkaria IV) |
The geothermal capacity was not built over night, but has increased systematically through the years, as successive generations of UNU-GTP graduates have laid down and strengthened the firm foundations of geothermal resource development knowledge over the last three decades.
Opening new frontiers
Kenya's south and central rift geothermal fields lie in regions where access to electricity is limited and scattered and confined to major towns along the national grid.
In contrast, the north rift region has not benefited from such increased access to electricity and has remained off the main grid, since it was not economically feasible to extend the grid through hilly terrain to sparsely populated areas. As a result, there is a huge contrast in development and welfare gains between regions with and without electricity.
However, underneath the rugged, drought-stricken north rift lie vast unexploited geothermal energy resources. The surface thermal manifestations have come to play a role in the culture and spiritual beliefs of local communities. The cultural heritage of the north rift tribes is unspoiled due to the long-time marginalization of the region. Over the centuries, surface thermal manifestations have been associated with ghosts, evil spirits and in some cases viewed as sacred. Several religious myths have been told about the formation of different surface thermal manifestations.
In the north rift, most nomadic households rely on wood fuel for lighting, despite sitting on a huge potential of geothermal energy resources. Lack of access to energy services has kept these households trapped in a cycle of poverty. For example, the illiteracy rate is over 90 percent in East Pokot and the fact here is that if households have access to electricity, then children will be able to read in the evening. Of course the provision of electricity is only one part of the solution to the poverty trap. But thanks to geothermal technology it may be possible to bring development to this once marginalized region.
The opening of more geothermal fields, however, is not without challenges. Poor infrastructure, high temperatures, inadequate water resources, and intimidating slopes and volcanoes require resilience and determination from geothermal experts wanting to successfully conquer these new frontiers and "add megawatts to the grid".
"It is a rough road that leads to the height of greatness," said Seneca, a Roman philosopher in the mid-1st century AD. Indeed.
Turning climate change mitigation tools into opportunity
Successive years of droughts and floods in Kenya in the past decades have had a devastating impact not only on food security, but also on hydropower production. Most ARGeo countries faced years of floods (laden with heavy silt) that reduced hydro storage capacity, followed by severe droughts, which further depleted hydropower generation capacity.
Yet countries within the African rift have the opportunity to adapt and mitigate climate change impacts using geothermal energy. Reducing greenhouse gas emissions will require immense deployment of renewable energy sources that are less carbon intensive and climate sensitive.
Geothermal energy is currently riding on the wave of climate policy. Countries within the African rift are gearing up to maximize the benefits of this new wave, with Kenya taking the lead by implementing two geothermal Clean Development Mechanism projects (with additional community benefits), and more expected in the years to come.
A key element in the mitigation of climate change is capacity-building in renewable energy technologies in developing countries where the main increase in energy use is expected. The innovative training programme for geothermal energy professionals developed at UNU-GTP in Iceland offers an example of how this can be done.
Just as the Icelanders' Viking ancestors used geothermal heat to adapt to harsh weather conditions, the same aspects of geothermal utilization can be tailored to improve the adaptive capacity of the nomadic communities in the East African Rift Valley, who are at times exposed to the impacts of recurrent droughts.
Even though I was more familiar with Olkaria, as my PhD research progressed I became inspired by the potential offered by the unique set-up of the north rift geothermal fields in Kenya.
My doctoral research looks at the potential of utilizing geothermal energy in drought related aspects of climate change adaptation in the north rift, within the Bogoria-Silali Block. It also identifies the initial conceptual frameworks for combining climate change mitigation and adaptation strategies in geothermal projects, including co-benefits, trade-offs and limitations.
Marigat is a small undeveloped rural trading centre and gateway to the north rift geothermal fields. The trading centre illuminates the contrast between the developed and undeveloped parts of Kenya. Could the local community around Marigat, like the communities near the Olkaria geothermal fields, gain from the flow of benefits from the planned geothermal projects? The challenge that all energy infrastructure projects face is how to meet the national energy needs while dealing with the local environmental consequences and ensuring benefits for the local communities.
Overall, the planned geothermal development in Kenya will enhance the attainment of the Millennium Development Goals, at the local and national levels.
The next step is to roll up our sleeves and develop our geothermal energy resources: a task can only be achieved by working in close collaboration with strategic development partners, such as UNU-GTP in Iceland and the Icelandic government (and others) who we thank for having the courage to invest in capacity-building and technology transfer in such a complex and technical field. This investment has certainly made a difference in the lives and economic prosperity of many developing countries with geothermal resources.
• • •
The perspectives expressed in this article are those of the author and do not represent the views of her employer. The documentary video accompanying this article was researched, scripted and produced by the United Nations University and does not represent the views of the author or her employer.