2011•06•07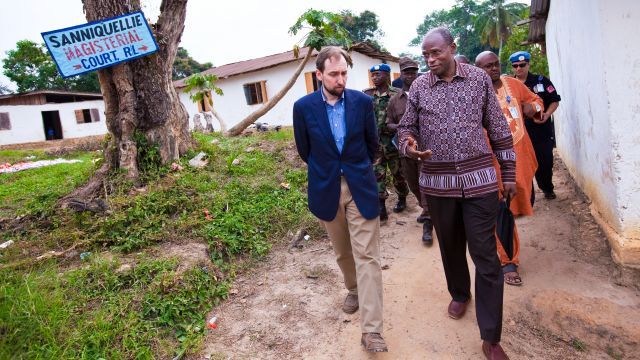 Photo: UN Photo/Staton Winter
The United Nations Secretary-General's report in 1999 described post-conflict peacebuilding as seeking "to prevent the resurgence of conflict and create the conditions necessary for a sustainable peace in war-torn societies".  As such, peacebuilding is a holistic process involving various activities including provision of security, humanitarian aid, development and governance assistance, and (re)building of infrastructure. All these activities attempt to ensure that conflict-prone societies do not relapse back into cycles of conflict.
As part of this collective aim, for the past several years peacebuilding literature and the UN's own work has been stressing the importance of local ownership of peacebuilding processes. The Secretary-General's 2009 Report on peacebuilding in the immediate aftermath of conflict (A/63/881–S/2009/304) emphasizes "the imperative of national ownership" and argues that "[o]nly national actors can address their society's needs and goals in a sustainable way. " Obtaining the active commitment of local stakeholders in peacebuilding activities is crucial for their success. This requires strategies that understand, respect and take into account the varying perceptions, needs, capabilities and experiences of local communities and enhancing local will and capability for peacebuilding.
However, international peacebuilding activities in the past have tended to take top-down approaches. In practice, the dominant liberal-institutionalist peacebuilding model is focused on strengthening the institutions of the state to entrench peace, usually based on generic Western governance models. This approach often neglects the welfare needs of local populations and fails to engage with indigenous traditional institutions and culture. The frequently observed risk here is alienation of significant sections of the population and ignorance of substantial socio-economic root causes of conflicts, which results in a failure to embrace international peacebuilding initiatives and in some cases, reactionary practices such as extreme politics and a resumption of violence.
Who is 'local'?
Although local ownership has been increasingly emphasized in international peacebuilding efforts, there is still limited knowledge of, and research about, local perceptions of international peacebuilding and local experiences in peacebuilding processes.
In order to enhance better understanding of local experience, gauge how 'international' peacebuilding is viewed from a local perspective, and make recommendations on how to enhance the effectiveness of the UN's peacebuilding work, the United Nations University Institute for Sustainability and Peace (UNU-ISP) held a series of workshops as part of its "Peacebuilding in Conflict Affected Societies: Comparative Experiences and Local Perspectives" project. The workshops, held in Accra, Ghana (2009) and Sarajevo, Bosnia (2010) were attended by national peacebuilding experts from conflict-prone countries including Bosnia, Burundi, Croatia, Guatemala, East Timor, Kosovo, Liberia, Mozambique, Rwanda and Sierra Leone. Participants were from the worlds of policy analysis, UN peacebuilding, academia and civil society.
Results from the project workshops demonstrated that, while it seems reasonable to assert the importance of local ownership, who exactly can be defined as a local stakeholder is less clear. Participants agreed that, in reality, there is no single 'local' consensus or interest; the 'local' realm is often contested. Locals include a variety of actors including representatives from governments, civil society groups and local community and religious leaders, all of whom may speak in different voices. It is also important to consider sectors of society that are not as represented in decision making including women, children and ethnic and other minorities. Workshop discussants raised the importance of including former combatants, as well as displaced persons as local resources for peacebuilding.
At the same time, it is crucial to ensure local interlocutors targeted by the international community are regarded as legitimate by locals. Determining who is both legitimate and local therefore requires implementing peacebuilding initiatives that reflect the unique circumstances of each conflict environment. Although governments are traditionally seen as representative of locals, most workshop participants regarded the lack of legitimacy of new governments and institutions as a serious problem. Traditional conflict-resolution mechanisms should also be considered as a complement to international peacebuilding resources where appropriate. At the same time, whether and how local resources contribute to peacebuilding processes needs to be carefully examined. As it has been pointed out, 'romanticizing' local ownership is as problematic as ignoring it.
Balancing the local and international
How to balance local/international ownership and commitment in peacebuilding is not an easy question. Ownership is a complex process that involves information sharing, consultation, and monitoring and assessing success, rather than simply participation. One of the most significant challenges is the issue of prioritization and sequencing of peacebuilding activities. It has recently been argued, for example, that promoting elections and a market economy too early, which has been the dominant international approach, has the potential to cause unnecessary competition and undermine a fragile post-conflict peace. In addition, international stakeholders often set standardized priorities based on their own mandates, and not necessarily local needs and expectations.
But even the process of encouraging and at times enforcing local ownership by the international community may in fact become a source of conflict, as competing groups vie for power and support. Despite frustrations with top-down international presences in post-conflict environments, workshop participants agreed on the importance of an international presence or leadership regarding restoring and maintaining security on the ground. Some felt that UN missions in their countries had departed too early.
As part of their role, international actors have an essential role to play in employing and eventually transitioning to local ownership, so that local actors with a direct stake in peacebuilding outcomes assume responsibility for their collective futures. It is important to note, as workshop participants were keen to point out, that the dichotomized relationship between the local and the international is simplistic and denies the complexities of relationships and overlaps between all actors on the ground.
As perspectives of local peacebuilders have confirmed, local ownership should not be seen as a goal in itself, but rather as a means of bringing legitimacy and effectiveness into peacebuilding processes. In relation to this, any gaps between international perceptions and expectations and local expectations and capacities have to be recognized and addressed in advance of implementing any peacebuilding strategies. How to create an appropriate local/international partnership is a challenge, which varies according to each country and the peacebuilding stage each country is currently at.
• ◊ • ◊ •

For enquiries about the "Peacebuilding in Conflict Affected Societies: Comparative Experiences and Local Perspectives" project, please contact United Nations University Institute for Sustainability and Peace (UNU-ISP) Academic Programme Officer Dr Madoka Futamura (futamura@unu.edu).