2011•06•14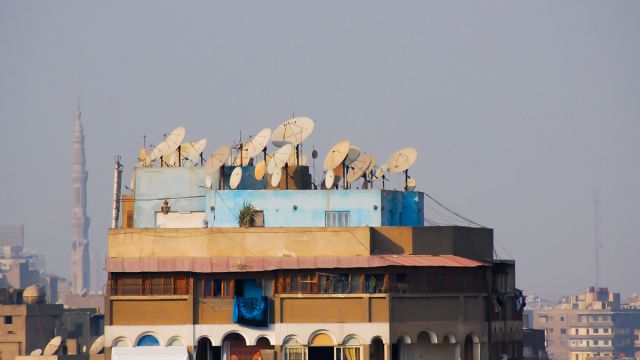 Photo: Paul Keller
There is increasing recognition and evidence to confirm how key the creation, accumulation and transfer of knowledge is for enhancing scientific and technological progress and economic growth. More recently, the continuous move towards globalization along with the progress in information and communication technologies (ICT) highlighted the centrality of knowledge and its intensified impact on the world economy. In recent years, this has led to a new economic system or the so-called "New Knowledge Economy", which is characterized by the rapid diffusion of ICT, advanced knowledge systems and swift globalization. However, the brisk advancement in knowledge and information and communication technologies simultaneously made it harder for developing countries to bridge the already widening knowledge gap between developed and developing countries.
From existing research on the knowledge economy we may surmise that knowledge (in the form of technical progress or accumulation of human capital) is seen as a public good, and it tends to be non-rival and partially excludable. These two features of knowledge raise the possibility of knowledge transfer, spillovers, and externality that supports endogenous growth but also highlights the role of institutions in providing incentives for the creation and transfer of knowledge. From prevailing research, we also learn that knowledge transfer can be defined as the process by which knowledge travels from a knowledge holder (a person or organization possessing the knowledge) to a knowledge recipient through one or many transfer channels including human capital mobility (diffusion of tacit knowledge), ICT, training, foreign direct investment, patent, suppliers, licensing, academic links, producer-consumer two way knowledge transfer, etc. (Cowan, Soete and Tchervonnaya, 2001).
For many years, Arab countries have lagged behind developed and the leading developing countries in terms of knowledge and the capacity to create knowledge. Arab countries would do well to look towards the success stories in the rapidly advancing countries of East Asia — countries that have recognized the importance of knowledge as a crucial determinant of economic growth. The experiences of these countries involved intense learning, acquisition of knowledge, institution building and an extensive role for the government, as well as allowing the state a role as a guide and facilitator of knowledge and economic development. Thus, East Asia's successes could be seen as consequent of a heightened level of commitment to creating or strengthening appropriate systematic institutions, sound plans and successful strategies to enhance the creation and transfer of knowledge by investing in the physical capital, infrastructure, human capital (people), knowledge institutions (education, training, R&D, science and technology), capability and technology transfer. All of these are accompanied by an increased role for the private sector, strong networks, economic openness, integration in the global economy and cooperation with regional and international knowledge institutions.
It is hoped that the Arab Spring can provide many opportunities for boosting the creation and transfer of knowledge in the Arab region, providing the potential to commence a number of positive trends. The new spirit of positivity brought in with the wave of change in Arab societies has the potential to promote a new social culture that should help to improve awareness and commitment to the appreciation of knowledge and to support cooperation to enhancing its transfer.
Any newfound accountability could feasibly allow for the improvement in the good governance of knowledge institutions (education, training, R&D, science and technology, ICT, etc.). A commitment to good regulations and legislation will build a basis for promotion of new partnerships to boost scientific cooperation between knowledge related institutions in the public and private sectors as well as new partnerships and scientific cooperation within and between Arab countries, and additionally with regional, global and international scientific institutions for promotion of knowledge creation and transfer in the near future. For example, this includes scientific cooperation between public and private universities and other productive sectors to enhance R&D and knowledge transfer.
Finally, the promotion of more favourable environments, institutions and facilities for supporting the creation and transfer of knowledge would help to encourage the return of Arab scholars, experts, professional and highly skilled migrants able to help to augment knowledge and reduce the brain drain in Arab countries. One such institution is Egypt's recently launched "Zewail City for Science and Technology". Following a breakdown of the project in the Mubarak era, it was revived this month after Egypt's revolution. The name is to honour the project's conceptor, Dr. Ahmed Zewail, winner of the 1999 Nobel Prize in chemistry.
The challenges ahead
However, potential challenges also do exist. It will most probably take some time for knowledge institutions to harvest the fruits of the Arab Spring, mainly because in the short run, a transitional period will see priority given to security issues and political and economic stabilization.
Commitment to the promotion of democracy and freedom are of course necessary factors but they are not by themselves sufficient for the creation and transfer of knowledge in the Arab region. They will boost the creation and transfer of knowledge only provided that they are integrated with other institutional factors adopted by new governments in the region. New governments need to confirm commitment to institutional reform and better availability, sustainability and efficiency of infrastructure, as well as to developing the sound plans and systematic institutions that are required for the creation and transfer of knowledge in the region.
The reform of knowledge institutions for this purpose would entail a new and firm commitment of such institutions to standardized international criterion of adequacy, equity and efficiency. New governments and the new governors of knowledge institutions need not cancel the positive initiatives begun prior to the revolution but they need to substantiate their resolve to reform by implementing plans that take into consideration lessons learned from past experience and from the experiences of East Asian countries. For instance, in Tunisia, international reports indicate few positive initiatives for enhancing knowledge, this implies that the new Tunisian government should improve these few existing positive initiatives and commit to reform and further development.
From the economic and social development perspectives, the challenge is that the high incidence of youth unemployment and poverty in the Arab region will provoke competition for limited financial resources to be allocated amongst youth unemployment, poverty, economic growth and reform of knowledge institutions. In the short run, if the new governments spend scarce resources (i.e., money for development) on the development and reform of knowledge institutions, they will be be unable to address social development issues such as youth unemployment and poverty.
The challenge, therefore, is to strike the right balance when allocating government funds to different priorities. One major policy option in view of such limited finances is to shift allocation and redistribution of resources from a focus on defence and security issues towards enhancing knowledge institutions and the creation and transfer of knowledge. Another policy option is to encourage private sector involvement in knowledge institutions and to focus government spending on knowledge institutions on those that benefit youth and the poor by enhancing their capabilities, upgrading their skills and offering them more education and employment opportunities, which could contribute to achieving UN Millennium Development Goals by 2015.
The general conclusion is that provided new governments in the region give a firm commitment to institutional reform and sound plans, there are more opportunities than challenges in harnessing the Arab Spring to boost knowledge transfer in the region.