2011•11•29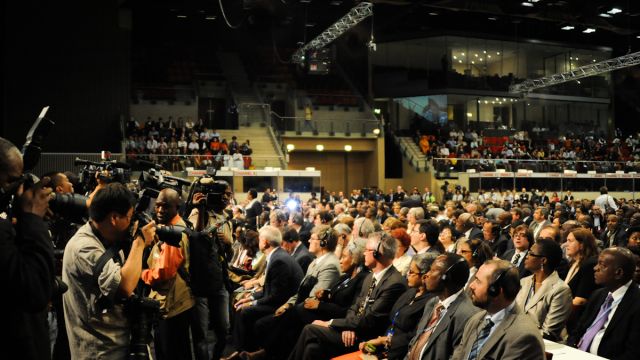 Photo: UNFCCC
As the 17th Conference of the Parties (COP17) to the United Nations Framework Convention on Climate Change (UNFCCC) kicks-off this week, delegates from around the globe have converged on Durban, South Africa. With the hope of "saving tomorrow today", climate negotiators, political leaders and  global civil society have come together to participate in one of the year's most important multilateral environmental events, where they will attempt to chart the road ahead for international action on climate change. To underscore the significance of COP17, over the next two weeks we will feature a special series of climate change articles on unu.edu. We will explore the multifaceted impacts and dimensions of climate change, including climate change victims, climate change diplomacy and small island states and potential renewable energy sources.

We start this series in South Africa, the host country of COP17, with a snapshot of the country's challenges in implementing a carbon taxation regime.

♦ ♦ ♦
South Africa is one of the world′s largest greenhouse gas (GHG) emitters. In 2007 it ranked 13th amongst all countries in terms of its overall emissions from burning fossil fuels, and its per capita emissions were twice the global average.
Not surprisingly, there is pressure for South Africa to lower emissions, and the Government has committed to a two-fifths reduction by 2025 (from a baseline "business-as-usual" projection). This will pose a serious challenge, as South Africa's economic development has long been founded on mining and heavy industry, supported by cheap coal-fired electricity. Reducing the country's carbon intensity will, therefore, require a substantial economic transformation, with clear winners and losers (especially during the transition period).
Various interest groups are expressing concerns about the effects of introducing carbon taxes. Businesses are worried about losing competitiveness, especially in export markets for minerals and metals. Labor unions worry about job losses and already-high unemployment. Civil society is concerned about rising energy prices, especially given persistent and widespread poverty.
The challenge, then, for the South African Government is not only to design and implement an effective carbon tax, but to also strike a careful balance between development and environmental goals.
Measuring direct and indirect carbon usage
Despite the debate surrounding carbon pricing policy in South Africa, the country lacks a sound empirical basis on which to evaluate the concerns of the different stakeholders.
A recent study by UNU-WIDER and the South African National Treasury (published in this Working Paper) brings new evidence to the ongoing public discussion. The study measured the direct and indirect carbon content of a detailed array of South African products and estimated the carbon intensity of different sectors, industries, goods and households.
Carbon intensity is measured using multiplier methods that capture inter-industry linkages and multi-product supply chains. This multiplier approach expanded on previous studies by using a supply-use table that distinguished between products and sectors, thus allowing us to better capture the inter-industry linkages and multi-product supply chains.
As the graph below shows, in South Africa's case, exports are dominated by carbon-intensive products, such as mining and metals.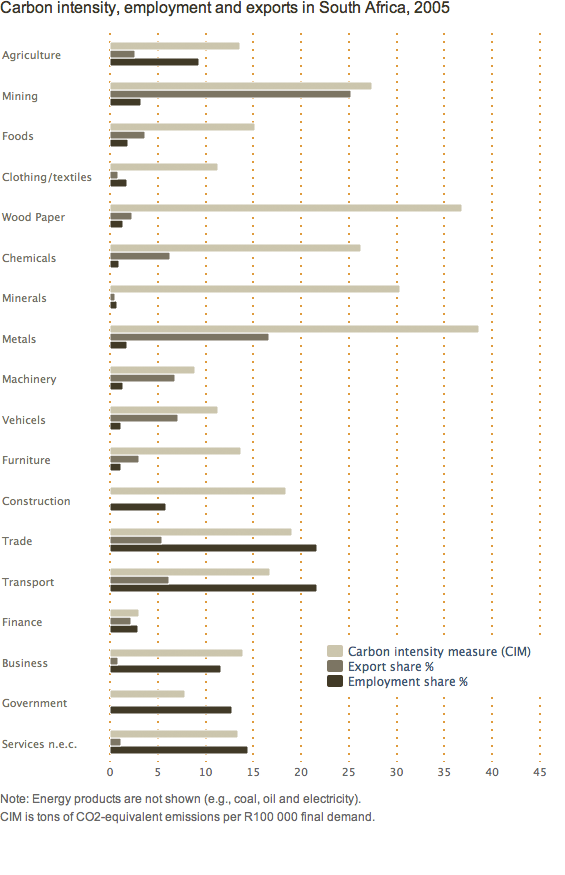 These carbon-intensive export products rely on foreign markets and may face declining export competitiveness if a carbon tax is introduced. Conversely, the main employing sectors, such as agriculture and services, are typically less carbon intensive and so are not at great risk. However, metals and mining are amongst the most unionized sectors, and so union resistance is understandable.
"Carbon intensity is found to be high for exports but low for major employing sectors. Middle-income households are the most carbon-intensive consumers. These results suggest that carbon pricing policies (without border tax adjustments) would adversely affect export earnings, but should not disproportionately hurt workers or poorer households." — Extract from "Measuring the Carbon Intensity of the South African Economy", a UNU-WIDER Working Paper.
Household carbon usage
The study also found that the consumption patterns of the poorest and richest households are less carbon intensive than those of middle-income households. This is because middle-income households spend less of their income on food (relative to the poor) and services (relative to the rich).
However, South Africa's notoriously high income inequality means that the richest households are by far the largest contributors to overall emissions. While the per capita emissions of the poorest quintile are similar to the national average for Benin (one of the lowest emitters in per capita terms), the emissions of the top earners are closer to that of Kuwait (the world's second highest emitter).
"Our results suggest that middle-income households are the most carbon-intensive consumers, although the unequal income distribution means that the highest 4 per cent of earners account for more than 80 per cent of total absolute emissions."  —  Extract from UNU-WIDER Working Paper
This extreme "emissions inequality" means that richer households will have to greatly reduce their carbon use (in absolute terms) if national emission reduction targets are going to be met.
Conclusions
Overall, the study concludes that carbon taxes will lower South Africa's export earnings. This may justify contentious border tax adjustments that rebate South African exporters and impose tariffs on the carbon content of imports. Secondly, a carbon tax is unlikely to cause substantial job losses, although short-term adjustment costs are inevitable as workers migrate towards new and less carbon-intensive industries.
"Our results confirm the importance of accounting for both direct and indirect carbon usage. For example, while transport is a large direct user of petroleum, the vehicles sector is actually more carbon-intensive overall given its indirect use of carbon-intensive intermediates, such as metals and rubber."  —  Extract from UNU-WIDER Working Paper
Finally, a carbon tax may reduce welfare for poorer households through higher consumer prices. However, upward pressure on unemployment and poverty might be avoided if carbon tax revenues are recycled via reduced consumption taxes, job re-training programmes, and investments in cleaner and more labour-intensive technologies. These compensating measures may address some of the concerns about carbon taxes and help South Africa to transition to low-carbon development.
 ♦
This article was first published in UNU-WIDER Angle, August 2011. It is based on Arndt, C., R. Davies, K. Makrelov and J. Thurlow, "Measuring the Carbon Content of the South African Economy", Working Paper, United Nations University World Institute for Development Economics Research (UNU-WIDER), Helsinki, Finland.