2013•07•05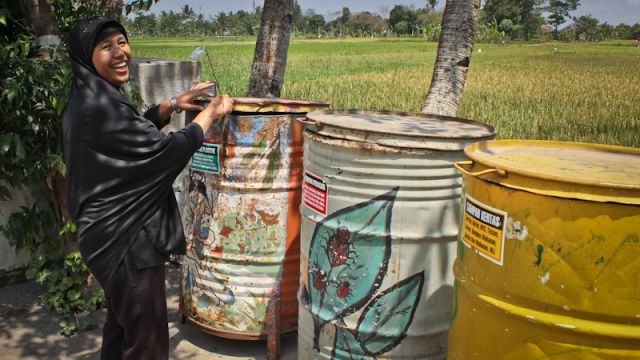 Photo: Stephan Schmidt/UNU
The world is urbanizing rapidly and the amount of municipal solid waste generated by the globe's cities is growing even faster. Some countries already have a handle on the issue. In Japan, it is established policy for waste to be collected separately at the source, and existing infrastructure and communities contribute to an effective waste management system that includes a recycling rate of 20.5 percent. In Norway, waste is treated like a commodity and imported from neighboring countries to be incinerated and generate energy that is used for things like heating.
Such policies and mechanisms allow affluent societies like these to maintain sustainable approaches to waste. And while citizens contribute by sorting waste at the source, other activities in the process of treating or recycling waste are left to third parties, specialized companies or governmental agencies.
In contrast are some efforts — such as two in Indonesian communities where public infrastructure is lacking — that are looking to initiatives in which applied research is addressing waste management issues with community involvement under a decentralized approach.
One example is the village of Sukunan close to Yogyakarta, Indonesia, where, without any governmental support, an independent model of waste management was implemented. The participants of the 2012 ProSPER.Net Young Researchers' School visited the site to learn more about this initiative, as shown in the first video below.
The Young Researchers' School is a capacity development programme initiated by ProSPER.Net — the Promotion of Sustainability in Postgraduate Education and Research Network — through which doctoral students, selected amongst ProSPER.Net members and the winners of the Green Talent competition of the German Federal Ministry of Education and Research, learn about local sustainability challenges.
Bapak Iswanto, a researcher from Universitas Gadjah Mada (UGM), initiated introduction of this waste management system to contribute to the development of his place of birth. The entire Sukunan community of 270 families is involved. Each family collects organic waste while the non-organic waste is taken to a common facility where it is separated into three categories: paper; bottles, glass and cans; and plastic.
About 60 percent of the collected non-organic waste is sold to waste collectors and the remaining 40 percent is used locally to either produce bricks for construction or as handicrafts sold to tourists to generate income for the community. Water used for washing clothes or bathing is purified for irrigation and watering plants and most organic waste collected is for composted and used as fertilizer.
The villagers execute all stages of the waste management process themselves and their effort demonstrates the possible involvement of a whole community in the process of managing waste in a transparent way by keeping the major part in the village.
How Indonesian communities are self-organizing to handle waste in a transparent manner was also witnessed by Young Researchers' School participants at the Gamping fruit market biogas installation. A partnership between local government, University Gadjah Mada (UGM) Waste Refinery Research Unit and the University of Borås, Sweden, the initiative established a process for the use of fruit waste as an energy resource, which is featured in this video:
Fruit market sellers gather waste from the market that is processed and used as organic fertilizer and to feed the biogas plant that provides enough energy for local street lighting. Besides the development of alternative, renewable sources of energy, all sellers are involved in the process of contributing to an improved market setting that attracts consumers from the local community who are otherwise used to purchasing fruits in supermarkets.
The community members of both locations, Gamping and Sukunan, have further gained knowledge about more sustainable livelihood approaches and actively participate to improve their sanitary conditions. The tangible results of healthier environments and the generation of income or cost savings are additional stimulus for continuous and meaningful community engagement.
ProSPER.Net Young Researchers' School
The theme for the 2012 ProSPER.Net Young Researchers' School was 'Building a resilient society in Asia'. Researchers from University Gadjah Mada and other ProSPER.Net member institutes talked about community development, addressing topics such as health, disaster risk and management, poverty eradication, food security and social entrepreneurship. Gamping and Sukunan are two examples where the local host, UGM, showcased the various research activities and outcomes for community development.
Other field trips, like one to the communities around Merapi volcano, were also part of the two-week School that brings together doctoral students to experience sustainability issues within a multicultural and multidisciplinary environment.
With the school rotating amongst ProSPER.Net members every year, the theme changes to address how different countries and their societies tackle sustainability challenges in the Asia-Pacific region.
The 2013 ProSPER.Net Young Researchers' School will be hosted by Chulalongkorn University, Asian Institute of Technology and Prince of Songkla University in Thailand from 9-20 September 2013. The theme will focus on "Partnerships in Water and Biodiversity for Sustainable Development".