2012•12•18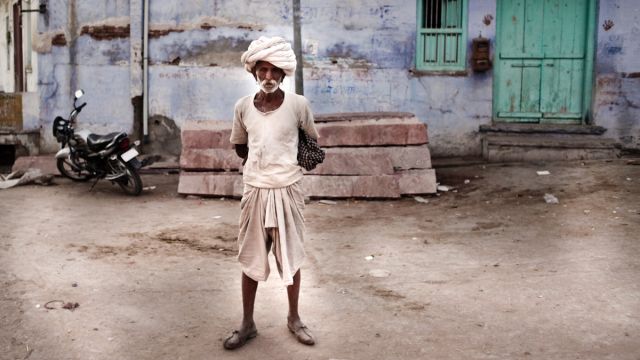 Photo: Akshay Mahajan
Provision of adequate housing and amenities are major challenges for human development, particularly among low-income urban households in developing countries. Often this shortfall is evident from the proliferation of slums and squatters. In Indian cities in 2011, for instance, approximately 20 million households were living in 49,000 slums. Another estimate from 2007 put urban India's housing shortage at 25 million, mostly for low-income households.
These challenges are further exacerbated when social exclusion makes access to adequate housing and amenities difficult among certain communities. In fact, it also contributes to the creation of a housing sub-market, which imbalances supply and demand and ultimately leads to difficulty in access to affordable housing. Though various levels of government have made modest attempts to provide housing and services through housing policies and programmes, the results have so far not been encouraging.
In 2001, about 377.1 million people were living in urban India, and the urbanization level was 31.2 percent, according to the Census of India. About one-fourth of the urban population lives below the poverty line and one-fourth (with partial overlap) lives in slums. The box below offers a quick overview of the housing situation in India's cities.
A glance at housing in urban India, 2011
Total population: 377.11 million
Total households: 78.87 million
Condition of census house: good (68.4%), livable (28.7%), dilapidated (2.9%)
Estimated housing shortage: 24.71 million
Estimated slum population: 93.06 million
Estimated number of slums: 49,000
Estimated poverty head count: 25.7 million
Tap water as a main source of drinking water: 70.6%
Latrine facilities within the premises: 81.4%
Source: Author's compilation from various sources
A country's housing situation is the by-product of household socio-economic conditions (including household income, property and assets) and government habitat policies and programmes. Success in improving housing conditions can be limited because policymakers often limit their efforts to housing policies and programmes and do not look at the whole picture, particularly key drivers like socio-economic conditions.
Dissecting housing inequality in socio-religious communities
In India, scheduled castes and scheduled tribes — two groupings of historically disadvantaged people expressly recognized in the Constitution of India (hereafter collectively referred to as Dalit) — constitute 22.5 percent of the population. This segment suffers disproportionately from poverty and is thus vulnerable to poor habitat conditions.
In the recent past, it has also been observed that religious minorities (especially Muslims, who make up about 14 percent of the population and are thus India's largest minority) are also vulnerable to becoming impoverished, though to a lesser extent than the Dalit.
Though affirmative action (or "affirmative discrimination", which is often used to define or describe action that includes but is not limited to "reverse discrimination" or "quotas"), via various public policies and programmes has been targeted at the Dalit, such recognition for other minorities has not been undertaken. This includes "reservation", which is a quota-based allocation of positions for members of the Dalit in education and government employment.
Nonetheless, extension of such affirmative action to minorities is presently a topic of debate among policymakers. In middle of the last decade, the central government established a commission and constituted a high-level committee, chaired by Justice Ranganath Misra and Justice Rajindar Sachar respectively. The task of the Ranganath Misra Commission (or National Commission for Religious and Linguistic Minorities) was to identify socially and economically disadvantaged sections among religious and linguistic minorities, to recommend measures for their welfare, and to suggest the necessary constitutional, legal and administrative modalities required for the implementation of said recommendations. The Sachar Committee, meanwhile, was responsible for preparing a report on the social, economic and educational status of India's Muslim community.
Upon the recommendations of these reports, the central government in 2006 launched the Prime Minister's New 15-point Programme for Minorities which envisages enhancing opportunities for education, ensuring an equitable share in economic activities and employment and improving the living conditions of minorities. Despite these government efforts, today nationally representative data shows that inequality and poverty in housing and related services persists, particularly among Muslim households.
The table below shows that, in comparison to the majority of the population (Hindu), Muslims and the Dalit occupied smaller homes and consumed fewer dwelling and urban services. For example, the Muslim minority and Dalit occupy on average 12.6 and 19.8 percent less floor area, respectively, compared with the majority of the population. This is also true for public services, such as access to drivable roads.
Housing Characteristics by Community in Urban India, 2008–09
Variables

Urban
India

Hindu

Muslim

Dalit

Floor area

(in square meter)
40.9
43.23
37.77
34.69

Kitchen

Separate (%)No separate (%)
61.9238.08
67.5232.48
54.2745.73
48.4551.55

Latrine

Private (%)Shared (%)No (%)
58.6820.9820.34
62.3520.816.85
54.125.3720.53
31.4419.8431.44

Bathroom

Attached (%)Detached (%)No (%)
44.7029.8525.44
48.4230.1721.41
39.3330.929.77
35.4528.8735.68

Source of
drinking water

Tap water (%)Others (%)
74.4225.58
76.8723.13
68.2331.77
70.5429.46

Facility of
drinking water

Exclusive (%)Shared (%)Others (%)
46.6721.1832.15
50.322.0827.62
44.1722.4633.36
36.0118.9645.03

Approach road

Motorable road/lane/path (%)Others road/lane/path (%)No direct opening to road (%)
62.2831.346.38
66.7428.34.97
54.5837.088.34
53.6737.358.98

Sample Size

56,338
33,330
7,797
12,940
Source of data: NSSO, 2010.
A close look at several socio-economic variables shows that the Dalit were in the poorest position, followed by the minority. The 2008/09 household survey revealed that Dalit had an average monthly consumption expenditure per household of Rs. 4438 (US$84), while that of the minority was about Rs. 4678 (US$88) and that of the majority population was about Rs. 5480 (US$104). A similar pattern is observed in occupation and employment, as shown in the table below.
It is notable that the Dalit were highly concentrated in slums (23 percent), followed by the minority (19 percent), while only 11 percent of the majority of the population were living in slums.
Socio-economic Differences by Community in Urban India, 2008–09
Variables

Hindu

Muslim

Dalit

Consumption expenditure (INR/month)

5480.36

4678.57

4438.66

Occupation

Professional/managerial (%)
Associate professional (%)
Clerical (%)
Sales/service worker (%)
Elementary worker (%)

25
7
74516

19
3
2
55
21

12
6
54933

Employment nature

Self employed (%)
Regular wage/salary earner (%)
Casual labour (%)
Others nature of employment (%)

38
391210

502418
8

28
3924
8

Household size (#)

4.33

5.44

4.69

Male headed household (%)

89

89

86

Slum located household (%)

11

19

23
Source: NSSO, 2010.
These data reveal the difficult position of the Dalit and Muslims in urban India in terms of access to housing and urban amenities, as well as socio-economic characteristics. As mentioned earlier, there is a deep nexus between physical outcome and socio-economic conditions. Therefore, in order to address physical deprivations, public policy should focus on both improvement of socio-economic conditions on the one hand, and housing policy and programs targeted to them, on the other hand.
Moreover, housing poverty is not only caused by a gap in socio-economic conditions but is also due to social exclusion. About one-fourth to one-half of inequality among Dalit and the minority is caused by social exclusion and the rest is due to the gap in socio-economic conditions.
Policy for a brighter future
India has a uniquely complex social system to identify people in need. However, obviously the country's social welfare policies should be streamlined to reduce housing poverty and disparity among these very disadvantaged communities. Yet appropriate policy selection and implementation that would yield positive results remains a puzzle. Nevertheless it should include a permutation and combination of policies and programmes suited to the disadvantaged communities.
Policies should be evidence-based (where many forms of empirical data are analyzed and used in creating policy) as one policy/programme will affect communities in different ways. For instance, income elasticities revealed that income improvement will raise living standards more for the minority (0.52), followed by in the majority of the population (0.49), and then amongst Dalit (0.39). This confirms that policy and programmes should be finely tuned to each target group.
As a first step, policy should focus on reducing the socio-economic gap among disadvantaged communities. There could be many ways to bridge this gap; for instance, enhancing access to better jobs by generating low-skill jobs and improving job oriented skills, which would ultimately reduce housing poverty and disparity. It should also be noted that better jobs are the outcome of improved education therefore another interconnected target should be to improve access to education among disadvantaged communities.
As discussed above, discrimination-based social exclusion contributes to housing inequality, playing a large role in the fact that Muslims and the Dalit are faced with living standards that are 24 to 60 percent lower than those of the rest of the population. The immensity of this gap in living standards is a grave matter of concern and proves that social exclusion must be eliminated through appropriate policy interventions, perhaps by further affirmative action.
Moreover, certain public policies enhance social exclusion among these disadvantaged communities. For instance, the Public Distribution System (PDS — a food security system to distribute subsidized food and non-food items to India's poor) which is based on household, without considering the size of a household, is negatively affecting the minority because the Muslim community have larger household sizes and this creates exclusion. Therefore all public programmes like PDS and the employment guarantee programme (based on legislation enacted in 2005 that guarantees 100 days employment to any rural household that demands it), etc., should consider household size.
Finally, slum improvement strategies, particularly those that focus on slums where Muslims and the Dalit are concentrated, would also be useful to reduce housing poverty and inequality among those communities.