2013•10•10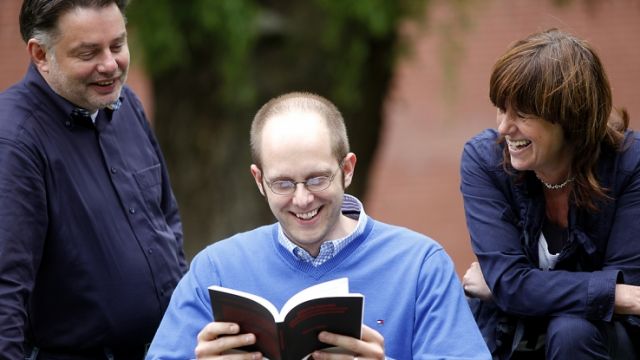 Photo: UNU-MERIT
Although an increasing number of organizations are developing online training initiatives for their staff, participants' hierarchical ranks are hardly taken into consideration. Are we all equal when we learn, or does hierarchy influence our network behaviour?
For his PhD, Martin Rehm undertook research into the impact of hierarchical positions within online Communities of Learning (CoLs). Rehm, an e-Learning project manager and senior researcher at UNU-MERIT and the Maastricht Graduate School of Governance, studied Economics at Maastricht University and recently completed his dissertation, entitled "Unified yet separated: Empirical study on the impact of hierarchical positions within Communities of Learning".
For Rehm, focusing on CoLs was a natural decision. "As e-Learning project manager… I was exposed to Communities of Learning without even realizing they were called that. I noticed that the assumptions about hierarchy and how hierarchies impact the way people behave and perform were mostly based on intuition, so I decided to research the subject myself."
This topic also appealed to Rehm's supervisors, professors Wim Gijselaers and Mien Segers. "When it comes to learning and development in the workplace, lots of companies are developing all kinds of learning systems based on gut feeling and on what technology can do." But, according to Segers, taking technology as a starting point can be risky. "We shouldn't forget that though technology is thriving, it's only a tool."
Taking Communities of Learning to a Higher Level, an interview with Martin Rehm
The case study
The data was collected from an online training programme, the aim of which was to enhance the capacity and skills of a global organization's staff in their daily work. The training programme, delivered twice during a six-month timeframe, specifically focused on five predefined content modules that covered different aspects of economics (e.g., microeconomics and international trade).
The programme was built on a blended-learning approach. The first part, upon which the study focused, took place entirely online and over the span of fourteen weeks, with no scheduled synchronous meetings. Upon successful completion, participants could obtain a certificate of participation, together with academic credits that were based on the European Credit Transfer and Accumulation System.
Participants engaged in two types of learning activities. First, using (multimedia) learning materials, such as web lectures and online quizzes, participants conducted self-study. Second, and constituting the backbone of the online part, participants collaboratively discussed real-life tasks via asynchronous discussion forums.
The forums were situated in a dedicated CoL, each consisting of 10–15 participants. Each content module had a separate task and discussion forum. Participation in these forums was obligatory and taken into account for determining participants' eligibility for receiving their certificate of participation. The latter was accomplished by assigning two academic staff members to each CoL. They were responsible for grading participants' contributions, facilitating discussions and providing help in case of technical difficulties.
At the end of the online part, participants had to complete a final exam and received a final grade. A more detailed description of the grading procedure is provided in Rehm's dissertation.
A positive approach
Opinions are divided when it comes to the role of hierarchy in CoLs.
"Whether hierarchy has a positive or negative impact depends on your viewpoint, and how you think CoLs should behave," Rehm says. "I decided to take a more positive stance towards things. If top-level management behaves the way the group in my dataset did, I think it can have a positive influence on the learning of the online community. By actively sharing their knowledge and experience, they can foster discussions and help those holding lower level management positions understand and learn how to apply that specific knowledge."
According to Rehm, human resource managers might want to use the information about participants' anticipated behaviour (higher level management taking the lead; lower level management observing discussions) to switch roles and change the group's dynamics in CoLs.
Throughout his career, Gijselaers has seen how hierarchy influences the way we learn. "In learning situations, we tend to treat people as equal and don't take each person's background, experience and status into consideration. What Martin clearly shows in his dissertation is that people aren't equal, and you can't ignore that. It's natural to impose one's status on the learning setting."
One of the most interesting findings of Rehm's research was the emergence of the "stars" cluster, a highly active group of participants who, despite holding lower hierarchical positions, make valuable contributions to their own learning and that of others.
But how do these groups arise, and why do they outperform their colleagues? "Further research on this topic has still to be done", says Rehm, "but it may well be that the distance from their headquarters works as a motivational boost; alternatively, these people may just be more driven, irrespective of their hierarchical position, and want to climb the career ladder."
A very special relationship
Usually, PhD candidates have a first and a second supervisor, or two co-supervisors, but that's not how Mien Segers and Wim Gijselaers work. "Many PhDs think that either we have a relationship or we're married," Gijselaers laughs. Segers, who serves on equal footing with Gijselaers as main supervisor, sees this as a successful formula for working with PhD candidates: "We're complementary while having our own style. For us, this is the best way to work, as we're both equally committed to the students."
During the interview, it is clear that the three get along very well. It's a nice and relaxed atmosphere – they're witty, open and passionate about education and research.
"As a trained economist, working along the lines of educational science required a change of mindset, and that's something I had to learn," says Rehm. "At first, I thought it was going to be easier than it turned out to be, but Mien and Wim fully understood this and supported me throughout."
Gijselaers adds: "We tried to help Martin put his economist perspective aside so that people in our field, including journal reviewers, could value his work accordingly."
Rehm also appreciated the freedom he got from his supervisors: "You receive comments and feedback from two different points of view, which means it's up to you to decide which direction you want to take."
Added value
"In my opinion, hierarchy shouldn't be seen as an obstacle," Rehm says. "It should be taken into consideration when designing and facilitating CoLs, so that both organizations and staff can get the most out of it. Having a level playing field for everyone would require participants to change their behaviour, instead of focusing on what really matters: the learning itself."
• ♦ •
This article was originally published in UM Magazine.