2011•04•19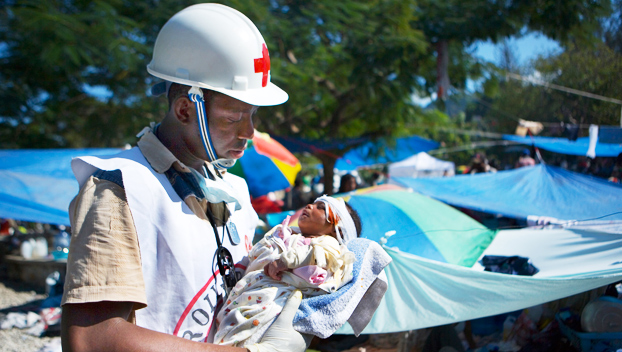 Photo: American Red Cross
Recent emerging and re-occurring natural and man-made disasters around the world reinforce the potency of the forces of humanity's destruction as depicted by "The Four Horsemen of the Apocalypse" — Conquest, War, Famine/Pestilence/Drought/Mass Starvation, and Death. Examples of the devastation caused by such disasters abound in every region of the world. The recent triple disaster — earthquake, tsunami and nuclear meltdown — that hit Japan's Tohoku region on 11 March 2011 has already claimed 12,000 lives, with a further 16,000 still missing. This is the worst catastrophe in Japan since the Hanshin Earthquake (known as the Kobe Earthquake outside of Japan) claimed over 6,000 lives in 1995.
In recent years, major earthquakes in Haiti, Chile, New Zealand and China, unprecedented floods in Pakistan, a hurricane in Myanmar and the Indian Ocean tsunami of December 2004 have killed thousands or even hundreds of thousands. For those that survived, these natural disasters devastated their immediate communities and livelihoods, leading to catastrophic suffering, misery and humanitarian crises.  In addition to famine and drought, these recent natural disasters have left in their wake complex questions about the challenges of ensuring human security and realizing the right to health in emergencies.
Natural or man-made disasters — whether cyclone, tornado, hurricane, flood, tsunami, earthquake, volcanic eruption, forest fire, chemical spill, or climate change-induced drought, famine, rainfall variation and shrinkage of freshwater supplies — result in unimaginable human suffering, mass starvation and unquantifiable humanitarian catastrophe. Such crises often bring together the two components of human security: "freedom from fear",  where a reclusive and dictatorial  regime  impedes humanitarian assistance from the international community, and "freedom from want", where disasters lead to mass starvation, a breakdown of the public health infrastructure, hunger and lack of the necessities of life.
Both in normal times and during disasters, the burden of health problems, disease, hunger, starvation and death lies heaviest on vulnerable groups who are least able to afford medical treatment and preventive measures, and whose governments have the least capacity to meet these urgent needs. Simultaneously, the human cost of climate change and related natural disasters are especially severe in developing countries.
Disasters raise serious human security questions for the international community. In situations like the Indonesian tsunami, although international humanitarian response was remarkable, serious problems were encountered in distributing humanitarian aid. So where do health and human security fit in emergencies?
The right to health in international legal instruments
International legal instruments, including human rights treaties, contain numerous provisions aimed at protecting and promoting the right to health. First, early in the history of the United Nations, the Universal Declaration of Human Rights (1948) affirmed that:
"Everyone has the right to a standard of living adequate for the health and well-being of himself and of his family, including food, clothing, housing, and medical care and necessary social services, and the right to security in the event of unemployment, sickness, disability, widowhood, old age or other lack of livelihood in circumstances beyond his control."
The Constitution of the World Health Organization (WHO), meanwhile, provides that:
"[T]he enjoyment of the highest attainable standard of health is one of the fundamental rights of every human being without distinction of race, religion, political belief, economic or social condition."
Among other declarations in international conventions, Article 12(1) of the 1966 International Covenant on Economic, Social and Cultural Rights (ICESCR) recognizes the "right of everyone to the enjoyment of the highest attainable standard of physical and mental health", and lists the steps to be taken by States Parties to the ICESCR to achieve the full realization of this right.
Although normative provisions on health abound in international legal instruments, realizing, protecting, enforcing and promoting the right to health both in ordinary times and in emergencies has proved exceedingly complex. As the former United Nations Special Rapporteur on the Right to Health Paul Hunt observed, the key next step is to foster an understanding "that the right to the highest attainable standard of health is not just a rhetorical device, but a tool that can save lives and reduce suffering, especially among the most disadvantaged."  The most powerful tool to achieve this is a concept of accountability that, rather than seeking to blame or punish, seeks to sets standards and to discover what works and what can be improved.
Accountability for the right to health in emergencies
In an emergency situation arising from a natural or man-made disaster, the right to health can be used to monitor the humanitarian response by local, regional, national and international actors. Because disasters often overwhelm local capacity and infrastructure for human security and health-care delivery, every international normative instrument that provides for the right to health stresses the need for "international assistance and cooperation".
Some key questions remain, however: Is the affected State obligated to accept external "humanitarian" assistance without delay if a significant percentage of its population is vulnerable to starvation, unnecessary suffering and even imminent death? Do other States have an obligation to offer humanitarian assistance to a State hit by a disaster?
The Guiding Principles for the provision of humanitarian assistance, as set out in UN General Assembly Resolution 46/182 (1991), affirm that "the sovereignty, territorial integrity and national unity of States must be fully respected in accordance with the Charter of the United Nations. In this context, humanitarian assistance should be provided with the consent of the affected country and in principle on the basis of an appeal by the affected country." However, even though "[e]ach State has the responsibility first and foremost to take care of the victims of natural disasters and other emergencies occurring on its territory", what happens if that State cannot — or does not — take care of its own population? Here, the international community has to grapple with the tension between State/territorial sovereignty and humanitarian intervention.
This has now been addressed in the emerging norm of the "Responsibility to Protect" (R2P). This scenario, as exemplified in the attitude of the government of Myanmar towards international humanitarian assistance after Cyclone Nargis, presents a difficult conundrum in realizing the right to health in emergencies. In the wake of Cyclone Nargis, opinions were sharply divided on whether R2P should be invoked to deliver food, medicine and other essential supplies to the affected population in Myanmar.
[quote quote="Both in normal times and during disasters, the burden of health problems, disease, hunger, starvation and death lies heaviest on vulnerable groups who are least able to afford medical treatment and preventive measures, and whose governments have the least capacity to meet these urgent needs." type="text"]
The then French Foreign Minister and co-founder of the humanitarian nongovernmental organization Médecins sans Frontières, Bernard Kouchner, and Lloyd Axworthy, former Canadian Foreign Minister, strongly called for the invocation of the R2P norm to protect the people of Myanmar who were at risk, not only from natural disaster but also from their government's neglect by wilfully blocking the delivery of humanitarian aid: food, medicines, and other essential supplies. According to Axworthy, "there is no moral difference between an innocent person being killed by machete or AK-47, and starving to death, or dying in a cholera epidemic that could have been avoided by proper international response".
However, some R2P architects like Gareth Evans, former Australian Foreign Minister and former President of the International Crisis Group, and Ramesh Thakur, former Senior Vice Rector of the United Nations University, were ambivalent about invoking R2P in the Myanmar case. Thakur pointed out that, while the original R2P concept included issues surrounding natural disasters, the need to build international consensus on the concept at the UN World Summit in 2005 restricted the circumstances for invoking the norm to large-scale killings and ethnic cleansing, not death caused by natural disasters.  According to Evans, the norm is limited to protecting vulnerable populations from genocide, war crimes, ethnic cleansing and crimes against humanity. Even in such cases, the norm allows the use of military force only with the authorization of the UN Security Council.
The role of the international community
The question whether one State owes an obligation to promote the right to health of populations in another State, albeit complex in the context of state sovereignty, seems to find support in Article 2 of the ICESR, which contemplates that States do have obligations to those in other countries. Although this question reflects the realities of the state-centric international system, Professor Louis Henkin, one of the most influential human rights scholars of our time, has rightly argued that:
"[A]nother state can help to give effect to some economic-social rights — the right to food, education, health-care and an adequate standard of living — without forcible intervention, merely by financial aid to the local government … and as the Third World has insisted on its campaign for a new International Economic Order … wealthy states are therefore morally obligated and should be legally obligated to help the poorer states."
However, the problem remains that while States' responsibilities to assist other States may derive from law, political commitments, ethical values and national interests, international human rights law currently does not provide clear direction to States in order to operationalize this responsibility. This is partly because of the weak enforcement mechanisms for international human rights treaties. But there is no reason why the principle of sovereignty should not give ground to human need in order to, as Gostin and Archer argue, "enlarge the political space for developing a forum of consensual international cooperation."
Currently, as pointed out by Hardcastle and Chua, there exists no multilateral treaty like the Geneva Conventions (applicable in times of armed conflict) that provides for the right of victims of national disasters to receive humanitarian assistance. Because of the lack of a political space to operationalize the responsibilities of States during disasters, it becomes extremely difficult to determine the scope of such responsibilities. In order to deal with such problematic issues, and give meaning to the language of the ICESCR, the Committee on Economic, Social and Cultural Rights (CESCR) clarified that under articles 12(1) and 2(1), States do have an international legal obligation to be active in respect of the right to health (and its violations), and where resources are available, they "should facilitate access to essential health facilities, goods and services in other countries, wherever possible and provide the necessary aid when required".
[quote quote="The problem remains that while States' responsibilities to assist other States may derive from law, political commitments, ethical values and national interests, international human rights law currently does not provide clear direction to States in order to operationalize this responsibility." type="text"]
While there are still instances where States refuse external humanitarian assistance, most notably the Democratic People's Republic of North Korea, Iran after the 1990 earthquake, Afghanistan after the 1998 earthquake and, most recently, Myanmar after Cyclone Nargis, the CESCR has emphasized that in order to comply with its core obligations under the ICESCR, a State must demonstrate not only that it is using the maximum of its own available resources, but that it has attempted to use the maximum of the international community's available resources.
National sovereignty is, indeed, an increasingly weak defence against intervention when a government is failing to fulfil its responsibilities to its own people. In this context, some legal scholars have expressly called for a significant shift towards recognizing the right to health in emergencies. Perhaps the broader issue is whether or not a legal enforcement mechanism would be helpful at all. There is a strong case to suggest that were it actually possible to create such a mechanism, it would not improve the current effectiveness of pressuring Governments to rectify individual privations and to provide humanitarian assistance or to accept it in times of disaster.
Towards a better disaster response framework
"Intervention", even when its overwhelming mission is to deliver humanitarian assistance in times of emergency, can be extremely politicized. Because of "national interests" and ideological and other differences, the Governments of Iran, Myanmar and Afghanistan under the Taliban, for instance, would flatly refuse any humanitarian assistance from the United States and the major powers in Europe.
With the end of the cold war, the world moved away from hard state security issues, like nuclear threats, to soft human security issues, like infectious diseases, hunger and environmental threats. Despite this transformation, differences remain. Humanity will continue to live with natural disasters such as cyclones, tornadoes, hurricanes, floods, tsunamis, earthquakes, volcanic eruptions, forest fires, chemical spills and climate change-induced calamities. The key question is how to cope with and mitigate their impact on vulnerable populations within the territories of nation-states.
As a basic first step, the international community must re-think how to improve the effectiveness of humanitarian assistance and how to better coordinate the response to disasters. Academic and policy debate, thus far, has narrowly focused on the impediments of state sovereignty to the right to health provisions in international legal instruments, as well as on the right to intervene to deliver humanitarian assistance. The right of access to victims of natural disasters,however, has operated on a patchwork of laws and frameworks.
In a recent exhaustive and insightful study, the International Federation of Red Cross and Red Crescent Societies comprehensively articulated the law and legal issues in international disaster response. This ambitious work points the way forward on most of the difficult issues that impede the delivery of humanitarian assistance: problems with visas and work permits for doctors, nurses, and other humanitarian workers; customs procedures for clearance of relief materials and essential supplies like medicines, food and water; transportation and movement of equipment; and how to balance sovereignty and humanitarian concerns using both hard-law and soft-law approaches. The study also includes a survey of the relevant treaties and soft-law provisions that aid humanitarian work, and the challenges of using these mechanisms in various regions of the world, given each region's specific social and economic context, and highlights lessons learned from responses to past disasters as a way to improve future responses by the international disaster response community. All these issues will have to be addressed holistically by all actors: States, international organizations and non-state actors that work on response to natural disasters.
• ◊ • ◊ •
An earlier, extended version of this article was published as a chapter in Realizing the Right to Health, Swiss Human Rights Book, Volume 3, Andrew Clapham & Mary Robinson (eds.),  (rüffer & rub, Zurich; 2009), pp. 173–183.