2013•01•01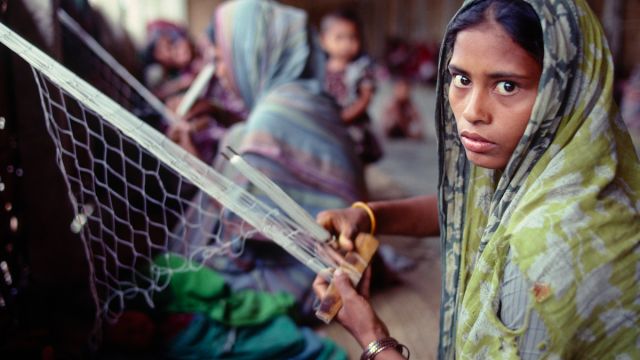 UN Photo/W. Wild
The first gender equality workshop under UNU-WIDER'S ReCom — Research and Communication in Foreign Aid project was held in July 2012 (gender equality being one of the project's five themes). The goal of the workshop was to identify key focus areas in terms of what works, what could work, what is transferable, and what is scalable in foreign aid for the promotion of gender equality.
The challenge for donors
Several research gaps regarding the priorities and internal challenges for donors with respect to promoting gender equality and ensuring that it is, and remains, a priority were identified during the workshop.
Challenges of incorporating gender into organizational structures
A key challenge for donors is to ensure that gender is, and remains, a development priority in an era of "priority overload" in development policy and globalization. Gender is often a cross-cutting theme in development programmes, to be mainstreamed among a range of others (including environment, human rights, and/or HIV/ AIDS). This can result in gender being "mainstreamed out".
The danger is that gender equality will be subsumed into wider discussions about inequality reduction in order to reduce priority overload, so negating the importance of gender issues and the specific approaches required to promote gender equality. What systems need to be in place within development agencies to ensure that particular outcomes of gender equality can be achieved? And more generally, is gender mainstreaming an effective approach for prioritizing gender concerns? Another concern is that development agency staff might not have enough time to focus on gender activities alongside their other responsibilities.
Using consultants can be one approach to gaining gender expertise. However, it is estimated that less than one per cent of World Bank staff and consultants are gender experts.
Women's rights and/or women as tools for economic growth
The current approach of international financial institutions tends to be a focus on women, and gender equality, as tools for economic development. They use efficiency arguments as the rationale for achieving gender equality, rather than recognizing and acknowledging that women have rights.
One exception to this is the Inter-American Development Bank (IADB) which promotes equal rights for both women and men at the policy level. The gender policy of the IADB was highlighted in the meeting as one which could be a model for international financial institutions. Of particular interest was a safeguard element in the project planning of the IADB, whereby interventions have to demonstrate they "do no harm" to women. A shift towards a rights-based focus is also taking place in both Danida and the Finnish foreign ministry.
However, how can a rights-based approach move beyond safeguarding women's rights to ensuring the opportunities for gender equality? What does a rights-based approach mean for donor interventions and policies?
Changing aid modalities
Another key discussion in the workshop revolved around the decline of support by traditional donors to projects and programmes, and a shift towards budget support, policy dialogue, and giving aid through multilateral institutions. It was argued that there is evidence about the success of, particularly, projects aimed at promoting gender equality.
Nevertheless, it is in the realm of policy — a domain of increasing donor focus — where this evidence base for effectiveness of aid on gender equality issues is much weaker. Certainly, the new challenge for donors then relates to policy, in particular the policy changes which developing country governments should be promoting in order to achieve gender equality outcomes. What role should foreign aid then play in this? How will women be included in budget support and policy dialogues? Is policy dialogue an effective approach to promoting gender equality? As traditional donors move away from project support, does this limit the scope for innovative programmes to promote gender equality?
Funding for gender by traditional donors and the "new development finance"
Donors report against a gender marker. When we look at this reporting, it appears that funding for gender equality is indeed impressive. For instance, according to the reported gender marker, around 54 percent of Finland's aid budget currently goes towards gender issues. However, although the gender marker is one tool for monitoring aid for gender equality, it is important to acknowledge that this marker is relatively subjective, and it not always clear the extent to which a donor activity has contributed to achieving gender equality objectives. Thus, an area which requires serious attention is gender budgeting.
Private aid, or the "new development finance" — including aid given by individuals, foundations, corporations and NGOs — is increasing rapidly. However, the extent to which this either is given to women or contributes to gender equality objectives is currently unclear. "Women's philanthropy" is one of these new sources of private finance whereby women in the developed world are increasingly helping individual women in developing countries; the so called "global sisterhood".
In contrast to the perceived declining public support for foreign aid, the general public is increasingly generous in its giving to international charitable causes, including supporting individuals, as well as small-scale projects. In both these instances, it seems that the public are more likely to give to projects targeted to women than to men. What could foreign aid learn from the approaches adopted by private investors?
Reporting on gender results
The value of measuring the impact of development aid on gender outcomes cannot be underestimated. Gender equality, as a development objective, still encounters much resistance, with interventions around the right to reproductive healthcare being the most controversial. There needs to be clear evidence about "what works" in the area of promoting gender equality to help overcome resistance towards allocating aid for gender.
This is particularly relevant in an aid delivery context which stresses the importance of rapid disbursement of funds and results-based management. These sit uneasily beside the types of interventions which frequently promote gender equality, and the time span over which gender outcomes can be achieved.
Subsequently, a frequent point raised throughout the workshop was not just the need to monitor and report the amount of aid allocated to gender activities, but also to report on how this aid impacts gender outcomes. This is challenging for a number of reasons, including the time frame over which gender impacts can be expected to occur, and the context-specificity of different gender indicators. Monitoring gender outcomes does not just involve evaluating interventions specifically targeted at women, but also additional interventions (including road construction and water and sanitation system improvement) which can also have far-reaching benefits for women.
Future agenda
There are several themes on which both researchers and donors could focus in order to maintain the relevance of aid at fostering gender equality.
Formalizing female employment
In the past decades, wage growth globally has lagged behind productivity growth. This worsens specifically women's position in the labour market. Indeed, women are increasingly trapped in low-productivity and low-wage jobs while the gap in educational achievement between men and women has rapidly closed. Therefore women's employment in the formal sector is not a function of women's skills, but rather of structural constraints of the global economy.
Global competition among firms makes cutting costs an imperative resulting in a reduction of the labour costs through low investment in human capital. This creates a defeminization of formal labour observed in more capitalistic and industrial economies, where the share of women in the informal sector has continually increased. Women constitute the majority of workers in the manufacturing and export-oriented sectors where they acquired skills on the job. With a reduction of human capital investment on workers, more women are increasingly pushed toward the informal sector resulting in an informalization of women's labour.
How can aid contribute to shifting women from informal to formal employment? Macroeconomic policies, including monetary and tax policies, can play a role. In low-income countries the most important question is how to raise women's income from farming. This could involve access to credit and technology, and also reducing the care burden which is often left to women.
Overcoming barriers to female participation in the labour force
In the Middle East and North African (MENA) region, investments in human capital have not translated into the commensurate participation of women in the economy — termed the "MENA paradox".
One explanation could be the means through which women primarily obtain employment, which is through registering at the government labour office and entering the government job lottery competition. Meanwhile, men tend to enquire about jobs at the work location and directly contact employers either face-to-face or by using the phone. Societal norms do not enable women to search for jobs in these ways. How can aid promote new channels for women to obtain formal sector employment?
Inclusive development for men and women
A number of discussions in the workshop highlighted the dangers of aid focusing solely on women. In Caribbean countries, there have been backlashes against women when interventions have aimed to promote women's employment in a context of declining employment. What does female employment mean for a community or society? How can aid improve the situation of individual women while also strengthening their position within households and communities? Here, issues of power relations are important.
Within this discussion arose the question of whether the gender theme of the UNU-WIDER ReCom programme should focus on poverty reduction for women's empowerment, or rather on the achievement of gender equality. The latter requires interventions beyond poverty reduction including the promotion of women in the political, social, and economic spheres.
Female asset ownership
So far there has been little investigation into the types of assets owned by women and why this may be important. Research from Uganda and Ghana highlights the asset gap in terms of ownership of land, housing and large and small livestock. Key areas to investigate further here include how different types of assets impact women's empowerment and gender equality. How do women acquire ownership over different types of assets? Key areas for policy are inheritance and entitlement laws, which disadvantage women in many countries.
Development interventions should pay attention to how the importance of different types of assets may change with economic transformation. Mobile phones, for instance, are likely to become more important, and aid donors are increasingly acknowledging this through their initiatives — including promoting mobiles as a means to provide agricultural information and to make small payments. However, a gap in mobile phone ownership between men and women means that these types of interventions could further marginalize women. The principle of "do no harm" is a useful one to remember here.
De jure and de facto rights
What institutional changes can promote gender equality? Already the importance of inheritance and entitlement laws has been raised as a potential area for institutional innovation.
However, women frequently have the de jure rights to inherit, but in practice these rights are not upheld. This may be because women do not realize that they have these rights, or because they fear recriminations if they try to claim them. There is a need to inform women about their rights. Meanwhile, aid to women's organizations could help women themselves to push for change.
The two-day workshop on gender equality raised a range of interesting issues for the gender theme of the ReCom programme to grapple with. As the gender theme progresses, a series of research papers will be published — watch for these on the ReCom website.
 ♦ ♦ ♦
This article is adapted from a two-part article originally published in UNU-WIDER′s WIDER Angle newsletter.