2011•11•10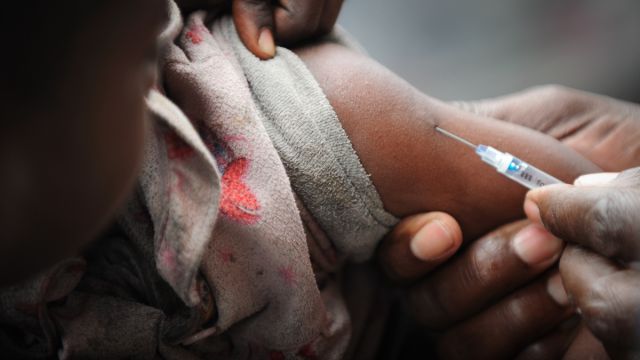 Photo: Julien Harneis
Measles and rubella are endemic in many countries in sub-Saharan Africa where vaccination coverage is usually low and conflict is common. Research by UNU-IIGH's I.K. Kouadio and colleagues illustrates the importance of disease surveillance and laboratory testing for both measles and rubella during outbreaks of rash and fever in refugee settings. The study highlights the importance of administering combined vaccinations for rubella and measles immediately after an outbreak.
• ♦ •
Regional conflicts can see large populations forced to move into temporary settlements or camps. Since 1995 internal conflicts in numerous West African countries, including Liberia, Sierra Leone, Guinea-Bissau, Guinea, Côte d'Ivoire, Nigeria, Togo and the Casamance Province of Senegal, have displaced millions of people. This has had significant adverse effects on human health. Overcrowded and rudimentary shelters, and inadequate safe water and sanitation can increase the risk of proliferation of infectious diseases (like rubella and measles) in such environments.
Beginning in 1989, around 70,000 refugees fled from Liberia into neighbouring Côte d'Ivoire to escape two civil wars that lasted 14 years. In 2002 another armed conflict erupted in Côte d'Ivoire, meaning that the lives of refugees were threatened in their host country.
Late last year, the region began to see another wave of refugees. Over 173,000 Ivorians are estimated to have crossed into Liberia since the November 2010 contested election and the ensuing instability. This past September the United Nations High Commissioner for Refugees (UNHCR) opened a sixth camp, and 50,000 more refugees are expected to arrive by the end of the year, despite challenges posed by heavy seasonal rain and muddy roads.
While this sixth camp is expected to be the last, according to Oxfam, "[t]here are still significant humanitarian needs amongst those who remain displaced from their homes, those who have recently returned, as well as amongst hosting communities, as the majority of refugees and displaced people are staying with host families near the Liberian border".
Transit camps — hotbeds of disease
It was to help ameliorate health conditions in situations such as these that we embarked on our research in camps for Liberians fleeing the civil war. Based on data I collected in 2003–2004 (whilst working at the International Organization of Migration (IOM) as a public health surveillance officer), we looked at concurrent measles and rubella outbreaks that occurred in four camps hosting 2,767 refugees.
Transferred from the western border areas of Tabou and San Pedro, a total of 5,427 Liberian refugees were distributed into 19 large transition camps (TC) in Côte d'Ivoire. In most of these camps, food, clean water and toilet facilities were available, as well as a health unit supported by two non-governmental organizations. However, in four camps (Yobou, Biabou, Palmeraie and Eucalyptus camps) conditions were cramped, often overcrowded and less favourable. Groups of several families shared a confined space and sanitary provisions were inadequate. In addition, Biabou and Yobou were continually receiving new refugees. As a whole, the refugees had poor vaccination status and low rates of measles vaccination coverage.
An outbreak of rash and fever began on 19 January 2004. Sixty-one per cent of the refugees tested positive for measles. The highest incidence rate was observed in children under nine months of age. However, whilst 93 per cent of children quickly received a measles vaccine, the rash and fever cases continued to occur, prompting a systematic test for both measles and rubella. This revealed a 74 per cent positive rate for rubella, with the highest incidence rate (3.88 per cent) in children aged between five and 15 years. Thus, some two months after the initial measles vaccination was administered, an immunization with a measles, mumps and rubella vaccine (known as an MMR vaccine) was conducted.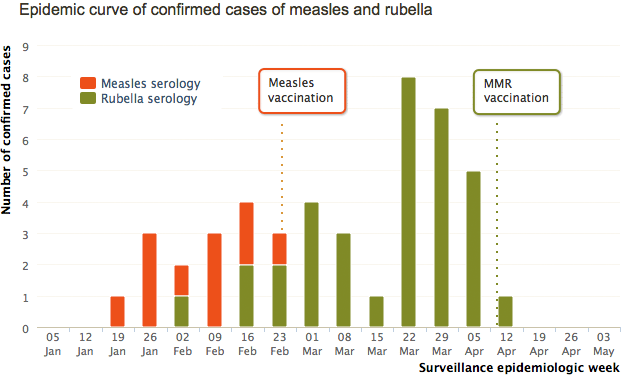 Weekly evolution of serologically confirmed cases of measles and rubella in the affected transit camps
The outbreak occurred initially amongst Liberian refugees who were convoyed into TCs in Abidjan from larger camps at the border (where the source, the index case, was detected). These refugees were not vaccinated upon arrival at the TCs, where they came into immediate contact with the broader refugee populations (who had low levels of vaccination) and the local community. Ninety-seven per cent of the total rash and fever cases were reported in those TCs that continually accepted new refugees (Biabou, Yobou and Eucalyptus). The continual flow of new (often infected refugees), combined with the frequent visits between refugees in the different TCs and contact with the local community, thus facilitated the spread of the disease.
Measles is an acute viral disease. Even though a cost-effective vaccine has been available since 1959, according to the World Health Organization (WHO), measles remains one of the leading causes of death among your children, particularly in developing countries. In 2008, there were 164,000 measles deaths globally – nearly 450 deaths every day, or 18 deaths every hour. More than 95 per cent of measles deaths occur in low-income countries with weak health infrastructures. Rubella is also a viral disease that occurs worldwide with a seasonal pattern and cyclic epidemics every five to nine years. It is normally a mild disease occurring during childhood.
Taking timely action
To minimize the potential for refugees to transmit infectious diseases in camps and during the resettlement process, a Diseases Surveillance Team (DST) was established. The aim of the DST was to perform active surveillance in order to detect cases of rash fever in the early phase and to take timely control action.
Suspected cases prompted immediate action including isolation, laboratory confirmation and treatment. When necessary, the affected camps were placed under quarantine, scheduled flights for refugee resettlement were postponed, and visits between affected transit camps and other (non-infected) camps were restricted.
In response to the outbreaks, two mass vaccination campaigns targeting children aged between 6 months and 15 years were held at all TCs. Once the decision to vaccinate was approved, a vaccination team was established to plan and conduct the campaign. Social mobilization in camps ensured refugee community leaders were engaged and involved in the campaign.
These community leaders were able to recognize symptoms and advise families to send their children to hospital. They thus played an important role in translating and promoting health advice from the DSTs. Further, it was possible for them to educate and communicate information in their own dialect, which made it easier to mobilize the people for immunization campaigns.
Lessons learned
Our  analysis of the data collected from the West African TCs in 2004 demonstrates that future interventions should include a simultaneous measles, mumps and rubella (MMR) immunization campaign. Such a campaign needs to be implemented both in refugee camps and in surrounding communities, as a common effort between international NGOs and local public health authorities. Similar to other studies, most of the measles cases were detected in children aged under nine months, suggesting that this age group should be targeted. Furthermore, administering a second dose of the vaccine once the infant is older than nine months of age can significantly increase the likely success of the vaccine (primary vaccination failure in newly born and very young children is common, as the infant may still retain maternal antibodies).
This is consistent with World Health Organization (WHO) recommendations and the United Nations Children's Fund (UNICEF), who suggest all children have a second opportunity for measles immunization. Our  surveillance data supported the necessity to prioritize and increase measles vaccination coverage amongst children (especially infants, but also children up to nine years of age), particularly in displaced populations.
"An MMR vaccine should be given priority in disaster and refugee situations…."
In our investigation, serological testing resulted in a higher positive rate for measles antibodies (61.1 per cent positive) than for rubella antibodies (27.3 per cent positive). As a result, the decision to immunize initially only against measles was made because the vaccine was readily available and more cost-effective than MMR. Following this immunization campaign, there were no further confirmed measles cases in the remaining patients with rash and fever, but there was an increasing number of confirmed rubella cases. A second vaccination campaign was therefore conducted two months later using MMR. Subsequently, there were no further confirmed cases of measles or rubella. This suggests that the MMR vaccine should be given priority in disaster and refugee situations, as well in areas with limited laboratory resources.
Much can also be done during the transit camp design and construction phase to minimize disease transmission: Providing basic water and sanitation facilities, ensuring minimum space requirements per person are met, minimizing opportunities for the spread of waterborne and airborne diseases, providing sufficient water containers, cooking pots and fuel (firewood), and ensuring water storage containers are well protected. Relief programmes should construct latrines and educate the community in the use of these latrines, since personal practices are resistant to rapid change. Obviously, the provision of adequate rations is important, particularly for underweight and malnourished children, through selective feeding programs. Besides a sufficient level of sanitation, medical supplies should be provided and training of health care workers and medical personnel on appropriate case management should be conducted.
It is common to see refugees hosted by local communities or to see whole camps located within a community. This increased contact between communities can exacerbate the spread of infectious diseases. Public health interventions should therefore be conducted in both refugee camps and in surrounding communities as a common effort between international NGOs and local public health authorities.
♦
This article is adapted from I.K. Kouadio, A.K. Koffi, H. Attoh-Toure, T. Kamigaki and H. Oshitani, "Outbreak of measles and rubella in refugee transit camps", Epidemiology and Infection (2009), 137, 1593–1601. f, Cambridge University Press, 2009 doi:10.1017/S0950268809002520.