2011•12•22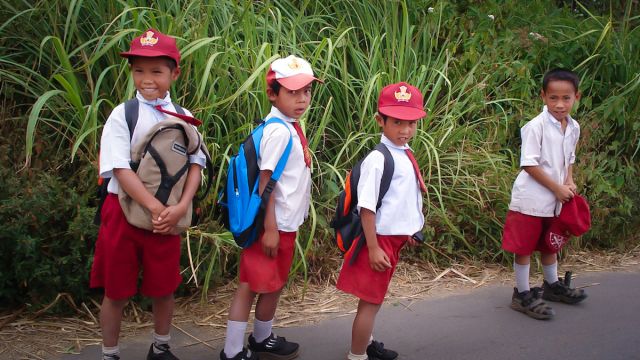 Photo: Mohd Fahmi Mohd Azmi
In a rural village in the Kulon Progo District of Yogyakarta, Indonesia, the foreign visitor′s arrival causes a stir among local children playing in a common space that is used to learn and practice typical dance and music. A bit shy at first, some of the children decide to smile and pose for a picture. The daring ones laugh out loud at the situation.
Hargotirto village is one of several places in Indonesia where focused educational activities take place, developed by a local network established under the Regional Centres of Expertise (RCE) initiative of the Education for Sustainable Development (ESD) Programme at the United Nations University Institute of Advanced Studies (UNU-IAS).
Part of a global community of 89 RCEs worldwide, each RCE focuses on specific set of sustainability-related challenges, according to their realities and geographical location. Within their own spheres of activity, RCEs contribute to local sustainable development with educational projects to introduce, transform and incorporate sustainable practices into daily living.
In Indonesia, the challenges are diverse — ranging from environmental degradation and pollution to economic gaps and poverty, disaster risks and management, among others. To tackle some of these issues, RCE Yogyakarta is concentrating its activities on community service and empowerment, carrying out several projects within the Student Community Service-Community Empowerment Learning (SCS-CEL) Programme through its main stakeholder, Universitas Gadjah Mada (UGM).
As part of the programme, university students are required to reside for two months in local communities. With supervision by lecturers, they must develop a series of activities that empower local people in terms of improving and sustaining what is already in place, by improving agricultural practices or cattle care. Alternatively, they can create ways to implement and adapt scientific findings according to local challenges and needs by, for example, providing knowledge on pumping water and building reservoirs for clean water distribution.
The programme is a requirement for graduation. However, despite its compulsory nature, students demonstrate that other factors motivate them to engage and develop specific projects. Some of them come from small villages and, therefore, say they deeply empathize with local problems — like Riani Anggun Mumpuni, enrolled in the September–November 2011 class in Hargotirto village. Her colleague, I Gede Arya Pardita, voiced recognition of the social and economic gaps between urban and rural communities and cites this as motiviation for dedicating effort to improving educational levels, which ultimately contributes to increasing income and promoting welfare and well-being.
Using a participatory approach, activities are carried out in consultation with the community, which holds a preponderant role in developing its own agenda. Students act as facilitators of this process, applying the knowledge they have acquired in the university to address the local community′s needs.
With the main priority being the community, the mutual learning process produces spin-offs, such as developing leadership and communication skills as well as providing feedback in terms of research and outreach activities from the university perspective. It further demonstrates how simple measures and applied research hold great potential to impact the overall development of a village, a region and, consequently, the country.
The annual engagement of 7,000 students in the SCS-CEL programme, according to Dr. Retno Sudibyo, Vice-Rector for Education, Research and Community Service, demonstrates UGM's ultimate contribution to Indonesia's development and its commitment to this outreach activity.
The incorporation of a participatory approach in knowledge transfer, community engagement, transformative learning and teaching are all part of UGM's efforts to mainstream ESD in its curricula and activities (operational, research, education and outreach). A part of these efforts is developed within the RCE Yogyakarta framework, with specific projects targeting community empowerment.
In Hargotirto village, UGM students work with parents to raise awareness regarding the importance of education, as well as with children to improve their reading abilities and knowledge of general subjects such as animals, plants, nature, etc. Students also participate in dance and music classes, contributing to the preservation of local traditions. A tower was installed in the village to provide an Internet connection, making it possible to teach about computers. Other types of training take place regarding traffic education and assisting local farmers in agricultural activities, especially caring for herbal gardens, tending goats and producing palm sugar.
Dewi Ninu, another student enrolled in the 2011 class, worked on a project with local farm women, assisting their plantation and plant maintenance activities, and also collecting relevant data for documentation (such as location, farmer and species name, condition, plant diameter and height). According to her, "it has been an opportunity to contribute to the village's prosperity and to raise awareness regarding environmental conservation and maintenance of endangered species".
Within the limited period of two months, visible outcomes of SCS-CEL programmes are more evident in projects dealing with reforestation and greening of otherwise arid and rocky areas, or clean water distribution to remote villages. Activities developed in Hargotirto are likely to produce results over time, although Puji Astuti and Adi Wibowo, coordinators of RCE Yogyakarta and the SCS-CEL programme, already highlight improvements in education, health and overall production and quality of palm sugar and goats.
From the point of view of the students, participation in the programme can be an enlightening experience. As Pardita says, they develop a sensitive approach and the ability to listen to people's needs, tailoring the language and activities and making them seriously reflect on how they can make a real contribution to the community. Lintang Savitri, another student, observes from the experience with children that creative teaching methods are needed to capture their attention and provide a space for them to be innovative and inquisitive. Both recognize that these skills will benefit them in their professional and personal lives.
The programme's offerings still need to be further disseminated and enhanced. Savitri mentions that some villagers are reluctant to send their children to the "smart centre" equipped with a small library, computers, sewing machines and a variety of educational games. Parents mistakenly believe there is a need to pay fees, whereas attendance is free of charge.
In a remote place where children have to walk approximately four to five hours to attend school and, in most cases, the family income most likely will not allow them to go further than high school, the transformations that a programme like this will bring may be more noticeable in the long run. As mentioned, although some changes are more visible than others, empowerment of people through education is a long-lasting transformation, leading to potential personal growth and capacity development, as well as bringing hope for a better and possibly sustainable livelihood.
In the same fashion that the revolution of informational systems has changed people's interaction and reaction to a series of natural, political, social, economic and cultural events that affect us all directly or indirectly, improved basic skills and information sharing will also impact this rural village, predominantly in a positive way, by bringing better educational, health and economic conditions for their well-being and development, as has already been demonstrated to a moderate degree.
In order to foster these activities further, it is important to provide the means for them to continue to happen. An initial step is to recognize and promote these activities, drawing attention to the positive outcomes that may possibly influence the adoption of favourable policies that will sustain and consolidate these efforts over time. There is a need for concerted action between several stakeholders, and the RCE framework constitutes one of the appropriate platforms for these transformations.
If the consolidation of these developments and further replication of successful undertakings become a feasible reality, it is possible that the innocent smiles of the village children become sustained ones in the near future, arising not out of the amusement provoked by a foreign visitor's presence, but from a contentment of being able to advance their full capacity as human beings, positively contributing to their village's sustainable development.