2011•12•29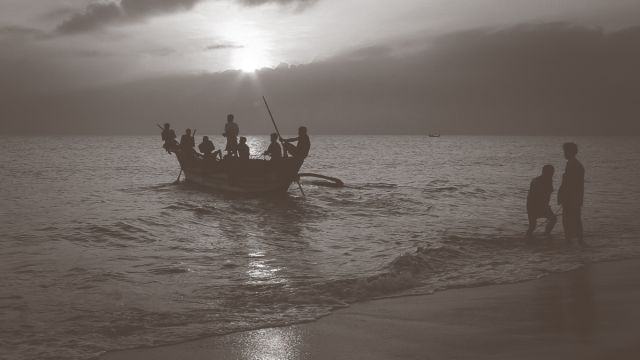 Photo: James Gordon
When we launched the "new" (current) unu.edu website in April 2011, a major change was the addition of weekly – now biweekly — articles that showcase the research and teaching activities of the global United Nations University system.
To wrap up the year, the  UNU Media Centre editorial team would like to share with you our favourites from among the 62 articles published in 2011. If you are new to the unu.edu website, or if you missed an article when it first appeared, we think you'll find this baker's dozen of articles worth a look.
The editors′ favourites
"Could climate science become open source?" (2011/3/19) ponders whether climate science could benefit by being more firmly grounded in the principles of openness, perhaps along the lines of the free and open source software communities and open content movements. Mark Notaras likes this article because it "brings a new edge to the discussion about science. Why should information be captured by certain organizations? Is a better model out there, and can the UN learn from other sectors?"
"Tokyo drifts from seafood to meat eating" (2011/3/19) looks at Japan's changing diets and the associated food self-sufficiency challenge, as well as the impact on countries bearing the environmental burden of supplying the growing Japanese appetite for meat. This article, says Mark, "shows a critical global problem in a local context, through grass-roots data collection and analysis". He also likes the article's graphical representation of the data. "It's not only enlightening to the reader, but provides a chance for other researchers to look more closely at ways to address the problem, using this research as a point of departure".
"Health and human security in emergencies" (2011/4/19) argues that the international community should re-think its approach to dealing with health and human security issues when responding to natural and man-made disasters. Heather Chai says: "I moved to Japan earlier this year, just before the March earthquake, tsunami and nuclear crisis. Glimpsing Japan move along its road to recovery has also been a defining element of 2011 for me. This article struck a chord because it reminded me that human and natural disasters can affect countries, people and communities everywhere, in both the developing and developed world, and that the right to health should always be at the forefront of responses to emergencies."
"Fighting the Colonel: UN Security Council sanctions on Libya" (2011/5/10) focuses on the then-ongoing conflict in Libya, and the actual and potential role of the international community in dealing with that conflict, from the perspective of UN Security Council resolutions. Stephan Schmidt likes this article because it presents "an informative historical summary on Libya with a connection to the situation in 2011, and is argued from several angles".
"Multilateralism 2.0: The transformation of international relations" (2011/5/31) charts the rise of emerging nations and regional organizations within the multilateral system. Mark considers this "a model article. It is a short, simple explanation of a phenomenon we have to acknowledge in the world — even if some Western countries are slow to do so. The style and language are approachable, while the content is broad enough to be interesting but focused enough to get a strong message across".
"Japan's urban agriculture: cultivating sustainability and well-being" (2011/9/20) looks at what is special about urban agriculture in Japan, and its role in local ecosystem services and biodiversity enhancement, urban footprint reduction and heat-island mitigation. Carol Smith says that "with global urbanization set to continue, localizing food production is a must for many reasons — all of which this excellent article looks at. There are challenges, but there are opportunities too, and this look at those faced by Japan is very interesting".
"Summer school with a difference" (2011/9/27) reports on a three-week programme in Yunnan, China, co-organized by UNU, that helps participants from around the globe learn about the complex relationship between societies, culture and the environment. Stephan thinks this article is "an excellent report on a summer school in relation to UNU. It offers factual information combined with student quotes, enabling participants to get the word out by reporting directly from the ground".
"Asia's emerging asbestos epidemic" (2011/10/5) looks at research on a global epidemic, and the status of asbestos-related diseases in Asia. Stephan considers this "a great study on a pressing topic, with well presented research data; there is potential for a second and third follow-up article. It is a concise article with lessons that can be learned from industrialized countries and applied to developing countries".
"Can the patent commons help eco-technology diffusion?" (2011/10/13) analyses the role and usefulness of patents in generating innovation and promoting the diffusion of green technologies. Bill Auckerman says that "while patents are intended to stimulate and reward innovation, the patent system as it is implemented today too often tends to obstruct the spread of new technologies and impede the development of derivative products. This article is a favourite because it looks at the issue within the context of environmental protection technologies, from the perspective of the Eco-Patent Commons initiative".
"Siblings, but not twins: POC and R2P" (2011/11/01) examines the origins and evolution of the "Protection of Civilians" (POC) and "Responsibility to Protect" (R2P) concepts, and discusses their applicability to the situation in Libya in 2011 within the context of Security Council Resolutions 1970 and 1973. Heather likes "the way this article explains succinctly the development, similarities and differences between these concepts. Increasing our understanding about both R2P and POC will hopefully help us better protect the human rights and humanity of people caught in conflict in the future".
"Unraveling the drivers of Southeast Asia's biodiversity loss" (2011/11/08) explores a complex issue that requires multi-level policy responses and concerted efforts. Carol chose this one "partly because biodiversity loss is such an important topic, and deserves its share of the spotlight. But this article is also great because it clearly overviews the causes, which for those living in other parts of the globe is very illuminating; we can even see the part played by international trade in this regional phenomenon. Lastly, the authors give examples for a policy response mix that makes the complex solution look hopeful".
"The killing of coral reefs and what it means" (2011/12/06) features an interview with marine ecologist Prof. Peter Sale of UNU-INWEH. Carol says: "I think this recent Q&A is destined to stay one of my favorites, simply because Professor Sale — an expert with 40 years of experience — is so frank and passionate. You come away truly feeling the urgency of this issue." Bill likes it for similar reasons: "This interview helps to put a human face on the work of UNU. It reminds us that behind the science there are scientists: real people who are passionate about what they do, and who know that, far from being 'dry', science can be controversial."
"Why traditional knowledge holds the key to climate change" (2011/12/13) explains why indigenous peoples' collective knowledge of the land, sky and sea makes them excellent observers and interpreters of climate change. Heather "found this a fascinating article to edit, as it cast a clear spotlight on an essential, but often marginalized, aspect of climate change mitigation and debates. I liked the focus on agency, not victimization. And, most of all, I enjoyed tracking the varied and interactive comments that the author received". This article was also one of Bill's picks: "We too often reject so-called 'traditional knowledge' as being nonscientific; we consider it — if we bother to consider it at all — as anecdotal, non-quantitative, obsolete, or even mere superstition. But as this article points out, there are valid insights, important observations  and innovative techniques to be found in traditional knowledge."
The most-read articles
Those are the editors' picks, but what have been the favourite articles among unu.edu website readers?
While "pageviews" is not necessarily a valid proxy for popularity, the 10 most-read (or, at least, most-clicked-on) articles of 2011 were:
Since this ranking is based on a simple "number of pageviews" count, it is skewed towards those articles that have been online the longest, and thus had a longer time span in which to garner clicks.
What's particularly interesting about this list is that while, as of year-end, the top four articles had been online for more than six months, "Why traditional knowledge holds the key to climate change" (one of  our "editors' picks") powered its way to number 5 on our most-read list after just two weeks online.
Do you have a favourite article that wasn't one of our "editors' picks"? Or do you have an opinion  about one of the articles that was? Leave a comment in the Disqus field below telling us which 2011 article you most liked (or didn′t like).