2013•01•07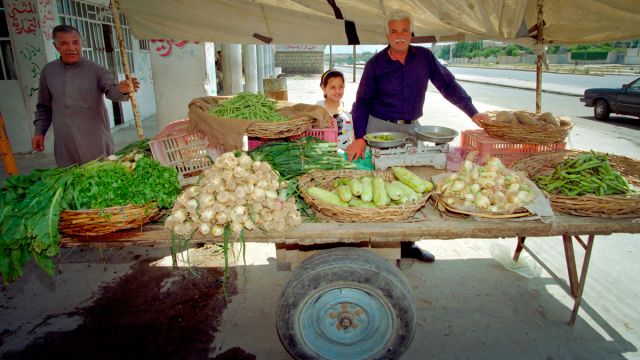 UN Photo/Pernaca Sudhakaran
Experts have been studying the relationship between nutrition and cognition for the past three decades, and many suggest that poor nutritional status can have negative effects on brain development in children.
According to the World Health Organization, nutrition is "the intake of food, considered in relation to the body's dietary needs. Good nutrition — an adequate, well-balanced diet combined with regular physical activity — is a cornerstone of good health. Poor nutrition can lead to reduced immunity, increased susceptibility to disease, impaired physical and mental development, and reduced productivity".
In conflict situations, such as in Iraq, environmental factors also play an important role in child development. Over the past nine years, life in the capital city Baghdad has been lived in the shadow of war and violence. Previous to that, Iraqis struggled under economic sanctions to which the country was subject for over a decade. Inevitably, these conditions have drastically affected the daily lives of most families and their children.
Nutrition in a war-torn country
According to the 2005 annual report of the United Nations World Food Programme, the prolonged period of conflict and economic sanctions have had serious effects on Iraqis — such as rising unemployment, illiteracy and, for some families, the loss of wage earners. Iraq has experienced problems of food insecurity that have arisen not simply due to a lack of production of sufficient food at the national level, but also due to the loss of livelihoods that guarantee access to sufficient food at the household level. Furthermore, the unstable security situation impacted transportation and, hence, the availability of food and the supply of safe drinking water and electricity. These factors have had significant effects in terms of families' capacity to adequately provide their children with nutritious food to ensure healthy development.
One study that investigated the apparent link between environmental factors and nutrition and health, carried out in Iraq by Gabriela Guerrero-Serdan, found that conditions of war effected the physical growth of children. Children born after the war in high-intensity conflict areas had lower height-for-age Z scores (a standard score indicating by how many standard deviations a datum is above or below the mean) than children born in less-violent areas. The study also found that weight-for-age Z scores increased in 2004 but decreased in 2006, suggesting that children were not losing weight but rather were not growing properly or were failing to thrive (FTT) in high-violence areas. Studies such as this help us to isolate conflict conditions from broader development issues as a key factor influencing nutrition.
The importance of breakfast
Breakfast can be defined as food eaten in the morning before going to school. Research findings, such as these of Ernesto Pollitt, indicate that children who eat breakfast make fewer errors on standardized achievement tests and exhibit improved vigilance, attention and school attendance and reduced tardiness. Missing breakfast reduces children's speed and accuracy of information retrieval and memory.
Theoretically, there are two biological mechanisms by which breakfast affects brain function and cognitive test performance. One involves the metabolic changes associated with what is essentially an extended overnight fast during which the brain is fueled by glucose stores (i.e., muscle glycogen). A child's muscle mass is significantly smaller than an adult's, and children tend to sleep for longer periods — thus their glycogen stores are more likely to be depleted by morning, leaving their brains hungry for energy. The other involves the long-term salutary changes that breakfast may have on nutrient intake and nutritional status, which in turn could affect cognition. For example, as shown in a 2010 study, we know that repletion of iron stores and rehabilitation from anemia result in improved school performance in tests of memory and visual attention.
Our recent United Nations University International Institute for Global Health (UNU-IIGH) study set out to explore this further, in the context of conflict in Iraq and the consequent environmental effects on nutrition. The objective was to assess nutritional status, nutritional and breakfast intake habits and their relationship to intelligence quotient (IQ) among primary school children in Baghdad, Iraq.
We carried out a cross-sectional investigation in Baghdad. A total of 529 children were selected from five primary schools representing five different areas of Baghdad with differing socio-economic status backgrounds. The Raven's Colored Progressive Matrices (CPM) tool was used to obtain an IQ score for each child.
Nutritional status was determined by measuring weight and height, then comparing the body mass index-for-age Z score with WHO healthy cut-off points. To determine nutritional habits, the types and quantities of food regularly eaten by the respondents were assessed by a self-administered, semi-quantified food frequency questionnaire distributed to the respondents' parents. The median was taken as the cut-off point.
The results showed that nutritional status was generally good; 87.9 percent of the total respondents were normal, compared to 12.1 percent malnourished. Unfortunately, two-thirds of the children had bad food habits (74.7 percent) while only 25.3 percent of the children had good food habits. Further, 76.7 percent of respondents regularly ate breakfast at home, and the remaining 23.3 percent did not.
The IQ scores showed that 77.7 percent of the respondents had high intelligence levels and 22.3 percent low intelligence levels. From the results attained, we were able to calculate that malnourished children are 11.6 times more at risk of having low intelligence compared with normal children, and children who skip breakfast in the morning have a 7.4 times higher risk of low intelligence compared to those who eat breakfast every day.
IQ score differences between children with different nutritional status and habits
Variables

N

Mean

SD

P value a

Nutritional status
Malnourished
64
20.34
5.271
< 0.001*
Normal
465
27.66
5.064
Nutritional habit
Bad
395
25.96
5.699
< 0.001*
Good
134
29.17
4.612
Breakfast intake
No
123
23.17
6.755
< 0.001*
Yes
406
27.86
4.718
a t test was performed , *level of significance at p<0.05, IQ score is out of 36.
Our results show that nutrition is indeed one of the crucial factors in the cognitive development of children. There was a 7.3 point decrease in IQ score associated with malnutrition, a 4.69 point decrease in children who skip breakfast, and a 3.2 point decrease when children's nutritional habits were poor.
What can be done?
The results of the study underscore the important role of nutrition during the early years of child development. Although the prevalence of malnutrition was only 12 percent, this is still considered a high rate for a country with wealth levels like Iraq. Coupled with the evidence that environmental factors can play a crucial role in modulating the effects of good nutrition, this study suggests that the situation in Iraq, especially in Baghdad, does not portend a promising future for children.
Given how important nutrition is to IQ in children, eating breakfast regularly needs to be promoted more widely. In Iraq, the Ministry of Education should work to introduce school breakfast programmes, especially in schools in low socio-economic areas. Increasing the nutritional knowledge of parents, especially mothers (who, in Iraq, are primarily responsible for their children's eating habits) is very important, as more than 80 percent of the children in the study had bad food habits.
Policymakers should design more legislation targeted at improving food availability (especially for poor families) and at improving the social security system (particularly for widowed mothers who became solely responsible for feeding their children as a result of the conflict).
The role of international donors and NGOs should be long-term support and sustainability, because after the conflict most NGOs moved out of the country, and there is no follow up for the victims. Furthermore, the experiences gained through the conflict should be passed along to the next government, to be utilized in the future.