2011•06•21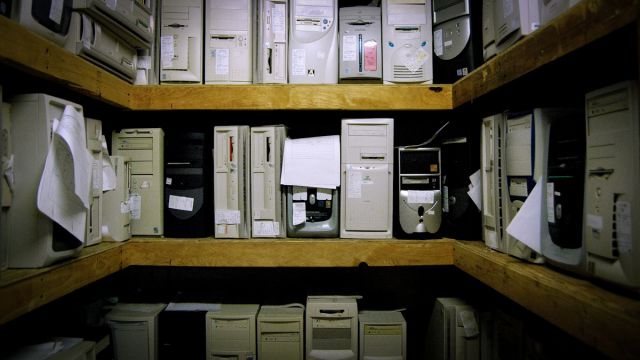 Photo: Jeff Kubina
With so many nations of the world driving on the road to economic development and technology ever advancing, the search for solutions to the e-waste problem is a multi-faceted endeavour. E-waste is a term used to cover almost all types of electrical and electronic equipment (EEE). The challenges in dealing with this type of waste continue to multiply simply because the market for such products just keeps expanding as countries cross the so-called 'digital divide'.
The Solving the E-waste Problem (StEP) Initiative is well positioned to make a difference towards the development and practical implementation of sustainable solutions. StEP's five Task Forces are advancing the e-waste agenda on many fronts. In this article we focus on one to demonstrate StEP's work. Task Force ReUse focuses on the development of replicable and sustainable re-use/refurbishment/spare parts development systems in order to minimize environmental, health and safety impacts — especially in industrializing countries. The Task Force supports the development of globally consistent re-use practices, principles and standards for EEE products from business-to-business and business-to-consumer users that are economically, socially and environmentally appropriate.
Re-use is a key part of the e-waste solutions toolkit. Its prominence in discussions can be explained as a response to the shortening of product lifespans that is leading to greater pressure on resource extraction and increased manufacturing burdens and to the burgeoning quantities of e-waste.
The concept of re-use should therefore be viewed as being largely reactionary to the trend of products being disposed of much earlier than necessary and is about the optimization of the use phase. Re-use, then, is not a solution to the e-waste problem in its own right but seen as a means of alleviating, or moderating, the existing problems until such a time that products are utilized to a much more optimal level before being recycled in the most efficient means possible.
However, the practice of electronics re-use also happens to generate another wide range of ancillary benefits. These range from providing employment and training opportunities for people with disabilities or the long-term unemployed to providing access to good equipment for people with low incomes in both the developed and the developing world helping to bridge the digital divide. It is also a major source of IT equipment for businesses and educational establishments in the developing world resulting in the promotion of vital economic development. Reuse also plays a significant role in the provision of spare parts for longlife and high-value equipment where the manufacturing of new parts may be rather expensive. The renewed focus on the availability of certain critical materials further strengthens the logic for considering re-use as a part of a business strategy.
Success factors and barriers for re-use operating models
The Best Practices project that ran from August 2010 until April 2011 is the first known study of formal re-use practices in the electronics sector. The study had a twofold purpose, aiming firstly to define a typology for the most common reuse operating models and secondly to identify specific and generic success factors and barriers for the different models derived from this typology. A set of 28 case studies was analyzed, which included both for-profit and nonprofit re-use organizations from Africa, Latin America, North America and Europe. These organizations engage in the preparation and redistribution of information and communication technology (ICT) products or large household appliances for re-use. Based on a theoretical framework for operating models, semi-structured interviews were conducted with representatives from each case study partner. From analyzing and comparing the interview data, a generic typology for re-use operating models was derived and generic success factors for these models were identified. A survey among the interviewees finally allowed for a prioritization of the success factors and barriers concerning their importance.
As for success factors and barriers, the interview data showed clear differences between the different operating models. The nonprofit models especially have distinct success factors and barriers due to the export of used equipment to developing countries, where recycling and disposal of distributed products poses a major problem, or due to the nature of large household appliances requiring different collection and preparation for re-use processes. However, the analysis also confirmed some generally known generic success factors and barriers for re-use operations, such as having access to good quality equipment or the lack of clear definitions and a globally recognized quality standard, which could be used for certification of re-use organizations. Such a standard should consider the generic success factors for re-use operating models and could be designed as a platform, based on which sub-standards for different operating models can be defined.
Moreover, the report suggests focusing on two areas for further research: While this study focused at describing and categorizing re-use operating models in qualitative terms, further research could be undertaken to quantifying the qualitative frame and the flow charts for the different models on a more solid statistical basis; this could include data for average volumes processed by the different models, the size of the different customer segments, or more detailed information about the financial structure of the different models. Another potential for further research consists in the analysis of best practices in the implementation of critical success factors identified in this study, such as track-and-trace documentation of product flows from collection to preparation for re-use to distribution to recycling and final disposal. This best practices investigation could build the basis for a benchmarking reference framework for re-use organizations. A publication is foreseen for this summer.
How to take re-use of e-waste to the mainstream
The Re-evaluate project, funded by the Irish Environmental Protection Agency (EPA), is being lead by the University of Limerick and supported by the social enterprises Rehab and Clondalkin Community Recycling Initiative with the United Nations University sitting on the Steering Committee. The project is examining how re-use of e-waste could become a mainstream activity in Ireland with a specific focus on the role of the social economy. The project has undertaken field trips to several social economy re-use enterprises around Europe to explore the important success factors from not only an operational perspective but also considering the external legal and policy factors that enable re-use to occur on a significant scale.
One of the key findings is that due to the clear lack of emphasis on re-use in the various national implementations of the Waste Electrical and Electronic Equipment (WEEE) Directive, the opportunity to undertake re-use is often lost. For each European Union Member State, re-use and recycling targets are combined. The combined target can be achieved from recycling alone, which many EU Member States have opted for. Consequently, WEEE with potential for re-use does not have to be made available to operators who are interested in preparing it for re-use. This is acutely felt in the social economy sector where most re-use activities take place and in disadvantaged communities that are generally the main beneficiaries of refurbished goods.
From an operational perspective, the findings of the Re-evaluate project are largely in line with the Best Practices project. The project recommends that re-use should be a regulated activity and participants should work towards pre-defined standards. The PAS 141, a publication on the re-use of used waste electrical and electronic equipment, shows promise for such a set of standards since its publication in March 2011.
The project has also examined the issue surrounding the life cycle impacts of re-use and when recycling should be the preferred option. This is a particularly important issue for large household appliances since the use phase dominates the environmental impacts. The conclusion from this work, based on a literature review and surveying the existing marketplace, is that only appliances with an energy rating equivalent to the rating of the cheapest new appliances on the market should be considered for re-use.
The project is also conducting trials to determine the potential for re-use in e-waste from the sources of collection and aggregation in the Irish WEEE management system. The preliminary results indicate that while both business-to-business (B2B) IT equipment and business-to-consumer large house-hold appliances have a significant potential for re-use, only the re-use potential of B2B IT equipment is being fully realized. A very interesting comparative analysis of re-use and recycling of B2B IT has shown that, for Rehab, preparation for re-use created 11 times more employment and generated 15 times more revenue than recycling an equivalent amount of material. The project is now entering a phase of examining if the potential for re-use can be increased by making strategic changes to the reverse logistics of large household appliances.
Moreover, Re-evaluate has also been conducting novel research in the use of radio frequency identification technology (RFID) in reverse logistics for e-waste re-use which will culminate in a proposal for how RFID could be used to streamline EEE re-use.
Bringing sustainablity to the cycle
Information and communication technology has tremendous potential to aid businesses and societies to dramatically reduce their impact on the environment through solutions such as smarter grids, buildings, logistical systems, motors, and virtualization.
Yet as the ICT industry grows rapidly, a sustainable industrial-societal system (or s-cycle) is required. One in which, for example, the waste products of one industry or sector become value-added inputs for another. With a holistic approach we must continue to work — within the nexus of policy, design, re-use, recycling and capacity building — to grow global capacity for development of practicable but science-based solutions to the e-waste problem.