2013•07•16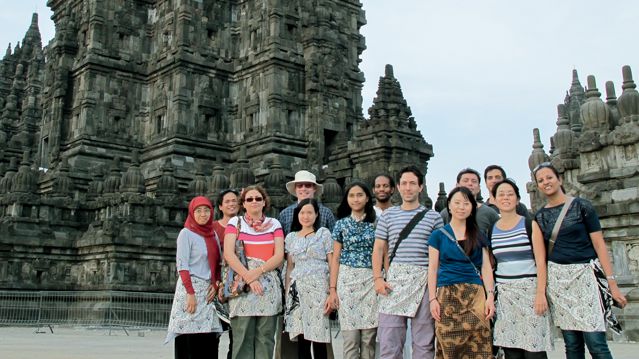 Photo: Josh Handani
Over the past year or so, an increasing amount of attention has been directed toward new models for green economy, green growth and green job opportunities, and their relation to sustainable development and poverty eradication. Recognition of the role that education plays in augmenting human capacity to develop more sustainable practices is also beginning to crystallize.
Institutions of higher education are incorporating sustainability issues into their education and research, as well as campus operations. At the same time, corporations are starting to integrate sustainable practices into their business strategies. It is thus an advantageous juncture at which to promote a dialogue that addresses how transformations occurring in both higher education and the private sector could be better steered so that both sectors' needs and investments can be efficiently and meaningfully enhanced.
In recent years, despite the troubled economy and high unemployment rates, the demand for green professionals has been growing. The term "green professionals" is frequently linked to energy-related areas or the built environment (areas where most analyses on green jobs are carried out). However, a broader definition should include people who possess environmental knowledge and skills that enable them to identify opportunities for development of green products and services — those who further sustainable operations and save costs while promoting environment-friendly practices, social inclusion and community development.
Indeed, the green jobs sector is growing partly because many large economies launched "green stimuli" in response to the 2008 financial crisis, according to an issue brief on the topic published for the June 2012 Rio+20 meeting by the United Nations Conference on Sustainable Development (UNCSD) Secretariat. The brief estimated that such stimuli "are likely associated with the creation of about four million jobs" since 2009, and that "coordinated global action and investments of about US$1.8 trillion to achieve a series of sustainable development objectives might lead to 13 million new green jobs per year until 2050".
In connection to this potential, it is worth noting a wide range of sustainable initiatives that have sprung up in different sectors deriving from a series of strategies put forth by international organizations, governments, civil society and the private sector. To illustrate, this article will briefly describe some initiatives in the area of education for sustainable development (ESD) that aim at building the capacity of future green professionals, fostered by the United Nations University Institute of Advanced Studies (UNU-IAS), local networks in Rio de Janeiro and Sao Paulo, and a global company with its headquarters in Japan.
Linking academia and industry
Established in 2003, the UNU-IAS ESD Programme has been developing initiatives to support education and training of professionals and coordinating a network of organizations that promote events and opportunities to develop the knowledge, skills and values that lead to more sustainable practices.
While education is a key instrument in addressing the unprecedented sustainability challenges we face today, new forms of collaboration are essential in achieving necessary transformations in the way we do things, behave and apply the knowledge that is being generated.
Since the 2002 World Summit on Sustainable Development, there has been growing recognition of the importance of partnerships for promoting and implementing programmes and activities on ESD. In this sense, there are still ample opportunities to create synergies and enhance joint collaborations in building capacity for sustainable development. This is especially the case in emerging economies, where the high demand for qualified labour can set businesses down sustainable pathways earlier in their development, opening new opportunities in the process.
UNU-IAS, through its ProSPER.Net (Promotion of Sustainability in Postgraduate Education and Research Network), is carrying out a project to integrate sustainability thinking and practice in the engineering and built-environment curricula, establishing linkages with industry in the process.
An alliance of 28 higher education institutions in the Asia–Pacific region that have committed to integrating sustainability issues into their academic activities, ProSPER.Net is a collaborative and regional platform for sharing resources and expertise. Members work together to incorporate sustainability into fields such as business, engineering, biodiversity and health, producing teaching materials for training of faculty and researchers in sustainable development, designing and delivering capacity building programmes for policymakers and graduate students in sustainable development practice, and also recognizing young scientists and researchers' work for sustainable development.
ProSPER.Net members are thus fostering a sustainability culture among postgraduate students, researchers and faculty, while gathering expertise and implementing projects on ESD.
Several member universities in Asia are participating in an engineering project, the goal of which is to identify and contextualize key priorities within global and local policy commitments for sustainability in the built environment, climate change and biodiversity strategies. Activities are taking place in close consultation with industry (specifically, representatives from the World Green Building Council) that have provided insightful analysis of what kind of competencies and skills are needed to tackle complex sustainability issues existing in the real world.
This example demonstrates how collaboration with industry can better guide transformations in the curriculum, in meaningful ways for both sides. Project partners are currently working on a handbook on integration of ESD principles that willl soon be released.
Entrepreneurship education and poverty reduction
The search for solutions to infrastructure problems and social inclusion policies that decrease economic and social disparities is compounded by rapid urban growth and industrial expansion. These considerations pose the need for integrated actions towards empowering people, creating leaders, building capacity, and developing skills and abilities for jobs and income generation, with a view towards promoting a culture of entrepreneurship that has a strong sustainable and ethical component.
Currently, all of these activities are being developed by a mix of local government, universities, industry and institutions working with small and medium-size enterprises in response to the demands and growth of the productive sector in the region. Within this scenario, a multi-stakeholder network was created under the Regional Centres of Expertise (RCE) initiative of the ESD Programme at UNU-IAS.
An RCE is a local network of diverse stakeholders (government, civil society, NGOs, education institutions, museums, etc.) that develop ESD projects collaboratively, focusing on local challenges that differ according to their local geography, policy and needs. Comprising a global community of 116 Centres worldwide, RCEs are translating global thinking into local actions, becoming a platform for constructive dialogue among different stakeholders and bridging the gap between scientific knowledge and its real application for the benefit of local communities.
RCE Rio de Janeiro has been engaging with local stakeholders to develop capacity for the challenges posed by the green economy. Strategically building partnerships for a sustainable society, RCE Rio de Janeiro has planned and is implementing several activities, especially curriculum development for secondary education that promotes ESD and emphasizes science education, use of information and communication technologies, teacher training and entrepreneurship and leadership skills.
As a multi-stakeholder network, RCE Rio de Janeiro promotes joint actions involving several local universities, the Technology Network (RedeTec/RJ; an independent organization that comprises governmental agencies, service, business, commerce, industry and agri-business associations) and SEBRAE (an institution that reaches small and medium-size enterprises through capacity development projects for jobs and income generation, especially targeting the poor segment of the population).
"Green" policies for a greener economy and green jobs
The previously mentioned Rio 2012 Issue Brief No. 7 observes that "job benefits are often a main political 'selling point' for 'green' policies, even though most actions consider green jobs creation as a co-benefit and do not focus on it as a primary goal", Whether a selling point or a co-benefit, the adoption of green policies that stimulate green economy and the increase of businesses engaged in green activities certainly contributes to the creation of green jobs.
In Sao Paulo, the local government issued action plan guidelines for mitigation and adaptation to climate change that contain a series of priorities to green areas such as transportation, energy, construction, land use, solid waste, health, education and economic instruments. Based on these priorities, RCE Sao Paulo has developed educational strategies that are aligned with the city's action plan in order to minimize the impact of climate change in the area.
Strategies are thus focused on developing intellectual and social capital for climate change impact reduction and on sustainable consumption and production, quality of environmental education and health, awareness raising regarding sustainable development and capacity building of teachers and public officials.
Also, interacting at the international level with networks such as Local Governments for Sustainablity  and C40 Cities Climate Leadership Group, RCE Sao Paulo is using educational activities to reduce local climate risks and impacts by sharing its expertise and best practices within public schools at all levels and local communities, and with entrepreneurs, unions and environment professionals.
In addition to these activities, and especially with the private sector, RCE Sao Paulo is also supportive of entrepreneurial education with a sustainable approach through the promotion of best practices on innovative green technologies, an activity that involves not only local government, but also companies, unions, built environment associations and other groups.
ESD for CSR
The importance of fostering ESD has been recognized by various stakeholders, including those in the private sector. Indeed, many companies are integrating sustainable practices into their operations as part of their strategies, with corporate social responsibility (CSR) initiatives included, in recognition of a long-term approach towards sustainability that should permeate their activities. Amongst these, some companies have also focused on educational projects, looking at the potential of nurturing young agents of change.
Mitsui & Co., Ltd., is a global company that has been heavily investing in sustainable practices, both within and outside the company — in Japan, where its headquarters is located, and also overseas — through diverse projects that highlight ESD practices and awareness-raising about environmental conservation.
Aiming to promote cultural and knowledge exchange in a wide variety of subjects, the company sponsors lectures and programmes in partnership with several universities in Asia, Europe and the Americas. At the primary and secondary school level, Mitsui company teachers take part in the collaborative Forest Classroom project, emphasizing the relationship between humans and nature through subjects such as forest conservation, forestry operations and biodiversity.
Most importantly, since 2005, Mitsui has been investing in educational and research activities through its Mitsui Environment Fund, providing financial support for academic institutions and NGOs to implement solutions to specific environmental challenges with high local impact.
For example, this programme has been funding various restoration efforts since the 11 March 2011 Great East Japan Earthquake and Tsunami. In other areas of the world, as well, there are programmes to combat desertification and promote reforestation and environmental education in Turkey, raise awareness and tackle problems related to atmospheric pollution and acid rain in East Asia, and promote environmental education in Vietnam.
The company also has been involved in planning and implementing agricultural activities using solar power generation for irrigation systems as part of a larger collaboration with the United Nations Development Programme in Mozambique. Utilizing solar panels, water from the Limpopo River will be pumped for irrigation, providing the local community with an opportunity to achieve economic autonomy through agriculture.
These are only some snapshots of a wide range of initiatives that could be developed in collaboration with the private sector. Although much is being pursued by other companies, of which Mitsui is one example, there are other possibilities that are yet to be explored in terms of capacity building that may contribute to increasing job opportunities through individual and institutions' development, benefitting society at large.
Long-term thinking and partnerships
The examples covered by this article are an attempt to explore partnership opportunities and strategies that can enable higher education institutions and the private sector to cultivate professionals with abilities to take up green jobs and assist the transition needed to incorporate sustainable practices at all levels of activities. They also offer an overview of how local networks and a global company are developing their own initiatives to fill the gaps in education and training of children, youth and professionals, sharing the responsibility to create a sustainable society and the future we all want.
Institutions can support and assist in the implementation of existing policies towards promoting ESD, and issues such as social inclusion and income generation. However, some initiatives to build capacity and address poverty, as well as the absorption of a qualified labour force, could be further enhanced if focused policies were created with these specific purposes.
Long-term planning and concerted actions must involve policymakers, civil society, educational institutions and the private sector. New multi-stakeholder partnerships such as those fostered by the RCE initiative are hopefully the kick-off of many others that can bring diverse initiatives and concrete commitments for the future.