2012•02•21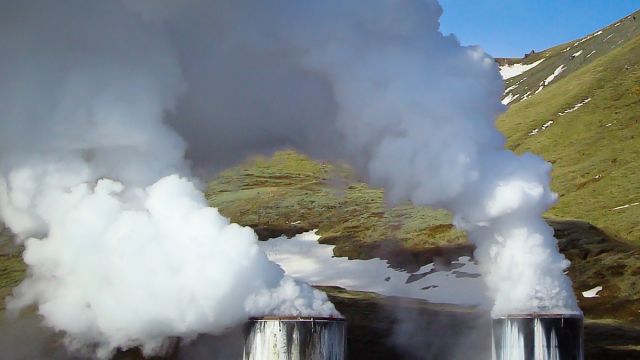 Photo: Luis Patron/UNU
In this article — the first in a two-part series — Kenyan environmental scientist Pacifica Ogola, a Ph.D. Fellow at the United Nations University Geothermal Training Programme, relates her experience in Iceland and explains why geothermal energy is so important for developing nations like her home country.
• ♦ •
Iceland, one of the most geothermally active places on earth, has become a global leader in harnessing renewable energy. Geothermal energy heats houses, powers industry and ensures that gushing hot water fills Iceland's baths and thermal spas all year round.
"Geothermal Iceland", the latest documentary produced by the UNU Geothermal Training Programme (UNU-GTP) in Iceland and the UNU Media Centre, explores how UNU is assisting geothermally active developing countries to tap into this energy potential by establishing groups of specialists in geothermal exploration and development. The video tells the story of my friend and colleague from Kenya, Anna Wairimu Mwangi.
Iceland is the perfect home for a geothermal training programme. Seventy percent of the country's primary energy comes from renewable sources: 54% from geothermal and 18% from hydroelectricity. This represents the highest use of renewable energy in the world. (Norway is in a distant second at 38%.) Fossil fuels are imported to Iceland only for the fishing and transportation sectors.
There currently are seven geothermal plants in Iceland, as follows:
A. Bjarnarflag, in northern Iceland,with
an electricity generating capacity of 3 MWe.
B. Svartsengi, on the Reykjanes peninsula,
with a capacity of 76 MWe.
C. Krafla, in northern Iceland,
with a capacity of 60 MWe.
D. Nesjavellir, in the Hengill area,
with a capacity of 120 MWe.
E. Hellisheidi, in the Hengill area,
with a capacity of 303 MWe.
F. Reykjanes, on the Reykjanes peninsula,
with a capacity of 100 MWe.
G. Husavik, in northern Iceland,
with a capacity of 1.7 MWe.
In search of geothermal knowledge: My journey to Iceland
Like Anna Wairimu Mwangi in 2011, in summer 2004 I embarked on a journey to Iceland where I participated in the six-month-long specialized training offered by UNU-GTP. Participating in the programme gave me the opportunity not only to learn about geothermal utilization, but also to experience the kind of benefits that geothermal energy can bring. Geothermal energy in Iceland has been utilized for centuries, with large-scale commercial use starting in the 20th century.
Despite the geographical and climatic differences between Iceland and Kenya, the potential benefits of geothermal utilization are cross-cutting, and Kenya can learn much from Iceland. Geothermal energy supplies 26% of electricity generated in Iceland. In addition, this environmentally friendly resource is used to operate over 130 swimming pools year-round (most of which are open to the air) and greenhouses that produce various kinds of vegetables, even in the cold and dark days of the sub-Arctic winter. Geothermal is used to heat 90% of Icelandic homes, and some of the leftover water is used for snow-melting systems that keep streets and walkways free of snow and ice in the winter (thus limiting the need for snow-clearing equipment and personnel). The video brief shows how homes in Iceland rely on geothermal energy for their hot water supply, as well as other innovative uses, including cooking at a specialist restaurant.
These uses can be transferred to many parts of the developing world with significant impacts on livelihoods and fulfilling many of the Millennium Development Goals — especially in the north rift area of my home country Kenya, where less than one percent of the population has access to electricity.
During my six months as a trainee at the UNU-GTP in Iceland, I had the chance to see some of these uses of geothermal energy first-hand as well as learn more about the main aspects of geothermal energy exploration and utilization, with practical work and short field excursions.
Over thirty years of expertise and training
The UNU Geothermal Training Programme was launched in 1978 by the Government of Iceland and the United Nations University. Over time, it has grown to offer specialized training in areas such as geological exploration, borehole geology, geophysical exploration, borehole geophysics, reservoir engineering, chemistry of thermal liquids, environmental studies, geothermal utilization and drilling technology.
The founding Director of UNU-GTP is Dr. Ingvar B. Fridleifsson, who appears in the video brief. UNU-GTP has a small staff of six full-time members, but gets support from Iceland Geosurvey (ISOR), Orkustofnun (Iceland's National Energy Authority under the Ministry of Industry and Commerce, providing advice and undertaking research on energy issues) and the University of Iceland.
During the period 1979–2011, 482 scientists and engineers from 50 developing countries have completed the annual six-month courses. Of these, 41% have come from countries in Asia, 30% from Africa, 16% from Latin America, and 13% from Central and Eastern Europe. Amongst these have been 89 women (18%). More than 90 professionals have received shorter training (2 weeks to 4 months).
The largest numbers of graduates have come from China (78) and my home country, Kenya (62). Other countries that are well represented include El Salvador (32), the Philippines (31), Indonesia (29) and Ethiopia (27).
According to UNU-GTP, 80% of all the trainees have continued working in the geothermal sector for five years or more after training, and the majority have made geothermal their career. I count myself fortunate to be one of that number.
Taking my knowledge to a higher level
After completing my course with UNU-GTP, I returned to Kenya and my position with Kenya's major power company, KenGen. (In the second part of this two-part series, I will explain how Kenya is trying to develop its geothermal resources, and the role that graduates from UNU-GTP are playing by turning their knowledge into megawatts through geothermal energy.)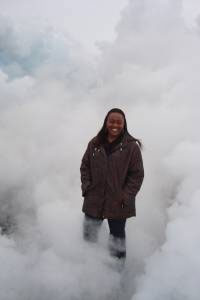 Because I wanted to continue to enhance my expertise, in 2009 I travelled back to Iceland to pursue a doctoral degree (through UNU-GTP and the University of Iceland) in environment- and climate change- related aspects of geothermal utilization in the Kenyan north rift geothermal fields.
Arriving at the end of January 2009, in the middle of the Icelandic winter, I was not prepared for the cold and darkness that welcomed me and, for the first time, appreciated the heat from the geothermal district heating system in Reykjavik.
In this 2009 photo, you can see me standing in front of geothermal steam from one of the discharging wells in Reykjanes. My friends back home often wondered how I managed to take a photo in the clouds. Well, it is not the kind of cloud they mean — but for me it is close to "cloud nine", and that is how I feel about Iceland.