2012•08•30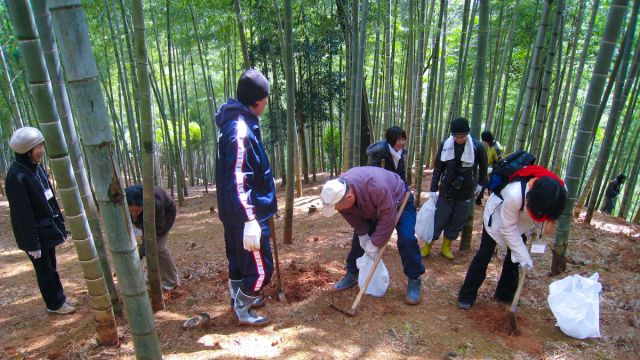 Photo: RCE Kitakyushu
With an estimated 50,000 attendees, the recent Rio+20 conference on sustainable development was the largest UN event ever held. Despite widely reported dissatisfaction with the summit's outcome, the gathering was much more than a room full of country representatives hammering out the "future we want", as the outcome document is titled.
With more than 500 on-site side events and hundreds of nearby meetings, forums and workshops, there was ample opportunity for participants to share their responses as well as discuss new approaches to the challenges of global development.
One such response, led by the United Nations University Institute of Advanced Studies (UNU-IAS), is a call for the concerted effort of multiple stakeholders to further develop collaborative learning systems that enable transformation towards green, resilient and just societies. The UNU-IAS Education for Sustainable Development (ESD) Programme took advantage of the Rio+20 assembly to host a side event with partners and members of international and regional organizations and government agencies to explore the critical needs and questions surrounding multi-stakeholder learning.
An initiative of the UNU-IAS, the Regional Centres of Expertise (RCEs) are regional (primarily sub-national) networks of multiple stakeholders that focus their learning projects on specific sustainability-related challenges framed around their reality and geographical location.
Forming a local community of practice by sharing knowledge and resources in a common commitment to implement ESD, RCEs are an excellent testing ground for international, regional and national sustainable development processes. New technologies that encourage more sustainable ways of living, producing and consuming can also be piloted in these communities. At the same time, the RCE community, being initiators of multiple sustainability innovations through co-engaged learning, can help in shaping new policy regimes for sustainability.
Many successful learning experiments developed by RCEs that have local and even regional impact could catalyse major changes globally. The next challenge for these experiments would be to scale up these achievements to move from one-off projects to programmes that can systematically support the emergence of innovative experimental practices for a low-carbon, just and resilient society.
Regional expertise on sustainable development
The RCE movement started with the development of a global community of local networks that interacted with each other, fostered by the Global RCE Service Centre coordinated by UNU-IAS. As a natural result of this interaction, RCEs then created clusters according to similar challenges and interests. Sustainable consumption and production (SCP), health and traditional knowledge, teacher education, climate change, higher education and others are some examples of key themes that permeate RCE work worldwide.
Through these thematic collaborations, RCEs establish connections that cross borders, at regional and international levels. This promotes the fertilization of ideas through the sharing of local experiences and building of cultural understanding. This further enhances the translation of global thinking into local actions, and the infusion of local learning and innovations into global policies. In such a manner, the RCEs become nodes of "dialectic development" between local and global.
Members of the global community of RCEs address local sustainability challenges depending on their location. Fostered by different governance arrangements that also influence the types of developed projects and engagement of various stakeholders, in many cases RCEs are led by universities while others are strongly supported by local governments or NGOs.
At the Rio+20 side event, several RCE representatives shared their experiences and the history of RCE development, giving a snapshot of the type of multi-stakeholder collaborations going on around the globe.
For example, mainstreaming the involvement of institutions of higher education with the local community and engaging the participation of students, RCE Vienna facilitates a broad range of projects related to SCP in the region between the Slovakian capital Bratislava and the Austrian capital Vienna. Notably, their project on ecomobility encourages more sustainable transport solutions for companies (and their employees) located in the region through awareness-raising about more environment-friendly means of transportation: use of bicycles, car pooling, use of public transport, limitation of parking lots in companies and so on.
RCE Graz (Austria) focuses on collaboration between rural and urban areas in the region using universities as strategic partners. Youth, particularly students, are seen as important actors in the region with the RCEs promoting their engagement in decision-making processes at different levels.
Specifically, Sustainability4U is an initiative that involves the four universities in the city of Graz. One of the developed projects, UniMobil_4U, encourages students and staff to use bicycles for transportation through improvement of routes between the four universities. Road adaptation, track designs and other needs were identified, and solutions are being discussed with regional policymakers.
RCE Kitakyushu (Japan) is an example of efforts by civil society, particularly women's groups, to create a platform for various types of activities and learning in the context of education for sustainable development. Having started as a community movement to fight pollution caused by local industries in the area, it now encompasses citizens, universities, the municipal government, NGOs and the business sector.
The joint efforts were aimed at environmentally recovering the region from heavy industrial pollution whilst preserving economic activities. Nowadays, the city is a model for green economy, selected in 2010 as one of the 11 future cities under the Future City initiative of the Japanese government and nominated in 2011 as a green growth model city by the Organization for Economic Cooperation and Development.
Further, with the goal of promoting sustainable livelihoods, RCE Kitakyushu developed educational materials that raise awareness about food production and consumption, inviting children to think about the origin of ingredients so as to promote local products and boost sales for the area's producers. With this, the expectation is to change behaviour towards food consumption, stimulate the local economy and reduce the impact of food transportation and consequent CO2 emissions.
In Brazil, RCE Sao Paulo works on developing educational strategies that help cope with sustainability challenges and especially the impact of climate change in a highly urbanized area. Closely working with government and academia to promote innovative applied science and technology solutions, this RCE is functioning as a platform to bridge the gap between academia, science, policy and community.
Also interacting at the international level with networks such as C40 Cities Climate Leadership Group, RCE Sao Paulo is using educational activities to reduce local climate risks and impacts by sharing its expertise and practices within public schools at all levels and local communities, and with entrepreneurs, unions and environment professionals.
RCE Rio de Janeiro has also been collaborating with local government, universities, industry and institutions working with small and medium enterprises to provide an educational approach to the region's development plan. Prioritizing strategic areas for local development, RCE Rio de Janeiro focuses on improving scientific training by transforming curricular structures to incorporate sustainability thinking and by offering capacity-building programmes that develop skills and abilities for jobs and income generation, all in view of promoting a culture of entrepreneurship that has a strong sustainable and ethical component.
Great potential
With a view to strengthening international collaborations involving the global RCE community, at the Rio+20 side event, Eileen de Ravin from the United Nations Development Programme, Heinz Leuenberger from the United Nations Industrial Development Organization and Clemens Mader from the Copernicus Alliance (a European network of universities that promotes education and research for sustainability) were invited to reflect on current development of RCE work aiming to further support their international activities.
The discussants stressed the opportunities the RCE framework provides as a platform for collaboration that engages multiple stakeholders, facilitates transformation in education at all levels and enables synergies between academic programmes for sustainability and other regional activities.
Communities connect with universities through the work of RCEs and, thus, have access to technologies and innovative solutions whilst also contributing with their traditional knowledge initiatives.
As the scaling up of projects is a fundamental problem that needs to be addressed for a major impact on global sustainable development levels, the worldwide RCE community can be a space through which projects that promote more sustainable consumption and production practices are implemented and opportunities for green jobs are generated.
Contributing to this discussion, the audience also addressed the challenges of developing horizontal thinking, the need to establish strategic priorities for a global community considering diversity, the communication gaps between local community groups and higher education within RCEs in some regions, and the need to further develop the capacity of RCEs to address important sustainability issues and to have business models for community development.
These are not easy issues. However, the work being developed by RCEs contributes to empowering local communities with global thinking and has great potential to not only influence local development but also to promote transformations as a global community that may significantly impact, at a similar level, global sustainable development.