2012•04•03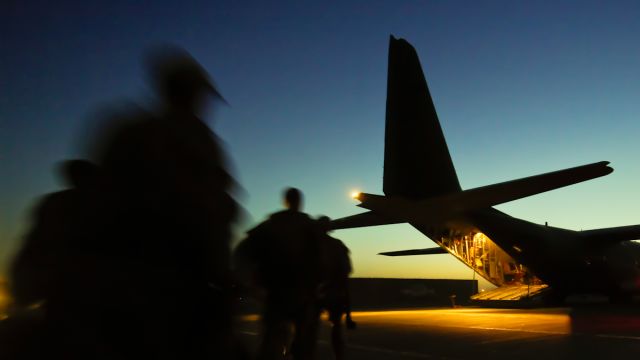 Photo: Neil Chapman/RAF
As part of ongoing civil society efforts to improve the current regime regulating arms transfers from EU Member States, UNU-CRIS Associate Research Fellow An Vranckx recently co-edited a report entitled "Lessons from MENA — Appraising EU Transfers of Military and Security Equipment to the Middle East and North Africa". The report analyses EU exports to the Middle East and North Africa (MENA) and provides recommendations for improvements in the way the current regulatory system is being used in practice.
♦♦♦
Over the past decade-and-a-half, European Union Member States have taken various steps to harmonise their national regulations to ensure that trade in conventional arms was brought under standards that the constituencies in these countries deem to be "responsible" and "ethical". As of 1998, such trade from EU Member States to third countries became regulated by the EU Code of Conduct on Arms Exports. This "politically binding" instrument proposes that those exporters agreeing to the code refrain from shipping arms to countries at war, or to those where such arms are anticipated to stand a serious risk of aggravating violations of international humanitarian law and human rights, increasing regional tension, or ending up in the hands of illegal armed non-state actors.
During the following decade, EU Member States sought to upgrade the "politically binding" Code of Conduct to a "legally binding" instrument, while at the same time prompting the United Nations to bring global trade in conventional arms under a tight system of control — an idea initially put forward by a group of Nobel Peace Laureates, including former President of Costa Rica Oscar Arias.
In December 2006, the UN General Assembly effectively adopted Resolution 61/89, "Towards an arms trade treaty: establishing common international standards for the import, export and transfer of conventional arms" (ATT). Two years later, the EU staged regional outreach seminars that brought together experts in the control of arms exports from EU Member States with those from interested third parties, in an effort to promote among such third countries processes leading towards the ATT.
The EU had sound reasons to get this universal regime in place: even if all EU Member States "voluntarily" implemented the Code of Conduct, it applied to no more than a mere quarter of the global arms trade market — less than the market share taken by major players such as the USA and Russia. The latter arms exporters' competitive position even appeared to benefit from the Code, to the detriment of military companies from EU countries, which were only permitted to export to customers in certain places in compliance with the Code.
[quote quote="The EU Code of Conduct  … applied to no more than a quarter of the global arms trade market" type="text" ]
Understandably, authorities from these EU countries sought to have an inclusive regime installed that would be "as universal as possible" to have all exporters abide by rules similar to those already constraining EU exports of military goods. The challenge was understood to be considerable. The USA had expressed its opposition to an ATT by voting against UN Resolution 61/89, and other major league arms exporters, such as Russia and China, had abstained from voting.
In a resolution taken on 4 December 2008, the European Parliament expressed its expectation "that the EU's contribution to an internationally binding ATT [would] gain in credibility as soon as its own arms exports regime becomes legally binding". That consideration may have encouraged the Council a few days later to upgrade the Code of Conduct to the legally binding Common Position 2008/944/CFSP, which defines common rules governing the control of exports of military technology and equipment. EU credibility in "leading by example" could gain even more if its Member States were proven to actually constrain their arms exports in line with this legally binding instrument.
But how is compliance monitored and assured? As a Common Position, the European Court of Justice cannot take action to ensure Member States approve national implementing laws in a specified timeframe and observe a common interpretation of that piece of EU legislation, as would be the case of an EU Directive. The Common Position includes a provision that Member States begin a review "no later than December 2012", but that review does not guarantee an exhaustive quality control of the decisions taken by their export control authorities.
The relative weakness of the in-built mechanisms for monitoring the outcome of EU Member States' arms trade decision-making has encouraged civil society arms control advocates, academics and investigative journalists from various European countries to launch a "watchdog" initiative. By 2009, they began to pool case studies in which many of them had already documented particular EU countries' concrete arms export practices. Working from this extensive compilation of case studies, the extent to which these export practices were in line with ethical standards in the way the constituencies of European countries had intended was assessed.
In 2010, these efforts gave rise to a first report that recognized that the level of control exercised in the EU was in many ways setting the global lead, and yet deemed the EU system still far from perfect, for example in terms of the EU arms export control system's insufficient robustness in avoiding that arms exported to legitimate customers at one point be re-exported or otherwise deviated to problematic non-state actors later on. While acknowledging that in most cases the system works as intended, the report concentrated on the unfortunate exceptions. It sought to analyse cases where poor arms transfer decisions still appeared to be taking place, to identify patterns of poor decision-making where they exist, to consider why such patterns exist and to suggest remedies.
In 2011 a second report was published in this series, which detailed EU countries' military exports to countries in MENA that became embroiled in the events of the Arab Spring. The deployment of European arms to repress the demands for democracy in several such countries, and more broadly the willingness to transfer arms where the risk of such behaviour was very real, suggested once more that the EU system is still far from perfect.
[quote quote="In most cases the EU system works as intended  …  but it is far from perfect" type="text" ]
Especially in arms transfer deals with Libya, both before and while the UN embargo against that country was reinstated, the EU control system appeared to be quite considerably challenged. The system proved too weak to prevent EU Member States from taking steps that may well create precedents that will eventually undermine the global commitment to embargoes and cause the EU to lose ground in getting the international community to agree on an ATT.
This is especially important as the UN gears up to convene the Conference on the Arms Trade Treaty later this year. In drawing attention to these flaws and suggesting remedies, the report proposes these "lessons from MENA" be taken as seriously and as constructively as possible by EU Member States in further efforts to define and abide by common ethical rules governing the control of exports of military technology and equipment.