2012•01•17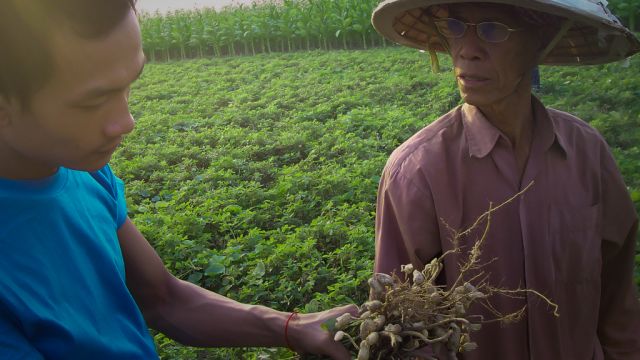 Photo: Sarin Va
Building the research capacity of universities and higher education institutions in developing countries is invaluable to improving environmental management and planning. This is particularly the case in the least developed countries (LDCs), such as Cambodia, where people are especially vulnerable to environmental changes and knowledge is urgently needed to enhance socio-ecological resilience.
Neither national nor international development agendas have so far resulted in a substantial commitment to research capacity development of academic institutions in LDCs. Whilst many LDC governments lack the financial and human resources needed to ensure the generation and dissemination of academic knowledge, the international aid community rarely emphasizes investment in higher education, as producing basically-skilled labourers through primary and secondary education is often considered more effective for enhancing economic development.
Against this backdrop, researchers at Cambodian universities have been trying to develop capacity by looking for financial, material and logistical support from non-governmental (NGO) and private, usually foreign, organizations. NGO-led environment and development projects have given Cambodian researchers and students significant opportunities, and these projects continue to be indispensable in terms of research capacity development. However, given that NGOs usually promote problem-solving and small-scale practical projects based on action-oriented field research, the scope of NGO-related research projects tends to be limited and often detached from wider scientific goals. Linking problem-oriented field research to ongoing scientific debates is crucial in order to guarantee systematic knowledge transfer from one generation to the next.
Establishing a multi-sector approach
The project Multi-Sector Involvement for Research Capacity Development in Cambodia (the Cambodia Project) was co-developed by the United Nations University (UNU) and the Royal University of Phnom Penh (RUPP) in Cambodia to explore ways to establish sustainable mechanisms for knowledge generation and transfer. The project aimed to equip RUPP researchers with financial and technical resources and support to conduct research-related fieldwork within comprehensive and scientifically credible research agendas.
In Cambodia, weak environmental governance has accelerated environmental degradation, including air and water pollution and deforestation. Cambodia has also continued to face difficulties resulting from the civil war (1970–1975) and the ensuing Khmer Rouge regime (1975–1979), which destroyed academic infrastructure and the population's intellectuals. The country urgently needed support to restore disrupted research and education programmes, and to produce highly skilled experts in environmental management.
The Cambodian Government (via the Ministry of Education, Youth and Sport) provides universities with only a minimal budget for teaching; no competitive research funds are readily available. Projects led by NGOs, therefore, constitute a valued opportunity for academic research. However, as NGO projects mostly offer in-kind and logistical support, a lack of funding to cover transportation and other costs necessary to carry out field-based research has remained a concern.
Enhancing faculty members' research skills can lead to more competent teaching and supervision. In general, Cambodian academics are young and, although aware of the need to apply for research funds outside of the NGO frameworks more aggressively, they have only minimal opportunity to learn about the preparation of different types of academic research proposals and funding applications. The Cambodia Project was therefore developed to create opportunities for both students and faculty members through grants for field-based research, training programmes and workshops.
In 2009, funding was secured from the Mitsui Environment Fund, and three specific project objectives were outlined: (i) to support students and faculty members to become equipped with basic research skills, such as statistical knowledge and the ability to conduct fieldwork while building partnerships with different entities; (ii) to support students and faculty members to present their research results, disseminate environmental knowledge and generate discussions; and (iii) to encourage faculty members to develop research project proposals.
As part of the project, in 2009 RUPP invited lecturers from neighbouring Thailand and Malaysia to teach statistics. In 2010, the project funded 36 students to gain first-had experience of the research process (writing proposals, conducting field research, and presenting final papers at a public workshop). In 2011, the project began training faculty members in proposal writing skills and scientific writing in general.
Yet despite these achievements, RUPP researchers and faculty members continued to obtain logistical and in-kind support from NGOs and participate in their ongoing, applied research activities. As a result, research themes remained largely determined by NGO project frameworks.
So what were the implications of NGO involvement in terms of overall research capacity development for environmental planning and management in Cambodia? The answer to this question led to the "multi-sector approach" which connects NGOs and the public and scientific sectors.
Linking local to global
NGOs' influence on both research activities and policy-making has increased over the last two decades. After the 1992 Rio Summit, private businesses increasingly became involved in corporate social responsibility endeavours, while governments pushed forward neo-liberal privatization policies on many fronts. NGOs were considered effective at intermediating public–private partnerships and, in many developing countries, such partnerships started to direct environmental research and policy formulation.
NGO involvement in research and policy has been welcomed in Cambodia. There currently are over 400 environment-related NGOs active in Cambodia. The government recognizes that NGOs "play a major role in supporting the provision of basic social services", as well as contributing to environmental assessments associated with sanitation, water quality and environmental education.
Nevertheless, NGO-led practitioner research and academic research are different. Awareness of these differences is important in order to ensure meaningful collaboration based on mutual learning between the NGO and scientific sectors. Field-based research experience needs to be understood objectively with reference to the ongoing scientific debates of environmental (as well as development) studies.
Few scientific investigations conducted by local researchers in Cambodia have explored links between environmental management and climate change. Small-scale field-based research results are seldom interpreted in relation to regional or global knowledge on environmental change. Linking local and global relationships can widen opportunities in terms of networking and collaboration, as it facilitates coordination between various research institutions. The influence of NGOs on academic research in Cambodia thus needs to be more concretely framed to link local problem-oriented research to global scientific and policy agendas.
How can researchers in Cambodia in general actually explore this linkage? Where can they find the space to connect their ongoing field research to the broader research agenda when they do not have sufficient access to basic academic infrastructure such as the Internet and libraries?
Defining a policy space
One possibility is to identify and strengthen a public policy space. For example, the Cambodian Ministry of Environment launched the National Adaptation Programme of Action (NAPA) in 2006 in response to a call by the United Nations (from both UNFCC and UNEP) for LDCs to receive support to promote climate change adaptation and management. NAPA linked existing NGO projects and ongoing field research programmes to the international agenda on climate change adaptation underpinned by global science.
Placing ongoing field-based research within a national programme framework can help ensure ongoing sustainability of the research. Programmes like NAPA often include an international trust funding mechanism  (in the NAPA case, potential funding from the UN Global Environment Facility's (GEF) LDC budget).  Access to such funding can help link field research experience to global scientific and policy debates.
Nevertheless, researchers in Cambodia remain relatively unfamiliar with bureaucratic (international) governmental funding procedures. The Cambodian government is reluctant to actively reach out to universities. International support for research capacity development is therefore vital in order to set up a collaborative institutional and financial mechanism between universities and government departments.
Establishing university networks
Academic researchers and government departments in Cambodia rarely look to collaborate because there is a lack of information on both sides on how to do so. It is important to learn from other countries' experiences of collaboration, by participating in international university networks.
Networks that incorporate a research capacity development goal are fundamentally different to the usual scientific community networks (which tend to be directed by universities in the developed world with high research capacity). Specific networks through which researchers and policymakers from both developed and developing countries can collaborate to address LDCs' basic academic requirements need to be created.
The University Network for Climate and Ecosystem Changes Adaptation Research (UN-CECAR), launched in 2009 as a joint initiative between UNU-ISP and the University of Tokyo, encourages research capacity development in LDCs. The network aims to build an academic platform for universities in the Asia–Pacific region and Africa to improve the quality of their research and education programmes, particularly in the field of climate change adaptation.
By sharing case studies on local coping strategies to minimize climate change- related risks, often in collaboration with public authorities, the participating universities explore ways to enhance resilience in developing countries. Such academic platforms can create opportunities for researchers in LDCs to develop sustainable research agendas based on local case studies with reference to the international climate debate.
It is still too early to tell whether such an inter-university network has been effective in supporting universities like RUPP to establish concrete connections with national environmental policy or the international scientific agenda. However, the network has been successful in serving as an entry point for Cambodian universities to join international academic networks.
Meanwhile, individual researchers in Cambodia need to keep searching for available research opportunities while simultaneously striving to learn about different possibilities that exist outside of the immediate field research and project frameworks. The multi-sector approach, which envisages collaboration between the NGO, private, public and scientific sectors, has at least started to help them identify these new possibilities.
Conclusion
A multi-sector approach to research support offers a pragmatic way to build research capacity, as it allows underdeveloped universities in LDCs to connect their ongoing small-scale research experience to wider policy and scientific agendas. For this approach to be sustainable, however, more institutional support will be necessary to ensure basic academic infrastructure and financial sustainability for researchers in LDCs.
Enhanced research capacity will allow researchers in LDCs to analyze local knowledge more strategically in terms of global perspectives, thereby contributing to encouraging the public to engage in managing their own environment.
As part of this approach, the implications of NGO influence on research and education need to be recognized, as does the gap between existing public environmental policy and research realities in the LDCs. Likewise, in Cambodia and elsewhere, each university's experience should be shared with other universities, through international networks, to facilitate the exchange of information and increased funding opportunities. New international policy proposals thus need to be directed towards strengthening university networks and making knowledge exchange an effective topic for institutional support, both in Cambodia and in other developing regions more generally.
*  *  *
This article is an abbreviated version of Otsuki, K. and Takahashi, S., "Research Capacity Development for Environmental Management in Cambodia: Outlining a Multi-Sector Approach", Policy Brief No. 2, 2o11, United Nations University (UNU).