2014•03•28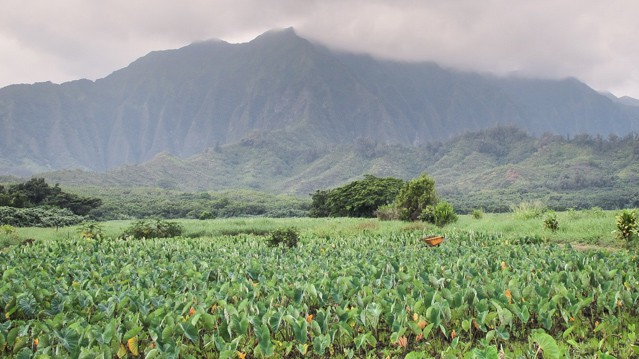 Photo: Aurea Tanaka/UNU
Located around thirty kilometers from Honolulu, Hawaii, the He'eia Wetlands are situated in a transition space between lush mountains and beautiful beaches. To the unfamiliar eye, it is not obvious that this has been the site of a community's struggle to transform eroded land into what it was in the past: a fertile area full of local native plants, such as kalo (the Hawaiian name for taro).
This spot served as a classroom, providing us the opportunity to meet with the local community and discuss leadership issues that focus on sustainability as a driver for change. This November 2013 activity was part of our participation in the 2013 ProSPER.Net Leadership Programme, an annual programme providing a platform for multi-sectoral dialogue, with participants coming from academia, civil society and public and private sectors.
Our group was welcomed by Kanekoa Kukea Shultz, Executive Director of Kako'o 'Oiwi, a non-profit organization that — with strong participation by the local community and other stakeholders — started a restoration project for a 405-acre area of He'eia's wetlands locally referred to as "Hoi". Shultz gave a brief history of the area starting from the mid-1800s, when native kalo plants were replaced by non-native plants with higher commercial value such as sugarcane, pineapple and rice. Later, he explained, cattle farming was also introduced and this led to an intense battle for water rights. These changes in land use contributed substantially to the degradation of the He'eia Wetlands, resulting in soil erosion, increased surface water runoff and flooding during heavy precipitation.
Pondering this degradation, Kako'o 'Oiwi in 2009–2010 undertook a series of consultations with the local kūpuna (elders) and community members, and the Mahuahua 'Ai O Hoi He'eia (replanting the fruit of Hoi) project was conceived to restore the area, promote sustainable agriculture and preserve Hawaiian cultural traditions. In 2010, the Hoi wetlands were then leased under a 38-year tenure agreement with the Hawaii Community Development Authority.
Currently the restoration activities include re-planting native kalo and other local plants such as bananas and breadfruit. Shultz says that next, the project intends to improve the waterways and reduce siltation and invasiveness of non-native plants like mangrove, to complete the restoration process. There is also an urgent need to expand the rehabilitation project and create more awareness among the local community that the wetlands offer a legacy to future generations and more importantly, a vital source of food security for Oahu and other Hawaiian islands.
As our group had the opportunity to experience, students and teachers also get their hands dirty in planting kalo or clearing parts of the wetlands that are inhabited by non-native plants. This is because the objectives of the restoration plan (documented in the Mahuahua 'Ai O Hoi He'eia Wetlands Restoration Strategic Plan 2010-2015) take into account issues like the environment, culture and traditions, economy and sustainability as well as community participation. Local stakeholders were consulted and are encouraged to be involved in the He'eia Wetlands restoration. For example, invitations are regularly sent to nearby school communities asking students and teachers to participate in the rehabilitation work.
Replanting the fruit of Hoi
The most interesting part of the field visit was to learn that local people highly value their ancestral land. Although they strongly uphold their traditional beliefs and values, there are impediments to achieving agricultural sustainability that involves introducing innovation in the agriculture system, financial constraints and related challenges.
Initially, to fulfil the goal of agricultural sustainability, a mixed vegetable culture system was adopted in the area. Bananas, breadfruit, corn and others are grown as income-generating crops to help the community to attain self-sufficiency.
However, we visitors felt that the overall system could be improved, especially concerning soil productivity and quality, if composting and vermi-composting were utilized for waste treatment, as well as crop management. A major gap that was clearly observed was the lack of scientific inputs to maintain agricultural sustainability — e.g., productivity, nutrient recycling, water quality.
At the same time, a pilot-scale system using aquaponics and hydroponics was blended with organic farming to lessen dependence on chemical fertilizers. Shultz explained that the aquaponic/hydroponic system is divided into two parts. The first part is an aquaponic system for raising fish (carp) implemented with technical assistance from the Hawaii Institute of Marine Biology, while the second part is a hydroponic system for cultivating raw vegetables. Shultz explained that when fish are cultured, only a small portion of the feed is converted to fish biomass, while the remaining portions are used as natural fertilizers for hydroponic plant growth. The effluent from the aquaponic system is then fed into the hydroponic system for kalo, lettuce and spinach cultivation. This hydroponic system uses volcanic aggregates — a locally-abundant and environmentally friendly material — to support plant roots during nutrient uptake and growth.
After harvesting, the plants are packed and sold on-site at the farm or delivered in the city of Honolulu. Aquaculture is the fastest growing food-producing sector and can contribute significantly to the Hawaiian food supply. We found this holistic approach highly inspirational, as it demonstrated that integrated systems use water more efficiently through the interaction of activities involving fish and plants.
Currently, the agricultural activities in the He'eia Wetlands heavily rely upon the Ko'olau Mountains watershed. Shultz said that there are several technical challenges associated with the use of such a water source, mainly because (1) high rainfall mobilizes a large amount of solids that will eventually infiltrate the croplands and cause serious waterlogging problems that could deteriorate the crop productivity of the wetlands; and (2) the suspended solids will mobilize nutrients and could penetrate as far as the river system, which could cause serious eutrophication problems and algal blooms in the nearby sea and/or ocean, that would affect the coral reef systems.
In order to improve the water cycle in the wetlands, participants felt long-term hydrological monitoring should be carried out in order to assess the amount of water runoff through the wetlands during various seasons of the year. From this monitoring activity, a decision could be made on whether the water runoff should be diverted before it gets into the wetlands and causes waterlogging problems. For this purpose, the water runoff could be diverted upstream from the wetlands' crops using mechanical pumps and storage in natural systems (e.g., ponds) or engineered systems (e.g., sub-surface or ground tanks and dams) for irrigation purposes during dry periods.
In addition, water runoff diversion should also be set up downstream from the wetlands' crops to serve as a physical barrier to prevent nutrient-rich water runoff from entering the local river system, as well as serving as a "smart" water recycling system to recover both water and nutrients back into the croplands. In this downstream location, water treatment processes would be required to recover nutrients (e.g., nitrate and phosphate), recondition pH and salinity levels and recycle water back into the croplands. Alternatively, this downstream recycled water stream could be transferred upstream to complete an integrated approach to water resource management in the wetlands.
The land as community inspiration
During our visit, while listening to Shultz, we had a pleasant surprise when one of the community elders joined us. She recounted many stories of the wetlands and her family and the vivid anecdotes helped us understand the close relationship between the local community and the wetlands. This is where they find their drive and passion to rehabilitate the wetlands to what it was before. We were also able to reflect that in our quest to protect the sustainability of our beloved planet, all of us have a role, however small, in ensuring that it is a livable place for future generations.
The Mahuahua 'Ai O Hoi He'eia Wetlands Restoration Programme is the utmost expression of a community's motivation to join forces to sustain the place where they live. It is a story of community determination, despite the pressures of modernization and urbanization, to protect their legacy for the future. And hopefully, with a strategic plan that will guide them in their difficult quest, the wetlands will one day return to their former glory.