2013•11•21
The United Nations University Institute on Comparative Regional Integration Studies (UNU-CRIS) has published Regionalism, a four-volume intellectual history capturing and organizing six decades of research and policy discourse on regional integration and regionalism. The series, edited by Philippe De Lombaerde (Associate Director, UNU-CRIS) and Fredrik Söderbaum (Associate Professor, University of Gothenburg, and Associate Senior Research Fellow, UNU-CRIS), was published as part of the respected SAGE Library of International Relations series.
The ambitious collection consolidates a fragmented field of study that is characterized by a lack of dialogue among academic disciplines and area specializations, as well as divergent theoretical traditions and approaches. Regionalism provides the scholars with a collection of seminal articles that have contributed to shaping the thinking about regional integration, regionalism and regionalization during the past six decades.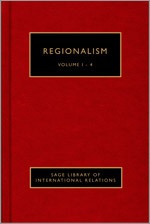 The four volumes are structured chronologically to reflect the evolution of the subject:
Volume I: 1945–1970 Classical Regional Integration
Volume II: 1970–1990 Revisions of Classical Regional Integration
Volume III: 1990–2000 New Regionalism
Volume IV: 2000–2010 Comparative Regionalism
The collection's authors include several UNU-CRIS faculty and associate research fellows, including Amitav Acharya, Francis Baert, Philippe De Lombaerde, Gaspare Genna, Timothy Shaw, Fredrik Söderbaum, Luk Van Langenhove, and Alex Warleigh-Lack.
Other prominent contributors include three Nobel Prize winners — Jan Tinbergen, Robert Mundell and Paul Krugman — as well as such pioneers in the field as Ernst Haas, Karl Deutsch, Joseph Nye, Raul Prebisch, Bela Balassa and more recent leading theorists such as Jagdish Bhagwati, Björn Hettne, Peter Katzenstein, Andrew Moravcsik, Walter Mattli, and Iver Neumann.
For more information, see the UNU-CRIS website.