2010•11•16 Tokyo
UNU-ISP hosted the annual Asia Pacific Academy of Business in Society (APABIS) conference at UNU Headquarters in Tokyo on 4–5 November. In the week before the 2010 APEC Meetings in Yokohama, leading experts from academia, the private sector and the public sector assessed the current global financial and environmental crises, and explored new ways of governing and doing business.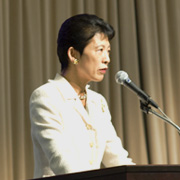 In a keynote speech, Her Imperial Highness Princess Takamado eloquently highlighted the urgency of the global climate change crisis.
The first plenary session examined the challenges and opportunities of the current global crises, with speakers emphasizing the need for responsible leadership to balance short- and long-term concerns. Harish Manwani of Unilever proposed reversing a common adage by encouraging us to "think local, act global". Participants then engaged in separate sessions on themes including governance, CSR, natural resources, climate change and sustainability.
During the second day, the audience was moved by passionate presentations from social entrepreneur Mel Young on the Homeless World Cup, and from Kiyoshi Amemiya on a successful landmine removal project in Cambodia.
Participants suggested that our conception of wealth should incorporate human well-being, and that the "business as usual" economic model needs to change to a more sustainable one. The conference highlighted the need for civil society to play a more active role in decision making, and emphasized that all areas of society would benefit from a transition to a more sustainable paradigm.
Participants at the APABIS conference reflect on the current global crises and how sustainability offers a way forward.