2013•12•04 Seoul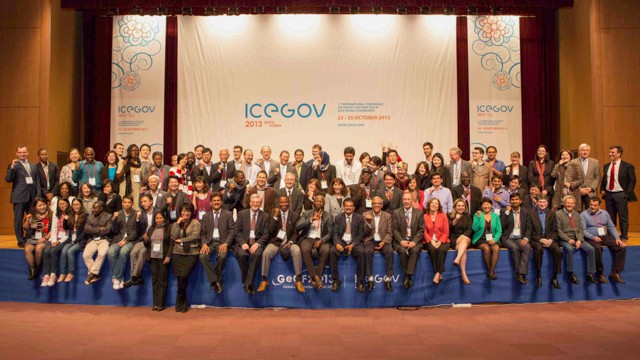 The 7th International Conference on Theory and Practice of Electronic Governance (ICEGOV2013) was held in Seoul, Republic of Korea from 22–25 October 2013. The conference was co-organized under the patronage of the Ministry of Security and Public Administration, Republic of Korea (MOSPA) by the Center for Electronic Governance at the UNU International Institute for Software Technology (UNU-IIST) and the National Information Society Agency, Republic of Korea (NIA).
This year's conference continued the ICEGOV focus on connecting research, policy and practice of electronic governance — applying technology to transform the work of government organizations and their relationships with citizens, businesses and one another to pursue public policy and sustainable development. With the 2015 deadline for the Millennium Development Goals approaching rapidly, the objective of ICEGOV2013 was to bring electronic governance "Beyond 2015″ under a theme of "Smart Governance, Smart Development".
During the first two days, the meeting was co-located with the Global e-Government Forum (GEF2013), organized by MOSPA, NIA and the United Nations Department of Economic and Social Affairs. The meetings shared plenary sessions and in tandem brought together more than 1,200 participants to attend 33 sessions including keynote lectures, plenary discussions, town hall debates, and poster exhibitions, covering topics ranging from "Governing through Networks" and "Smart Governance for Smart Societies" to "Striking the Balance of Security, Privacy and Openness" and "National Data Policies".
For a full report on the conference proceedings, sessions, outcomes and participant reactions see the UNU-IIST website.