2016•12•21 Tokyo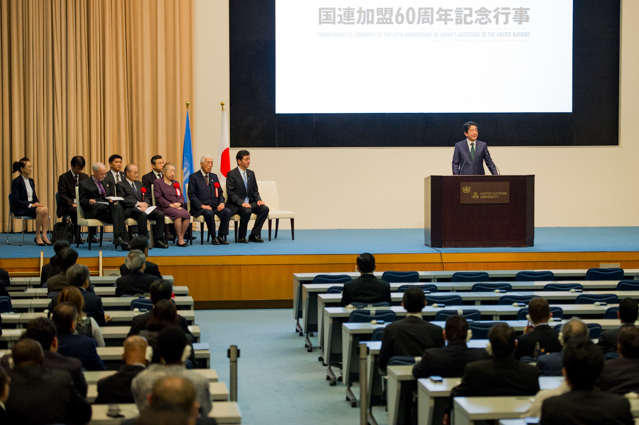 On 19 December, 2016, a ceremony was held at UNU Headquarters in Tokyo to mark the 60th anniversary of Japan's accession to the United Nations. The event commemorated Japan's lasting and fruitful relationship with the United Nations system, and its numerous contributions — including Japan's leadership in the field of human security and its significant support for UN Peacekeeping Operations.
In its six decades as a UN Member State, Japan has also played an important role in such agreements as the 2030 Agenda for Sustainable Development, the Sendai Framework for Disaster Risk Reduction, and the Paris Agreement on Climate Change.
The event featured speeches by His Imperial Highness Crown Prince Naruhito, Prime Minister Shinzo Abe, State Minister for Foreign Affairs Nobuo Kishi, United Nations University (UNU) Rector David M. Malone, and former UN Under-Secretary-General Yasushi Akashi.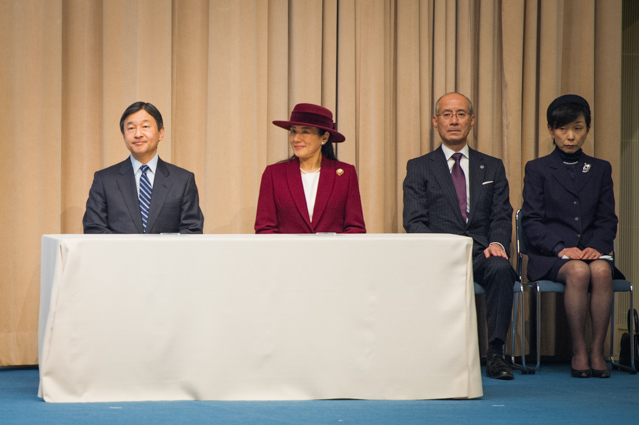 Participants also viewed video messages from such top UN officials as Secretary-General Ban Ki Moon, incoming Secretary-General Antonio Guterres, and President of the United Nations General Assembly Peter Thomson.
Japan has been a steadfast partner for the United Nations, with a striking commitment to its three pillars of peace and security, development, and human rights.
The speakers highlighted Japan's strong support for UN Peacekeeping Operations, including its contribution to "boots on the ground" in such locations as East Timor, Cambodia, and (most recently) South Sudan. As the non-permanent member that has served most often (11 times) on the UN Security Council, Japan also has been a proponent of multilateralism and is noted for attempting to reconcile disparate voices.
His Imperial Highness Crown Prince Naruhito acknowledged the important role that the United Nations played in Japan's reconstruction, and expressed his hope that Japan can continue working with the UN and its Member States to "create a sustainable society with peace".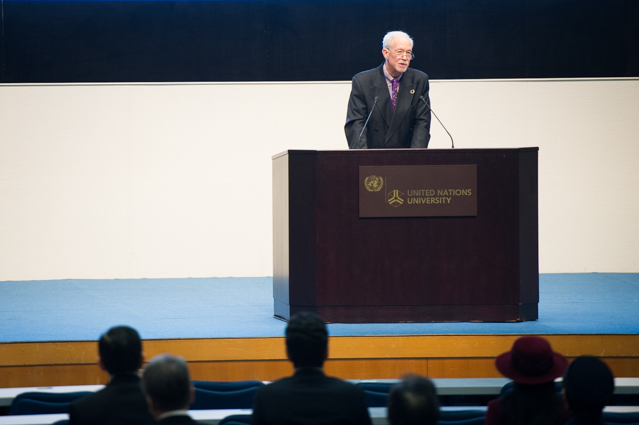 UNU Rector Malone highlighted that "today is a cause for celebration of a significant and fruitful relationship".
Prime Minister Abe said that he hopes the relationship between Japan and the United Nations will remain strong ― but stressed the need for UN reform, especially of the United Nations Security Council.
The video messages from the United Nations further acknowledged Japan's important role.
UN Secretary-General Ban Ki Moon noted that "Japan has shown a strong commitment to the UN Charter" and has been a powerful advocate for human security.
Incoming UN Secretary-General Antonio Guterres recalled that, as UN High Commissioner for Refugees, he was often impressed by Japan's generosity and passion for humanitarian assistance. He added that he hoped he could call on Japan's "political and intellectual leadership in human security" as Secretary-General.
During his keynote address, Dr Akashi emphasised the need to look beyond disagreements, and push for cooperation. Even with significant changes occurring, Member States should not lose sight of global efforts, he cautioned.
Following the keynote addresses, a panel discussion explored the future prospects of Japan's relationship with the UN. Despite a strong appreciation for the work of the UN, the panellists underscored growing concerns about rise of nationalism across the world, and a perceived lack of effectiveness by the UN. While panellists emphasised the need for reform, and for stronger cooperation among UN Member States. they nevertheless noted that the United Nations remains a vital forum for international cooperation ― an "imperfect but indispensable" institution.
The commemorative ceremony closed with a panel session by Japanese Goodwill Ambassadors, a presentation by high school and university students who were participants in the Model UN competition, and concluding remarks by former UN Under-Secretary-General Kiyotaka Akasaka.