2011•05•10 Maastricht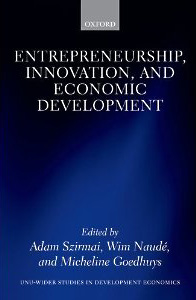 How does innovation affect growth and development? Why do some entrepreneurs succeed in innovating while others fail in developing countries? How does the institutional environment shape innovative activities?
These are among the questions tackled in a new book (edited by by Adam Szirmai, Wim Naudé and Micheline Goedhuys) that presents empirical evidence from developing countries such as Ethiopia, India, Turkey and Viet Nam as well as advanced economies like Finland. The book, Entrepreneurship, Innovation, and Economic Development, published by Oxford University Press, is the result of a collaborative project between UNU-MERIT and UNU-WIDER.
For more information, including a link to the publisher's website, profiles of the authors and a related UNU-WIDER article, see the book announcement page on the UNU-MERIT website.
Publisher's Description
Entrepreneurship and innovation are two of the most pervasive concepts of our times, yet there are still gaps in our understanding of the interactions between entrepreneurship and innovation, particularly in developing countries. This book is an attempt to fill this gap. It focuses on the entrepreneurship-innovation-development nexus, drawing heavily on empirical evidence from developing countries. Cross-country and individual country experiences cover nations as diverse as Ethiopia, India, Turkey and Viet Nam, and also examine lessons from advanced economies such as Finland.
Three sets of questions are addressed. What is the impact of entrepreneurship and innovation on growth and development? What determines the innovative performance of entrepreneurs in developing countries? What role does the institutional environment play in shaping the extent and impact of innovative activities?
A key message is that entrepreneurial innovation, whether through small firms, large national firms, or multinational firms, is often vibrant in developing countries, but does not always realise its full potential. This is due to institutional constraints, the absence of the appropriate mix of different types of small and large and domestic and foreign firms, and insufficiently developed firm capabilities. The contributions provide a better understanding of the determinants and impacts of innovation in developing countries and the policies and institutions that support or hinder innovation.
This book:
Addresses major issues in innovation and development: from definitions, concept, and measurement instruments to impacts, policies and the agenda for future research
Takes a micro (firm) level approach that highlights the developmental impact of innovative entrepreneurship
Includes extensive empirical research from a broad range of countries
Uses econometric techniques, modelling approaches and extensive secondary statistical data
Is non-technical and accessible.
(Oxford University Press; publication date: May 2011; hard cover, $99.00: 256 pages; ISBN13: 978-0-19-959651-5, ISBN10: 0-19-959651-4)