2011•08•19 Tokyo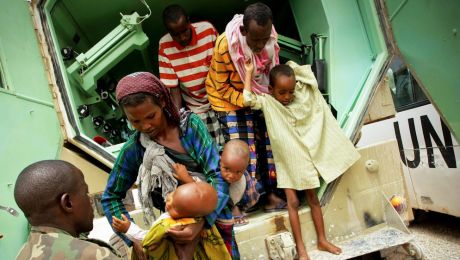 Friday, 19 August, is World Humanitarian Day.
Every day, humanitarian workers help millions of people around the world, risking their lives and operating in places that are remote, difficult or hostile. But in recent years, humanitarian work has become increasingly dangerous, with the level of threats and number of deliberate attacks on aid organizations and aid workers rising considerably.
The past year was no exception: In 2010, 242 aid workers were killed, injured or kidnapped.
World Humanitarian Day (WHD) recognizes the sacrifices of humanitarian workers, celebrates "people helping people" and aims to inspire the spirit of aid work in everyone.
As part of these celebrations, a series of short films, launched by the UN Office for the Coordination of Humanitarian Affairs (OCHA), showcases the diversity and endeavours of aid workers. The films profile five humanitarian workers (who appeared in a 2010 film shot across 43 countries) to take a closer, more personal look at what drives them in their commitment to improve the lives of others.
In his official Message to commemorate the occasion, UN Secretary-General Ban Ki-Moon said: "There is never a year without humanitarian crises. And wherever there are people in need, there are people who help them – men and women coming together to ease suffering and bring hope. From Japan to Sudan, from Pakistan to the Horn of Africa, aid workers help people who have lost their homes, loved ones and sources of income."
World Humanitarian Day takes place on the anniversary of the 19 August 2003 bombing of UN headquarters in Baghdad, Iraq, which killed 22 people.
The current crisis in the Horn of Africa – the gravest food crisis in the world, already affecting over 12 million people – makes the need for global humanitarian assistance, led by brave humanitarians, even more pressing.
UNU recognizes that it is essential to examine not only changing geopolitical contexts, but also societal threats such as human rights abuses, organized crime and gender inequality. The UN University's diverse and transdisciplinary research on Peace, Security and Human Rights helps inform decision makers and agenda setters,  encourage them to strive for a just and fair world, and supports the humanitarian objectives of the United Nations. Examples of UNU research on humanitarian issues are available in our Theme Articles.