2014•10•02 Reykjavík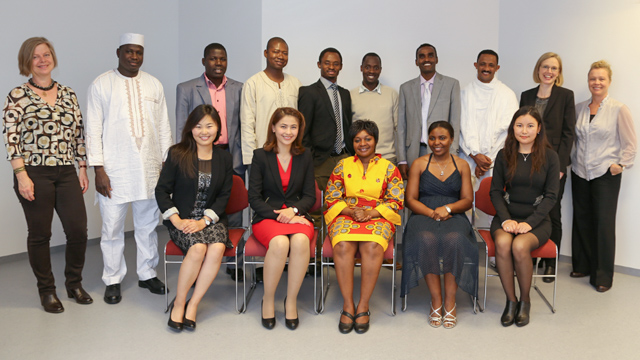 On 18 September 12 land management specialists from sub-Saharan Africa and Central Asia — five women and seven men — graduated from the UNU Land Restoration Training programme's (UNU-LRT) six-month training course. Held annually in Iceland from March to September, the training is an intensive postgraduate course on ecological restoration and sustainable land management, designed for professionals from developing countries that face severe land degradation. The training provides detailed study of the theory and practical aspects of land restoration, in addition to participants carrying out a project of their own under the guidance of land management professionals in Iceland.
At the graduation ceremony Mr. Gunnar Bragi Sveinsson, Iceland's Minister for Foreign Affairs, addressed the Fellows and invited guests. Speeches were also given by Ms. Berglind Orradottir, UNU-LRT Acting Director; Dr. Magnus Johannsson, who stepped in for the Director of the Soil Conservation Service of Iceland; Dr. Aslaug Helgadottir the Vice-Rector of the Agricultural University of Iceland; and training course participants Mr. Godwin Poreku from Ghana and Ms. Yulduzkhon Abdullaeva from Uzbekistan who spoke on behalf of the 2014 Fellows.
One of the highlights of this year's training programme was the June visit from Ms. Monique Barbut, the Executive Secretary of the United Nations Convention to Combat Desertification. Ms. Barbut met with the UNU-LRT Fellows, staff and the Studies Committee — an honour for the programme, since it is rooted in the Convention and works towards the same objectives: to combat land degradation and desertification.
Since the Land Restoration Training Programme was launched in 2007, 63 fellows have graduated from the programme including 30 women and 33 men. The programme has partnered with institutions in 11 countries and is now actively cooperating with nine countries in Central Asia and Sub-Saharan Africa.
For more information, visit the UNU-LRT website.