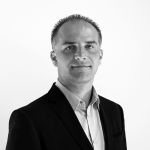 INSTITUTE:

UNU-EGOV

OFFICE:

C1-14: Campus de Couros, Rua de Vila Flor 166, 4810-445 Guimarães, Portugal

E-MAIL:

jordanoski@unu.edu

PHONE:

+351 253 510 856

NATIONALITY:

FYR Macedonia
Research Interests
e-Government
Policies and legislation
Privacy and personal data protection
Public administration
Public procurement
Education
PhD, International Law, Ss. Cyril and Methodius University in Skopje, Macedonia (2018)
LLM, International Law and International Relations, Ss. Cyril and Methodius Universit in Skopje, Macedonia (2011)
LLB, Law, Ss. Cyril and Methodius University in Skopje, Macedonia (2008)
Appointments
Government Fellow, UNU-EGOV (Portugal)
Project Manager, Erasmus+ project
Head of Unit for International Relations, Directorate for Personal Data Protection (Macedonia)
Government Fellow, Ministry of Transport (Czech Republic)
Advisor, Ministry of Transport and Communications (Macedonia)
Biographical Statement
Zoran is currently a Government Fellow at the United Nations University Operating Unit on Policy-Driven Electronic Governance (UNU-EGOV). He is also a Head of Unit for International Relations within the Directorate for Personal Data Protection of the Former Yugoslav Republic of Macedonia, and a member of several Intergovernmental expert groups. He has more than ten years of professional experience within the Macedonian public administration, as well as practice as a government fellow in the Ministry of Transport of the Czech Republic.
His areas of research and expertise are international law, policy and legislation, project management, e-Governance, public administration, personal data protection and public procurements. He has been a member of various expert working groups responsible for the development and implementation of several projects related to e-Governance, regulatory reforms, administrative burden reduction and digitisation.
He holds a PhD in International Law and an LLM in International Law and International Relations, both from the Ss. Cyril and Methodius University in Skopje, Macedonia.