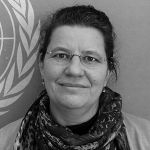 INSTITUTE:

UNU-FLORES

OFFICE:

UNU-FLORES, Ammonstrasse 74, Dresden, 01067, Germany

E-MAIL:

farkavcova@unu.edu

PHONE:

+49 351 8921 9381

NATIONALITY:

Czech
Research Interests
Environmental Assessment
Sustainable development
sustainable energy
Sustainable transportation
Education
Dipl.-Ing., Economics and Management of Chemical and Food Industry, Faculty of Chemical Engineering, Chemical Institute in Prague, Czech Republic (1999)
Appointments
Research Assistant, Chair for Geomechanics, Rock Mechanics and Rock Engineering, Geotechnical Institute, Technische Universität Bergakademie Freiberg
Financial Referent and Auditor in EU-Program 2007–2013 "Ziel 3 – Cil 3" at the Sächsische Aufbaubank – Förderbank (Development Bank of Saxony)
Research Assistant, Chair of Business Management, esp. Sustainability Management and Environmental Accounting, Faculty of Business and Economics, TU Dresden
Biographical Statement
Věra Greschner Farkavcová is a Senior Research Associate at UNU-FLORES. She works on the project "Institutionalizing cooperation on resource efficiency in Central and Eastern European States (ICE-CEEC)" which aims at submitting joint project proposals to European funding mechanisms in the field of sustainable resource management, as a joint effort of four high-class research entities in the Czech Republic (European Centre of Excellence CzechGlobe), Germany (TU Dresden and UNU-FLORES), and Poland (Wroclaw University of Environmental and Life Science).
Věra is currently also working as a Research Associate with TU Freiberg under the Chair for Geomechanics, Rock Mechanics, and Rock Engineering. Prior to this, she worked as Project Manager at Strassenbahnfreunde Chemnitz e. V. and as auditor at Sächsische Aufbaubank – Förderbank (Development Bank of Saxony). There she gained knowledge about the development of project proposals and on cross-border projects between Saxony, Czech Republic, and Poland funded by European Union programmes.
Additionally, she has many years of experience in research on sustainability and environmental management, having served as Research Assistant at the Chair for Business Management, esp. Sustainability Management and Environmental Accounting, TU Dresden.