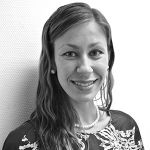 INSTITUTE:

UNU-EHS

OFFICE:

E-MAIL:

ayeb-karlsson@ehs.unu.edu

PHONE:

+49-228-815-0248

NATIONALITY:

Sweden
Research Interests
Community led Adaptation
Environmental Migration
Livelihood Resilience
Social Vulnerability
Education
Ph.D. Candidate, University of Sussex (US) and Institute of Development Studies (IDS) in Development Studies (UK)
M.A., Ethnology (Culture Studies), Gotland University (Sweden)
B.Sc., International Relations, Stockholm University (Sweden) and Universidade Federal Fluminense (Brazil)
B.A., European Studies Program with a Major in Ethnology, Södertörn University, (Sweden)
Appointments
2008-2009: Member of the Swedish Association of International Affairs Board
2006-2009: Member of the Stockholm Association of International Affairs Board
2008: Stockholm Model United Nations
Biographical Statement
Ms. Sonja Ayeb-Karlsson joined UNU-EHS in 2013 and manages the Gibika (research-to-action) project. Gibika is a five-year partnership between UNU-EHS, International Centre for Climate Change and Development (ICCCAD) and Munich Re Foundation (MRF) with the objective of improving the livelihood resilience and living conditions of people in the seven sites in Bangladesh through community-led action.
Ms. Ayeb-Karlsson has spent the last couple of years based in Bangladesh, working closely with the communities and emphasizing on storytelling methodology (Livelihood Histories) and the development of anthropological approaches to interact with communities' facing environmental stress. She is also exploring alternative ways to communicate research findings though mediums of photography, visual communication and photo films. In 2015 she became a PhD candidate in "Development Studies" at University of Sussex (US) and Institute of Development Studies (IDS). Her PhD research focus is on decision-making in relation to environmental stress in Bangladesh.
Before joining UNU-EHS, Ms. Ayeb-Karlsson was involved in a community-based development program in Argentina which focuses on the empowerment and equal rights of ethnic minority groups in the northern areas of the country. She was selected to represent Stockholm on the national board of the Swedish Association of International Affairs in 2008. While completing her university studies in Brazil, Ms. Ayeb-Karlsson dedicated a considerable amount of time to urban development and educational initiatives in Rio de Janeiro's favelas. At the Swedish Embassy in Brazil she was responsible for organizing a seminar on Corporal Punishment of Children with the Ministry of Human Rights and Save the Children Sweden in the Brazilian National Congress in 2011. Discussions following the seminar lead up to the agreement of a new article on Corporal Punishment Prohibition in 2014 which made Brazil the largest country in the world to sign such a prohibition.
Including Bangladesh, Germany, Argentina and Brazil, Ms. Ayeb-Karlsson has also lived, worked, and studied in England and Australia. She also has extensive international experience, having visited about 60 countries and has spent a large amount of time in developing countries. She is fluent in English, Swedish, Spanish and Portuguese with basic language skills in German and Bengali.