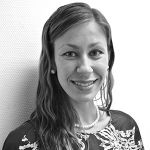 INSTITUTE:

UNU-EHS

OFFICE:

E-MAIL:

ayeb-karlsson@ehs.unu.edu

PHONE:

+49-228-815-0248

NATIONALITY:

Sweden
Research Interests
(Im)mobility Decisions
Climate Change
Disasters
Livelihood Resilience
Migration
Trapped Populations
Education
Ph.D., University of Sussex (US) and Institute of Development Studies (IDS) in Development Studies (UK)
M.A., Ethnology (Culture Studies), Gotland University (Sweden)
B.Sc., International Relations, Stockholm University (Sweden) and Universidade Federal Fluminense (Brazil)
B.A., European Studies Program with a Major in Ethnology, Södertörn University, (Sweden)
Appointments
2015-2030: Lancet Countdown: Tracking the connections between public health and climate change
2008-2009: Member of the Swedish Association of International Affairs Board
2006-2009: Member of the Stockholm Association of International Affairs Board
2008: Stockholm Model United Nations
Biographical Statement
Dr. Sonja Ayeb-Karlsson researches (im)mobility decisions, health and wellbeing in the context of environmental stress and climatic changes. She is a project manager at UNU-EHS, which she joined in 2013 to manage the Gibika research-to-action project in collaboration with ICCCAD and MRF. Her research in Bangladesh combined quantitative and qualitative methods such as Q, survey design, storytelling methodology, personal life history interviews and discourse analysis with the aim to further develop anthropological research approaches that support the interaction with people facing climatic stress, while exploring alternative ways to communicate research findings through mediums of photography, visual communication and photo films. She is also a part of WG1 and WG2 in the Lancet Countdown initiative that is tracking the connections between climate change and public health until 2030.
In 2018 she successfully completed her PhD in Development Studies at University of Sussex (US) and Institute of Development Studies (IDS) entitled 'When the Disaster Strikes'. She already holds an impressive publication record including peer reviewed articles in Ambio, Disasters, Sustainability Science and the Lancet. Her teaching in the area of Geography and International Development include the following Undergraduate courses: Environmental Management and Sustainable Development (L7003 17/18), Disaster, Environment and Development (005DA), and the Postgraduate Master courses Climate Change: Impacts and Adaptation (838F8 16/17), and Climate Resilient Development (CRD 16/17), at University of Sussex and IDS, as well as the Postgraduate Master course Risk Management in the Context of Climate Change (UM6 / JM9-2) at University of Bonn and UNU-EHS.
Before joining UNU-EHS, Dr. Ayeb-Karlsson was involved in a community-led initiative in Argentina which focuses on the empowerment and equal rights of ethnic minority groups in the northern areas of the country. She was selected to represent Stockholm on the national board of the Swedish Association of International Affairs in 2008. While completing her university studies in Brazil, Dr. Ayeb-Karlsson dedicated a considerable amount of time to urban development and educational initiatives in Rio de Janeiro's favelas. At the Swedish Embassy in Brazil, she was responsible for organizing a seminar on Corporal Punishment of Children with the Ministry of Human Rights and Save the Children Sweden in the Brazilian National Congress in 2011.
iscussions following the seminar led to the agreement of a new article on Corporal Punishment Prohibition in 2014 which made Brazil the largest country in the world to sign such a prohibition.
In addition to Bangladesh, Germany, Argentina and Brazil, Dr. Ayeb-Karlsson has also lived, worked, and studied in England and Australia. She also has extensive international experience, having visited about 65 countries and has spent a large amount of time in South America, as well as South- and Southeast Asia. She is fluent in English, Swedish, Spanish and Portuguese with basic language skills in German and Bengali.