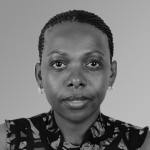 INSTITUTE:

UNU-EGOV

OFFICE:

Campus de Couros, Rua de Vila Flor 166, 4810-445 Guimarães, Portugal

E-MAIL:

baguma@unu.edu

PHONE:

n/a

NATIONALITY:

Uganda
Research Interests
E-Learning
Electronic Governance
Human-centred information systems
ICT for development
Inclusive ICT-enabled services
Education
PhD, Information Systems, Radboud University, Netherlands (2010)
Appointments
Research Associate at the United Nations University Operating Unit on Policy-Driven Electronic Governance (UNU-EGOV)
Director of Academic Affairs, Uganda Technology and Management University (UTAMU)
Associate Professor of Information Systems, School of Computing & Engineering, UTAMU
Head and Senior Lecturer, Department of Information Systems, Makerere University
Coordinator, ICT4D Research Group, Makerere University
Member of ICT Association of Uganda, National Conference for Communications (NCC) and Women of Uganda Network
Biographical Statement
Rehema Baguma is an Associate Professor of Information Systems at Uganda Technology and Management University (UTAMU), and a Research Associate at UNU-EGOV. She is also the Director Academic Affairs on a part time basis at UTAMU.
In recent years, Rehema Baguma has coordinated two research projects based in Uganda implemented in partnership with external collaborators. She has also successfully executed over 7 consultancies in Uganda and other East African countries in ICT4D. So far, she has published 26 research papers in journals, books as book chapters and international conferences. She has served as visiting lecturer in MSc at Uganda Christian University, Kigali Institute of Science & Technology (KIST) in Rwanda, and Kigali Independent University also in Rwanda. She has also served as an external examiner for PhD and Msc at Islamic University in Uganda and the Nelson Mandela African Institution of Science and Technology (NM-AIST) in Tanzania.
Rehema Baguma has co-supervised one PhD student to completion and three are currently ongoing where she is the first supervisor. She has also supervised to completion 8 Msc students. She founded the ICT4D Research group at Makerere University and served as its coordinator between 2011 and 2013.