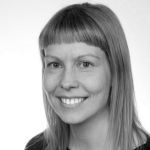 INSTITUTE:

UNU Iceland, UNU-GTP

E-MAIL:

malfridur.omarsdottir@os.is
Research Interests
Climate Change
Environment
Education
B.Sc., Geography, University of Iceland
M.Sc., Environmental Science and Natural Resources
Biographical Statement
Malfridur Ómarsdóttir is an Environmental Scientist and editor at the UNU Geothermal Training Programme.  She holds a Bachelor degree in Geography and a M.Sc. degree in Environmental Science and Natural Resources from the University of Iceland.  In her studies she focused on climate change, and in particular, the effects of climate change on glaciers.  During her studies, she took part in various international science projects, related to glaciology and glacial geology.
She is the editor of the UNU-GTP website and the Communication Focal Point for the UNU Iceland Programmes.  She is the editor of the UNU-GTP publications including the annual yearbook, Geothermal Training in Iceland.
Her responsibilities include assisting in conducting the UNU-GTP annual short courses series on geothermal exploration and development, in Kenya and El Salvador, which are Iceland's contribution to the UN Millennium and Sustainable Development Goals.