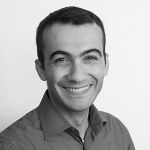 INSTITUTE:

UNU-EHS

OFFICE:

VARMAP

E-MAIL:

harb@ehs.unu.edu

PHONE:

+49-228-815-0329
Biographical Statement
Dr. Mostapha Harb is an Associate Academic Officer in the vulnerability assessment, risk management and adaptive planning (VARMAP) section of UNU-EHS. He has a background in physics and holds a PhD in Telecommunication and Remote Sensing Engineering from the University of Pavia, Italy. Dr. Harb has worked as a research assistant in several international and European projects and has had the opportunity to participate in numerous internships, technical and administrative training programmes, and international meetings and workshops, all of which have produced more than 30 publications.
For his earlier studies, Dr. Harb focused on developing techniques to extract risk-related information from Remote Sensing data, as well as on the development of a data integration model that uses both remote sensing and in-situ data to improve the vulnerability assessment of buildings.
His main research interests focus on the use and integration of Earth Observation and in-situ data for improving urban growth. Dr. Harb will work on developing an urban growth model based on time series of land use/land cover information obtained from remote sensing data, while also taking into account relevant environmental and socio-economic drivers of urban change within the Urban Disaster Resilience through Risk Assessment and Sustainable Planning (UDR-RASP) project.