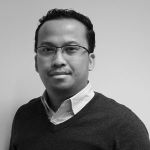 INSTITUTE:

UNU-IAS

OFFICE:

Jingumae 5-53-70, Shibuya-ku, Tokyo 150-8925, Japan

E-MAIL:

bisri@unu.edu

PHONE:

+81-3-5467-1212

NATIONALITY:

Indonesia
Research Interests
Climate Change Adaptation & Social Resilience
Development Governance
Disaster risk management
discourse network analysis and complex network theory
Global Change & Sustainable Development
Humanitarian studies
Regional cooperation and integration
Science, Technology and Sustainable Society
Urban and regional governance
Education
Ph.D. in Political Science, Graduate School of International Cooperation Studies, Kobe University, Japan (2017)
M.A. in Political Science, Graduate School of International Cooperation Studies, Kobe University, Japan (2013)
MSc in Urban Planning, School of Architecture, Planning, and Policy Development, Bandung Institute of Technology, Indonesia (2012)
BSc in Urban Planning, School of Architecture, Planning, and Policy Development, Bandung Institute of Technology, Indonesia (2010)
Appointments
2017–2018, Disaster Monitoring & Analysis Officer, ASEAN Coordinating Centre for Humanitarian Assistance on disaster management (AHA Centre)
2016, Visiting Researcher, Center for Local and Regional Governance, National College of Public Administration and Governance, University of the Philippines
2015–2017, Research Associate, Asia Pacific Institute of Research (APIR), Osaka, Japan
2010–2014, Research and Academic Assistant, Department of Regional and City Planning, School of Architecture, Planning, and Policy Development, Bandung Institute of Technology, Indonesia
Biographical Statement
Mizan Bustanul Fuady Bisri (Mizan) is a JSPS-UNU Postdoctoral Fellow at UNU-IAS. He received a PhD and MA in political science from Kobe University (Japan) as well as an MSc and BSc in urban planning from Bandung Institute of Technology (ITB, Indonesia). Prior to joining UNU-IAS, he served as Disaster Monitoring and Analysis Officer at the ASEAN Coordinating Centre for Humanitarian Assistance on disaster management (AHA Centre). In the past he has worked for ITB, University of the Philippines, Asia Pacific Institute of Research (Japan), and served as consultant for various organizations including government agencies in Indonesia, international NGOs, and United Nations agencies (e.g. ADPC, Oxfam, GIZ, JICA, Mercy Corps, UN-ESCAP).
His research and professional interests range from disaster management, disaster education, humanitarian studies and humanitarian operations, climate change adaptation, and urban planning. As a young scholar, Dr. Bisri has published more than 15 research papers in academic journals or book chapters, most of which are available through Researchgate. Currently, he is exploring the networked politics of the science and policy nexus on disaster management and climate change adaptation in Southeast Asian countries through social network analysis, discourse network analysis, and various fundamental political science and public administration theories.
Dr. Bisri also possesses professional certification in emergency response and humanitarian operations, including Incident Command System (basic level, intermediate level, and Incident Action Planning specialization) and is also a certified member of the ASEAN Emergency Response and Assessment Team (ERAT) and United Nations Disaster Assessment and Coordination (UNDAC). He is also affiliated with Integrated Research on Disaster Risk (IRDR) as a young scientist fellow and, in the past, was active in the United Nations Major Group for Children and Youth (UN-MGCY), which represents youth constituents in various UN-related processes.