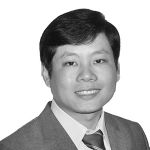 INSTITUTE:

UNU-EHS

OFFICE:

E-MAIL:

nguyen@ehs.unu.edu

NATIONALITY:

Vietnam
Research Interests
Aquatic Resources Management
Climate Change Coping & Adaptation
Land Use Changes
Education
MSc., Agricultural Sciences in the Tropics and Sub-tropics, University of Hohenheim, Faculty of Agricultural Sciences, Germany
BSc., Fisheries Management, Can Tho University, College of Aquaculture and Fisheries, Vietnam
Biographical Statement
Dr. Nguyen Minh Tu is a Research Associate in the Environmental Vulnerability & Ecosystem Services (EVES) section, where he contributes to the FloodAdaptVN project and the development of new research proposals, as well as other work within the section.
Dr. Nguyen holds a PhD in agricultural sciences from the University of Bonn, Germany, which is conducted within the framework of the DeltAdapt project and under direct supervision of the EVES section at UNU-EHS. For his PhD, Dr. Nguyen assessed the effects of salinity intrusion and other drivers of change on the shift of land use, livelihood patterns and agro-ecosystems along the salinity gradient and the trajectories of these changes in the coastal areas of the two Vietnamese deltas.
Prior to joining UNU, Dr. Nguyen worked as a government officer in Vietnam and a research assistant for the WISDOM project, supporting the PhD researcher for the field research in the Vietnamese Mekong Delta. Dr. Nguyen has a MSc in Agricultural Sciences in the Tropics and Sub-tropics at the University of Hohenheim in Germany and a BSc in Fisheries Management at Can Tho University in Vietnam. Dr. Nguyen's research interests include climate change adaptation, drivers of land-use changes and sustainability of social-ecological systems facing natural hazards.