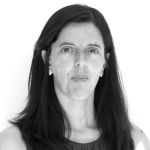 INSTITUTE:

UNU-EGOV

OFFICE:

Campus de Couros, Rua Vila Flor 166, 4810-445 Guimarães, Portugal

E-MAIL:

veiga@unu.edu

PHONE:

+351 253 510 855

NATIONALITY:

Portugal
Research Interests
accountability and transparency of institutions
E-governance
e-Participation
Local governments and intergovernmental relations
Political economy
Public economics
Public finance
Education
Aggregation, Economics, University of Minho, Portugal (2006)
PhD, Economics, University of South Carolina, USA (1999)
BA, Economics, University of Porto, Portugal (1993)
Appointments
Adjunct Associate Professor, United Nations University (UNU-EGOV)
Associate Professor of Economics, University of Minho, Portugal
Member of the executive board of the European Public Choice Society
Biographical Statement
Linda Gonçalves Veiga is Adjunct Professor at UNU-EGOV. She is also an associate professor with aggregation at the department of Economics of the University of Minho (Portugal). Holding a Ph.D. in Economics from the University of South Carolina (USA), she teaches in the areas of Public Economics and Political Economy. Her main research areas of research are Public Economics, Political Economy and E-governance and e-participation.
She is a member of the board of the European Public Choice Society, and affiliated with the Economic Policies Research Unit of University of Minho. Linda published several articles in international scientific journals, such as Public Choice, Regional Studies, and Electoral Studies, and co-authored several books and book chapters. She participated in and coordinated several research projects funded by the Portuguese Foundation for Science and Technology and private foundations. She serves as national expert for international projects such as Varieties of Democracy and Electoral Integrity, and is a member of the scientific council of the Portuguese Budget Watch.
Among the consultancy tasks performed are studies for the Directorate General of Local Governments, the North Regional Coordination and Development Commission, the Secretary of State of Culture, and the Portuguese Court of Auditors. She also collaborated with UNU-FLORES in policy-relevant research and capacity building related to the decentralization of government activities.
She previously served as vice president of the School of Economics and Management and director of the department of Economics, of the Economic Policies Research Unit, and of the Ph.D. and Master's programmes in Economics.