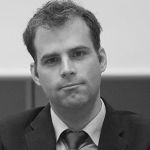 INSTITUTE:

UNU-ViE

OFFICE:

E-MAIL:

balde@vie.unu.edu

PHONE:

+31-6 -155-878-43

NATIONALITY:

Netherlands
Research Interests
Circular Economy
Statistics
Sustainable development
Education
PhD, Chemistry, Utrecht University, The Netherlands
Appointments
Member of the Board at Nationaal (W)EEE Register since July 2015
Biographical Statement
Dr. Kees Baldé is a Senior Programme Officer at the Sustainable Cycles Programme at the United Nations University. He is the focal point for statistics, builds capacity in developing countries, gives policy advice to countries on e-waste, supervises staff and strategically develops the team. He is the main author of the Global E-waste Monitors that he prepared together with the Global E-waste Statistics Partnership. In the EU, Kees is involved in research projects focusing on circular economy, urban mining and critical raw materials (e.g. ORAMA and ProSUM).
His achievements have been awarded by several organizations. He is currently the chair of the Taskforce on Waste Statistics of the UNECE Conference of European Statisticians that is tasked to develop a framework for waste statistics that is fit to purpose to monitor current and future (circular economy) waste policies globally. Next to that, Kees has been selected by the Dutch government to be in the board of directors of the Dutch Waste Electronical and Electronic Appliances Register. In 2018, the Global e-waste monitor 2017 won the European Advanced SDG award from the Diplomatic Academy in Vienna. At Statistics Netherlands, Kees has received the Innovation Award by his director for the Green Growth in the Netherlands publication in 2012.
Previously, Kees worked at Statistics Netherlands, as the deputy head of the team Environment Statistics. He earned his PhD at the Faculty of Chemistry at Utrecht University on hydrogen storage.