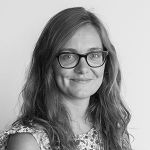 INSTITUTE:

UNU-EHS

OFFICE:

Environmental Vulnerability & Ecosystem Services Section

E-MAIL:

dall@ehs.unu.edu
Research Interests
Food security
Land Use Changes
Land use planning
Rural development
Education
BSc Geography, University of Gliessen
MSc Geography, University of Bonn
Biographical Statement
Karen Dall holds a Master of Science in Geography from the University of Bonn with focus on development research and GIS and Remote Sensing. These research interests are also reflected in her master thesis, which she conducted in close collaboration with UN-SPIDER and UNU in EvIDENz project: a drought risk assessment in South Africa. This combination of development research including rural development, food security and vulnerability analysis with methods from GIS and Remote Sensing including drought monitoring forms the basis of her interdisciplinary research interests.
Her work experience encompasses the supervision, coordination and data quality control of an agricultural survey, both remote sensing and mapping based, in Malawi for EFTAS in Münster and qualitative and quantitative household surveys on Economic Empowerment also in Malawi for the German Development Institute (GDI) in Bonn.
Furthermore, she has done several internships including at the German Federal Ministry for Economic Cooperation and Development and UN-SPIDER, and during her masters she worked as a student assistant at GDI in the project "One world – no Hunger".
At UNU-EHS she works as a research associate in EvIDENz with primary focus on drought vulnerability and drought risk in Ukraine and South Africa.