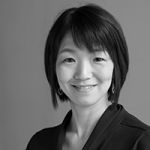 INSTITUTE:

UNU-IAS

OFFICE:

Jingumae 5-53-70, Shibuya-ku, Tokyo 150-8925, Japan

E-MAIL:

junko.nishikawa@unu.edu

PHONE:

+81 (0)3-5467-1212
Education
Master of International Affairs in Sustainable Development, School of Public and International Affairs (SIPA), Columbia University
Master of Science in Ecology, Center for Ecological Research (CER), Kyoto University
Bachelor of Science in Biology, Kyoto University
Biographical Statement
Junko Nishikawa joined UNU-IAS in June 2016 as a Programme Coordinator for Governance for Sustainable Development (GSD) and Water and Urban Initiative (WUI) among others. She brings over 15 years' experience in policy development and project management in Japan and abroad. Prior to joining UNU-IAS, Junko served in a variety of environment-related positions in the Ministry of the Environment (MOE) and the Ministry of Land, Infrastructure, Transport and Tourism (MLIT) of Japan, with a special focus on waste and chemical management.
Her wide experience in development assistance includes works on natural resources (water and forest) management and climate change adaptation at the Kenya Country Office and the Global Facility for Disaster Reduction and Recovery (GFDRR) of the World Bank.  In MOE, she played active roles in international policymaking process under the Basel Convention and the Montreal Protocol and managed regional and national projects on e-wastes and ozone layer protection especially in Asia and the Pacific region.
Her academic research primarily focused on water-human interaction through identifying anthropogenic impacts on freshwater ecosystems in Mongolia, Malaysia and Japan, and evaluating economic and social benefits of improved water and sanitation services in Madagascar. She has worked and lived in several countries including the United States, Kenya, Uganda, Viet Nam and Thailand.