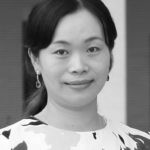 INSTITUTE:

UNU-CS

OFFICE:

UNU-CS, Casa Silva Mendes, Estrada do Engenheiro Trigo No 4, Macau SAR, China

E-MAIL:

jennyju@unu.edu

NATIONALITY:

China
Research Interests
Acculturation & social media
Border studies
Intercultural communication
Education
University of Macau, China (PhD candidate in Communication)
Guangdong University of Foreign Studies, China (MA in Foreign Linguistics and Applied Linguistics)
Nanchang University, China (BA in English Literature)
Biographical Statement
Bei Ju (MA, 2006, Guangdong University of Foreign Studies) currently works as a Senior Research Assistant at the United Nations University Institute on Computing and Society (UNU-CS). Meanwhile, she is a PhD candidate from Department of Communication, University of Macau.
Jenny's research interests are intercultural communication and the use of ICTs. Her ongoing project has explored the use of social media (WeChat) in the lives of Mainland Chinese migrant workers in Macao.
Prior to joining UNU-CS, Jenny was a lecturer at Beijing Normal University (Zhuhai), and taught a general course Media Literacy at University of Macau. She was also a visiting academic at the University of Gloucestershire.