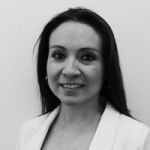 INSTITUTE:

UNU-IAS

OFFICE:

Jingumae 5-53-70, Shibuya-ku, Tokyo 150-8925, Japan

E-MAIL:

franco@unu.edu

PHONE:

+81-3-5467-1212

NATIONALITY:

Colombia
Research Interests
Corporate Sustainability Reporting and Performance
Education and Impactful Research for Sustainable Development
Entrepreneurship and Sustainable Livelihoods
Gender Aspects of Sustainable Development
Sustainable Development in Postconflict Countries
Sustainable Resource Governance and Extractive Industries
Education
Ph.D. in Governance for Corporate and Social Sustainability, The University of Queensland (Australia)
M.A. in Educational Management, University of Barcelona
Postgraduate Degree in Governance and Public Policy, The University of Queensland
B.A. in Education and Languages, National University of Colombia
B.A. in Public Administration, School of Public Administration and Political Science (ESAP)
Appointments
Adjunct Research Fellow, The University of Queensland
Biographical Statement
Isabel Franco is a JSPS-UNU Postdoctoral Fellow at UNU-IAS, in collaboration with Keio University. Her academic expertise cuts across different fields of sustainability science. Her research focus is in the area of Global Change and Sustainable Development. She is particularly interested in examining the global-local interface of governance for inclusive and sustainable development. Her current research explores how global stakeholder networks can better collaborate for impactful sustainability research and education at the community level. With a focus on women in postconflict locations, her research does this through multiple case studies in the Asia-Pacific region, Africa, the Americas, and Europe.
She has extensive experience in liaising with governments, the private sector, academia, civil society and international organizations globally. She has lived, worked, and undertaken field research in Oceania, Asia, the Americas, and Africa. She has been appointed as sustainability advisor and lead researcher at UNESCAP, UNDP, the British Council, and the International Mining for Development Centre (IM4DC) –now MEfDA-. She has also featured as a guest lecturer in sustainability at various universities globally and has been awarded competitive research grants. Dr. Franco is the Editor-in-Chief of the International Journal of Women, Sustainability and Leadership Studies. She is also a TED Talk speaker and has published in her areas of expertise in English, Spanish, and Portuguese.
She is a strong advocate for translating sustainability science into impactful research at the community level. In 2014, she was appointed as a Global Leader at the University of Queensland for her impactful research and entrepreneurial endeavors on gender aspects of sustainable development. In the same year, she started up the eLab for Women in Sustainability Excellence and Leadership –eWisely. In collaboration with sustainability scientists around the globe, the eLab undertakes and showcases scientific and policy-relevant research to push global-local boundaries to place women at the centre of sustainability agendas.
She can be found on Twitter @DrIsabelFranco.