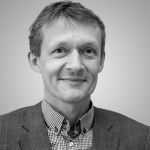 INSTITUTE:

UNU-FLORES

OFFICE:

UNU-FLORES, Ammonstrasse 74, Dresden, 01067, Germany

E-MAIL:

huelsmann@unu.edu

PHONE:

+49 (0) 351 8921 9374

NATIONALITY:

Germany
Research Interests
Impact of climate change on ecosystems and resource cycling
Reservoir ecology and management
Systems and flux analysis for resources management
Education
PhD (Dr. rer. nat.) in Aquatic Ecology, Technische Universität Dresden, Germany
Diplom in Biology, Georg-August Universität Göttingen, Germany
Biographical Statement
Stephan Hülsmann is an Academic Officer at UNU-FLORES where he leads the Systems and Flux Analysis considering Global Change Assessment unit. He studied Biology in Göttingen, Kiel and Lund (Sweden) and graduated (Diplom) in Göttingen, Germany. He obtained his PhD at Technische Universität Dresden (integrated water quality management in reservoirs), followed by a research project at the Netherlands Institute of Ecology of the Royal Netherlands Academy of Arts and Sciences.
After returning to TU Dresden he worked as a senior research scientist with the interdisciplinary Hydro Sciences Department, Institute of Hydrobiology, prior to assuming his function as Project Officer at the UNU Vice Rectorate in Europe and UNU-FLORES, mainly managing and establishing partnerships and projects in Africa. His research focuses on integrated water and watershed management, nutrient fluxes, and on responses of aquatic systems to stressors such as eutrophication and climate change, using systems analysis approaches, modelling, as well as experimental approaches.
Stephan Hülsmann is currently also serving as the PhD Programme Coordinator for the joint Doctoral Programme in Integrated Management of Water, Soil and Waste with Technische Universität Dresden.