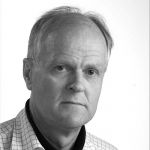 INSTITUTE:

UNU Iceland, UNU-GTP

OFFICE:

Orkustofnun, Grensasvegi 9, IS-108 Reykjavik, Iceland

E-MAIL:

lsg@os.is

PHONE:

+354 569-6079
Education
M.Sc., Engineering Physics, Technical University of Lund (Sweden)
Biographical Statement
Lúdvík S. Georgsson was born in Iceland 1949. In 2013 he became the Director of the United Nations University Geothermal Training Programme (UNU-GTP), Orkustofnun – National Energy Authority, in Reykjavik.
Prior to that from 1990-2013, he was the Deputy Director of the UNU-GTP, with the main responsibilities of planning, academic and financial management of the 6-month training.  From 1975-1990 he served as a geophysicist at the Geothermal Division of Orkustofnun, with responsibilities in the exploration of geothermal systems, both of low-enthalpy and high-enthalpy type and was manager of many exploration projects.
He was the editor of the UNU-GTP annual yearbook, Geothermal Training in Iceland, from its first publication in 1994 to 2013 (ISSN 1670-7400).  Mr. Georgsson also served as the project leader of annual short courses on geothermal exploration and development, until he became the Director.  The courses, held both in Kenya and in El Salvador, have been Iceland's contribution to the UN Millennium and Sustainable Development Goals.
He undertakes missions and site visits for the UNU-GTP to various countries of Africa, Asia, Central America, and Eastern Europe.