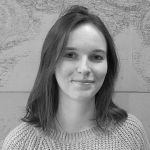 INSTITUTE:

UNU-ViE

OFFICE:

E-MAIL:

Vermeersch@vie.unu.edu

NATIONALITY:

France
Research Interests
Circular Economy
Environmental Crime
Organized Crime
Sustainability
Waste Electrical and Electronic Equipment Flows
Waste management
Education
University Diploma in Patent Right and New Technologies, Lille University, France
Double MA Franco-Spanish in New technologies Law, Lille University, France, and Murcia University, Spain
DEUG in Biology in France
Biographical Statement
Ms. Vermeersch graduated in law, and holds a double master degree in New Technologies Law (Lille University, France/Murcia University, Spain) and received a diploma in Intellectual Property Law (Lille University, France).
Ms. Vermeersch is currently working as a Research Associate at the United Nations University Vice-Rectorate in Europe – Sustainable Cycles (SCYCLE) Programme on several projects related to the management and monitoring of waste and natural resources, sustainable development, and circular economy. Within this framework, she is actively contributing to project development and implementation, strategic cooperation, event & training organisation, research activities, data collection and analysis, and the development of awareness raising campaigns.
Ms. Vermeersch is also working as a consultant at the United Nations Interregional Crime and Justice Research Institute (UNICRI). She has been involved in numerous applied research programmes in the fields of crime prevention and criminal justice.
Before joining the U.N. in 2013, she worked within the Corporate Economic Security Direction of a pharmaceutical company where she carried out research and risk analysis related to cybercrime and cyber-counterfeiting of medicines. She also participated in the organisation of awareness raising campaigns and conferences on these issues.